Who knew quiche was so easy to make? You can mix together your ingredients and get it into the oven in minutes. Give it a try tonight!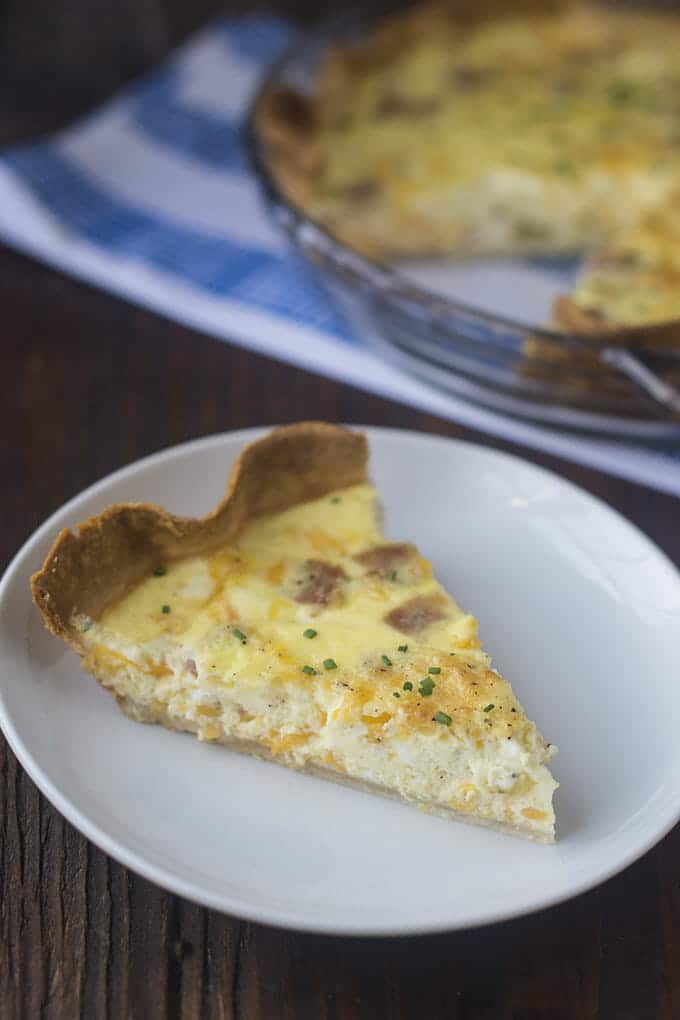 Quiche seems like a fancy thing. You get it in pretty cafés and quaint lunch spots. It's actually really simple though.
What Is Quiche?
You can think of quiche as a baked omelet, sort of. One of the things it has in common with an omelet is the fact that it is egg mixed with savory ingredients that is then cooked until set. The differences between a quiche and an omelet are that a quiche has a pastry shell and, more importantly, the egg mixture has quite a bit of cream or milk added to it. Due to the latter, a quiche is very tender, much softer and fluffier than an omelet. It almost has the texture of a set custard, but it's not sweet.
I hope telling you that it's like a custard hasn't sent you back to thinking quiche is super-fancy or difficult. It really really isn't. It's be a breeze. Promise!
How To Make Quiche:
Preheat the oven to 350°F.
Crack 4 large eggs into a medium bowl.
Beat the 4 eggs until the yolks and whites are well combined and there are no streaks of clear whites remaining.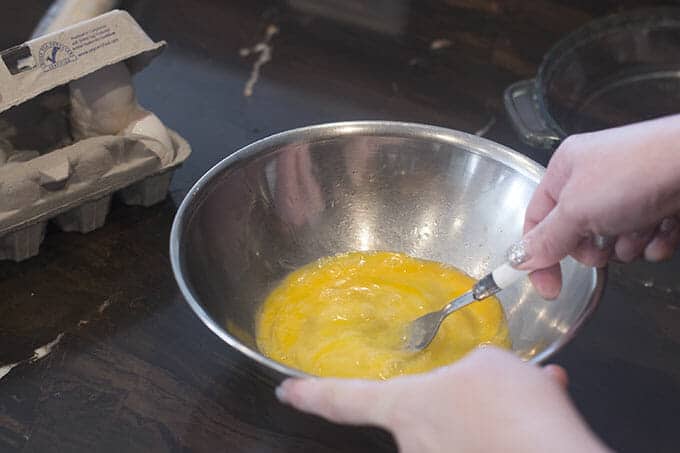 Add 1 and 1/2 cups of whole milk.
Substitutions: You can also use half and half or part heavy cream and part milk instead. The more cream you use, the richer the quiche will taste. You can use low fat or fat-free milk but the quiche ends up slightly watery tasting and I don't recommend it.
If you're trying to make a larger quiche or several at once, it's good to know how much milk/cream to add per egg. I've read in several places that the best amount is ½ cup per large egg. I disagree. I find a quiche with this ratio to be a bit too jiggly. It doesn't slice cleanly or hold up as well. Instead, I use just less than 1/2 cup per egg. It's somewhere between ½ cup and ⅓ cup, if you're being approximate. If you want to be exact though…
The best milk to egg ratio for quiche is 6 tablespoons of milk for each large egg.
This works out to exactly ¾ cup of milk per 2 large eggs, and to 1 and ½   cups milk for every 4 large eggs.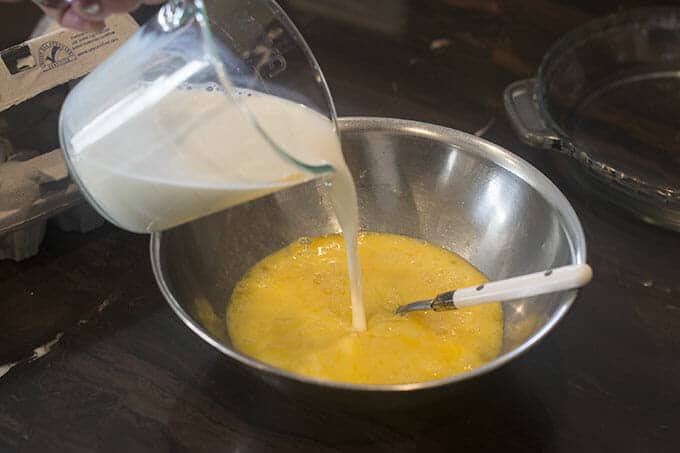 Add ¼ teaspoon of salt and ⅛ teaspoon of ground black pepper.
Put a pie crust into a 9-inch pie plate. You can make your own pie crust or you can buy it. I am sadly not particularly good at pastry-making so I typically buy my crusts. The ones that I like are found in the refrigerated section of the grocery store near the crescent rolls and tubes of cookie dough. It is sold in a long box and there are two individually-wrapped, pre-rolled crusts per box.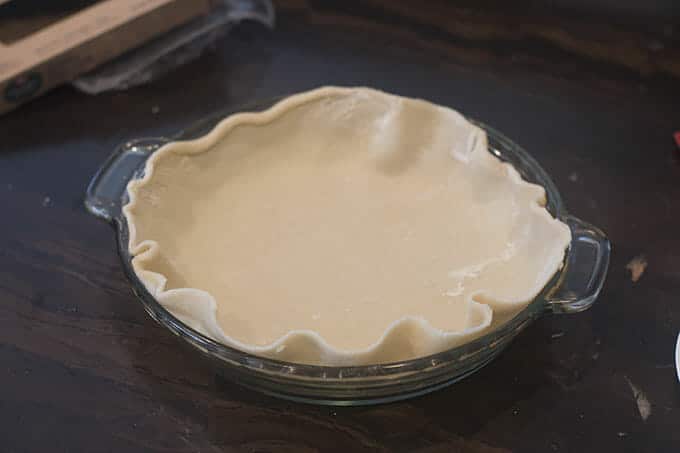 Quiche experts out there say that you should blind bake the crust. This involves topping the crust with parchment paper and then putting pie weights or dried beans (uncooked) on the parchment and baking for 20 minutes. Learn how to blind bake over here.
The idea is that the partially cooked pie crust will soak up less liquid than an unbaked crust and will end up less soggy in the end. That's a good reason to blind bake the crust so do go ahead and do so if you'd like. I prefer my quiche to have some crisp pie crust around the top but a softer crust on the bottom so I skip this step. (I might just be rationalizing my laziness but I'm perfectly fine with that!).
I do put the cheese on the bottom of the quiche. I've seen that this is standard in a lot of recipes. I find myself wondering if the cheese protects the crust a little bit. Anyhow, let's continue…
Sprinkle 1 cup of shredded cheese over the bottom of the pie crust.
Top with other fillings. For this one, I've just put some cooked ham.
Whatever fillings you choose, make sure they are cooked. That is, meats need to be of the lunchmeat variety, like the ham, or else fully cooked, like cooked chicken. Vegetables like onions and peppers should be sautéed and softened first. If you include vegetables, make sure they are not too wet since you do not want them leaking liquid into your quiche. For particularly wet ingredients like tomatoes, mushrooms and spinach, cook them and then put them in cheesecloth or in a fine mesh sieve and push out a lot of the liquid.
Pour the egg mixture over the fillings.
Now the quiche is ready for the oven.
Bake the quiche on the bottom rack of the oven. This is so that the bottom crust is as close to the heat source as possible, which will help it to cook more and maybe even brown a bit.
Cook the quiche until it's mostly set but jiggles slightly in the middle, about 40 minutes. If the top of the pie crust gets too brown, cover it with aluminum foil like this.
Let the quiche cool to a warm temperature before cutting and serving.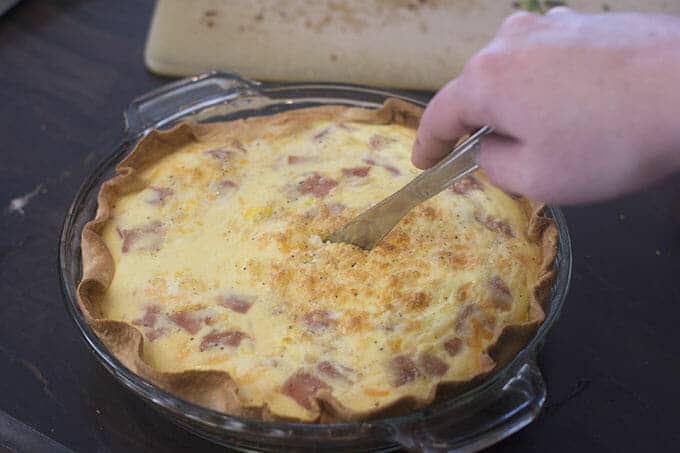 Quiche can be served warm or at room temperature. It really shouldn't be served cold because it gets a bit firm. If you want to serve the quiche later, cover it and refrigerate it. Then take it out of the fridge, cover it with aluminum foil and bake at 325°F until warm, about 15 minutes.
Alternatively, cut the quiche into slices and microwave by the slice on medium power or on defrost (this is more gentle and will heat it more evenly) for 30 seconds at a time until it is warmed through.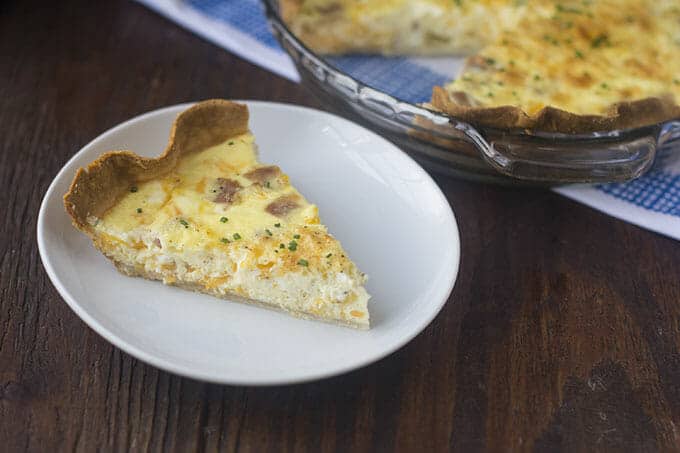 Print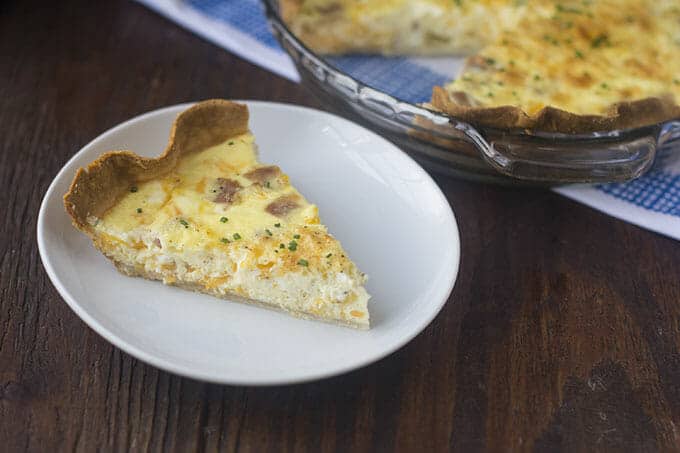 Quiche
Contributor: Christine Pittman
Who knew quiche was so easy to make? You can mix together your ingredients and get it into the oven in minutes. Give it a try tonight!
Author:

Prep Time:

10 minutes

Cook Time:

40 minutes

Total Time:

50 minutes

Yield:

8

servings

1

x

Category:

Entrée

Method:

Baked

Cuisine:

American
1

–

9

inch pie crust

4

large eggs

1

and ½ cups whole milk

¼ tsp

. salt

⅛ tsp

. black pepper

1 cup

shredded sharp cheddar cheeese

3 oz

. chopped cooked ham

2 Tbsp

. chopped chives for optional garnish
Instructions
Preheat oven to 350°F.
Remove pie crust from refrigerator. If store-bought, soften according to package instructions.
Crack eggs into a medium bowl. Whisk with a fork until no clear streaks of egg whites remain.
Add milk, salt and pepper. Stir until fully combined.
Put pie crust into a 9-inch pie plate.
Sprinkle pie crust with cheese. Top with ham.
Pour egg mixture over cheese and ham.
Bake quiche on the lowest rack of the oven until it is mostly set but slightly jiggly in the middle, 35-45 minutes. If the pastry is browning too much around the top, cover it with aluminum foil like this.
Let quiche cool to a warm temperature before slicing and serving.
Or allow it to cool completely and then cover and refrigerate.
Reheat quiche by covering with aluminum foil and baking at 325°F until warmed through, about 15 minutes. Or slice it and microwave slices individually on the defrost setting for 30 seconds at a time until heated through.
This post originally appeared in May 2018 and was revised and republished in April 2021.