Read here to learn how to make a perfect flaky pumpkin pie crust.
Pumpkin pie is known for having a soggier crust than most pies. That's because the wet filling is baked inside of the raw pastry crust. I actually kind of like this about pumpkin pie. The whole thing, from the whipped cream top, to the well-spiced filling (like this one) to the soggy crust is soft. You don't even have to chew pumpkin pie. You can kind of slurp it. Like Jello.
But slurpable pie and soggy pastry might not be for you. No worries. I'm not offended. In fact, when I heard that some of you aren't as into it as I am, I did some research to find out how to make a pumpkin pie and have a flaky crust too. It is possible. You just need to tweak a few things.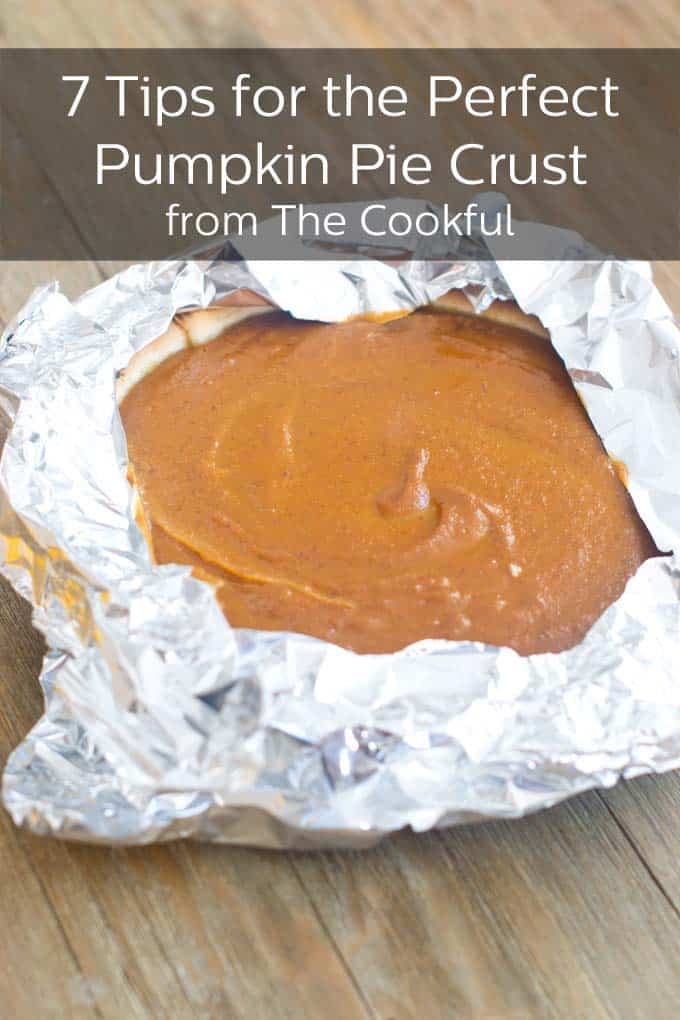 Tips For Flaky Pumpkin Pie Crust
#1: Flour
Although you might be right that pastry flour yields a lighter flakier crust, it's a bit too delicate here. Stick with all-purpose.
#2: Fat
Butter gives more flavor but shortening gives more flakiness. You're after that crisp flakiness here so go with an all shortening pastry, or half shortening and half butter.
#3: Liquid
Booze, baby. Seriously. Make your pastry dough with half water and half 80 proof vodka. Why? When you mix water with flour it forms gluten which makes your dough tough. However, you can't skip liquid entirely because you need it to bind the ingredients together. Alcohol is the solution because alcohol and flour don't form gluten. You get the binding properties of the liquid without the toughening properties of gluten. Sweet, right?
#4: Blind Bake
Traditionally the crust for pumpkin pie is not baked before the filling is added. This is because the filling takes so long to cook that the edges of the dough easily end up burnt. But without blind-baking, you're putting wet filling on raw dough, which is the main source of our sogginess problem. So, blind bake that pie crust.
Make your pastry dough, refrigerate it, roll it out, and put it in your pie plate. Prick it all over with a fork. Add a sheet of parchment paper and then some pie weights or dry beans. Bake it for 15 minutes at 425ºF. Let cool before filling.
But what about the fear of burnt edges? We're getting there…
#5: Pie Shields
There's this special thing you can buy called a pie shield that goes around the top edges of your crust to prevent burning. You can get those, or you can gently cover the edges with aluminum foil while baking. The foil works but sometimes has trouble staying on. Just watch it carefully and if some falls off, put it back.
#6: Less Filling
I know we all love a big deep-dish pie. But what works for apples doesn't work as well for pumpkin. There are two reasons for this. One, we want as much crust to not have contact with filling as possible. That's because the crust that doesn't get moistened stays the flakiest. Keeping your pie's filling level down by 1/4″ can make a big difference to how much flaky crust you get per slice. Second, a less deep filling will take less time to cook, which helps with #7 below.
#7: Baking Time
Don't over-bake your pie! The longer it's cooking the tougher your crust will get. Bake just until a knife inserted into the center comes out almost clean. Let the filling finish setting as it cools.
There you have it, if you want it – a non-soggy pumpkin pie crust. Seems like a lot of work to me though. You can do it if you want but I'm sticking with my old soggy-bottomed ways.
Print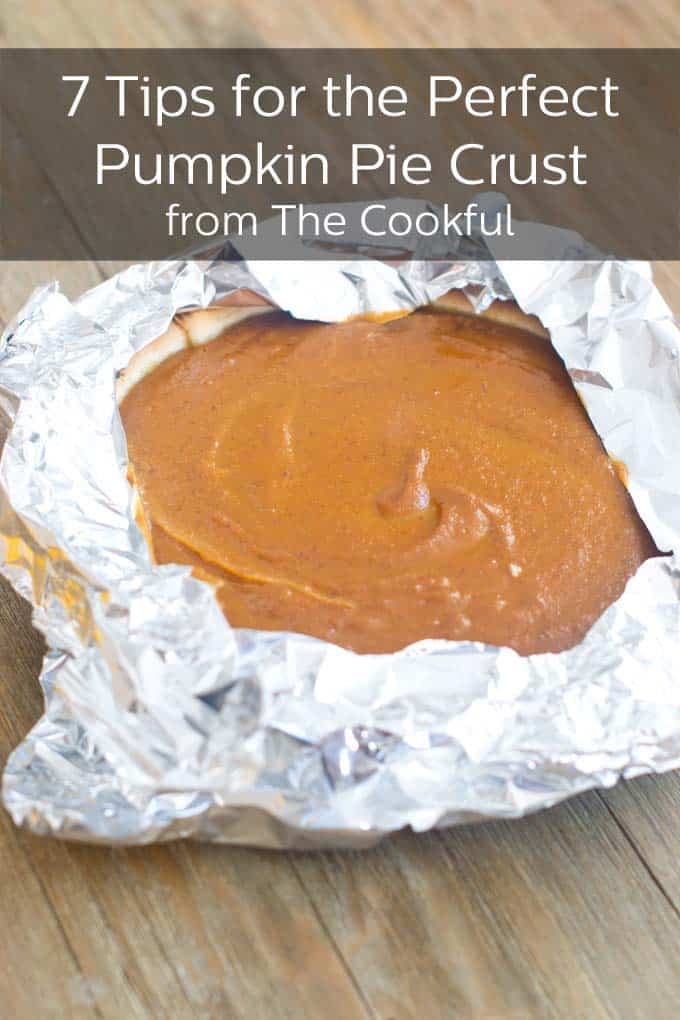 Perfect Pumpkin Pie Crust
Contributor: Christine Pittman
This standard pie crust recipe makes enough for 2 pumpkin pies, or 1 double crust pie (like apple). 
Author:

Prep Time:

20 minutes

Chill Time:

30 minutes

Cook Time:

0 minutes

Total Time:

50 minutes

Yield:

2

(9-in.) crusts

1

x

Category:

Dessert

Method:

Mix

Cuisine:

American
2

and

1/2

cups all-purpose flour

1 tsp

. salt

1

cup

cold shortening (or 2 sticks butter)*

1/4

to

1/2

cup ice water**
Instructions
In a large bowl, mix together the flour and salt.
Mix in half of the fat (shortening first if you're using a combination) with a fork or pastry cutter.
Cut or pinch the remaining fat into small pieces, then toss in the flour mixture to coat. Leave pea-sized pieces for a flaky crust.
Add your liquid, one tablespoon at a time, and toss with a fork to moisten the dough. You have enough liquid when you can squeeze some together with your hands and have it stick together.
Turn dough out onto a clean surface that has been lightly floured. Divide the dough in half.
Pat dough into flat disks, about an inch thick, then wrap in plastic wrap and refrigerate for 30 minutes.
Roll out the dough on a floured surface until it's a circle a few inches bigger than your pie tin. For a standard 9″ pie, roll out a circle that is 12-inches across. Roll from the center out, using as few movements as possible to not overwork the dough.
Transfer the dough to your pie tin, trimming off any excess dough.
Follow your pie recipe and bake to complete!
Notes
*You can also use half butter and half shortening. 2 sticks of butter is 1 cup.
**Try using vodka for half of your liquid.
This post originally appeared in November 2015 and was revised and republished in October 2021.