Boozy Bourbon Pumpkin Pie
With vodka in the crust and bourbon in the filling, this Boozy Pumpkin Pie is going to make your Thanksgiving dinner very merry indeed.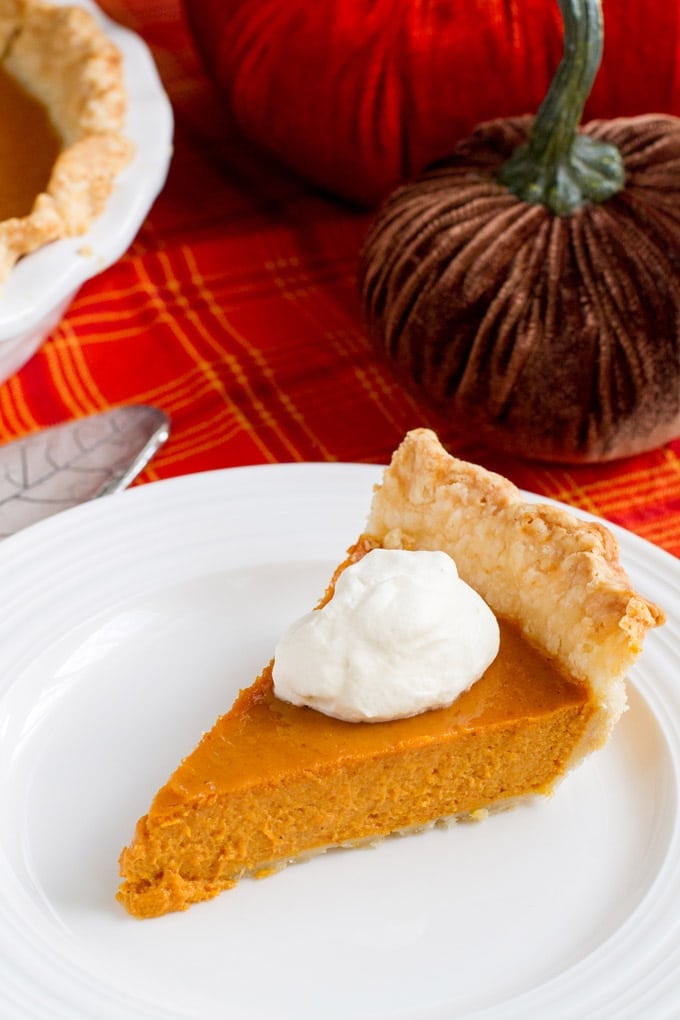 For far too long, pie crust has been my nemesis. I've always enjoyed baking pies, creating different flavor combinations that fit neatly in a crust—just not preparing the crust itself. I allowed that to keep me from baking pies for many years.Then I declared enough was enough and I went for it.
I reached out to the internet, and was rewarded with a miracle maker: Cook's Illustrated's Foolproof Pie Dough.
This recipe is revolutionary for pie bakers. With just the right amount of moisture from a combination of ice cold vodka (yes, vodka!) and water, the dough is easy to handle and bakes up beautifully. It is now the basis for all pies that come from my kitchen. I encourage you to try it, too, especially if you've been pie-phobic. Your life will be changed. For more pie crust brilliance, also check out our guide to perfect pumpkin pie crust here.
So what's inside that pie crust, you ask? You've been waiting a few minutes for me to get to that, I know. Let me tell you already! It's a creamy boozy version of a basic pumpkin pie filling. Some of the usual pie spices are in there, cinnamon, etc.. Of course. Then for thick thick richness it has sweetened condensed milk. Oh, and a good over-full shot of bourbon to make everything (and everyone!) happy.
Boozy Bourbon Pumpkin Pie
Yield: 8 servings
Prep Time: 15 minutes
Cook Time: 1 hour
Total Time: 1 hour 15 minutes
Ingredients:
1 9-inch pie crust (homemade, like Cook's Illustrated's Foolproof Pie Dough, or store-bought and thawed)
1 15-ounce can puréed pumpkin (not pumpkin pie filling)
1 14-ounce can sweetened condensed milk
2 large eggs
3 Tbsp. bourbon
1 tsp. ground cinnamon
1 tsp. ginger paste
1/4 tsp. ground nutmeg
Dash of allspice
1/2 tsp. fine sea salt
Directions:
Preheat oven to 425°F.
On a work surface, lightly dusted with flour, roll out pie dough into an 11"-12" circle.
Fold in half, then in half again, and carefully transfer to a 9" pie plate; unfold and gently arrange in plate, being careful not to press too hard.
Fold over the edge of the crust and create a decorative pattern by crimping (pressing the dough with your left thumb while simultaneously pressing back with your right forefinger and thumb). Rotate the pie plate, continuing with the pressing to carry out the pattern all the way around the edge of the pie crust.
Place in refrigerator or freezer to keep cool.
In a large mixing bowl, whisk the puréed pumpkin, sweetened condensed milk, eggs, bourbon spices and salt until smooth. Pour into the prepared crust.
Bake on the middle rack for 15 minutes, then reduce the temperature to 350°F and bake an additional 30 minutes, or until custard is mostly set, but the center still jiggles a little.
Cool before serving. Garnish with whipped cream, if desired.
This post originally appeared in November 2015 and was revised and republished in November 2016.