So many recipes start by instructing you to sauté onions, but have you ever wondered how to do it properly? We're showing you how to sauté onions perfectly.
Need to sauté onions but not sure the best way to go about it? Once you have the hang of it, perfect sautéed onions are easy to make and will take your recipes to a tasty new level. They're also great served over steak or on a burger.
Scroll down to read more about how it all comes together or click here to jump straight down to the recipe.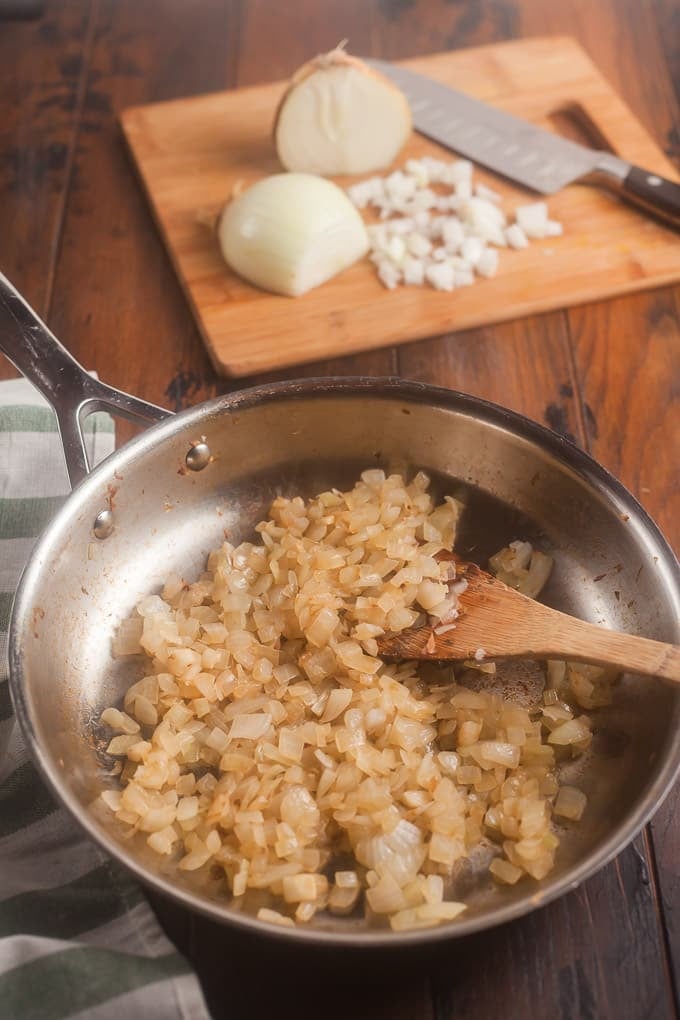 The Difference Between Sweating, Sautéing, And Caramelizing Onion
Sweating Onions
Sweating onions means to cook them low and slow in a little bit of fat, until they just begin to soften and release some liquid but don't take on any color. You'll want to sweat onions if you're using them in something like a cream soup or risotto, where you don't want to add any color to the final dish.
They have a clean onion flavor, and you probably wouldn't enjoy eating them on their own. The plus side is you can sweat a lot of onions at once and don't need to worry about overcrowding the pan.
Sautéed Onions
Sautéed onions have a light golden color and have a slightly sweeter flavor than sweated onions. If you're looking for tasty tender onions to add to a burger or sandwich or start a stir fry, sautéed onions are what you're looking for.
Overcrowding the pan can prevent the onions from picking up that gorgeous golden color, so you'll want to be sure to leave a little breathing room in your skillet.
Caramelized Onions
If you keep cooking onions beyond the sautéed stage, you'll end up with caramelized onions. When onions are caramelized, they become buttery soft and very sweet. They also take on a rich brown color. Think about the onions in French onion soup. If that's what you're looking for, caramelized onions are the way to go. These do take some time, but they taste sooo good.
How to Sauté Onions
Sauté comes from the French word for jumped because to cook them properly, you should keep them moving around in the pan. Sautéed onions are cooked over higher heat than sweat or caramelized onions, so keeping them moving will help prevent over browning.
The trick to making the best sautéed onions is to keep a close eye on them so they don't get too brown or burned.
To sauté onions, start by heating a pan over medium-high heat. The pan will be ready when a drop of water flicked onto it forms a ball and slides across the surface. If the water immediately evaporates, turn down the heat.
Next, add some fat to cook the onions in. (More on that in a minute.)
Add plenty of sliced or chopped onions and cook them, stirring constantly, for about 5 minutes, or until they're soft and take on a pale golden color. This method works for white onions and red onions in addition to the yellow onion I've used here.
Finally, season the onions. You don't want to season them before they cook, or the salt will draw the moisture out of them and cause them to steam rather than sauté.
What Kind Of Fat Should You Use To Sauté Onions?
You can use any fat that's suitable for cooking over high heat. Olive oil or vegetable oil are my go-to oils for this.
Butter can also be added to give the sauteed onions more flavor. Since butter has a lower smoke point, be sure to use a mixture of butter and oil so it doesn't brown too quickly. The butter also adds a nice flavor to the onions.
Uses For Sauteed Onions
There are so many ways to enjoy your perfect sauteed onions! Toss them with a veggie like green beans for an easy side dish. Top your burger or steak with some sauteed onions or add some into your grilled cheese. Use them in my homemade French Onion Dip. Don't forget to tell me in the comments how you love to use these onions.
Print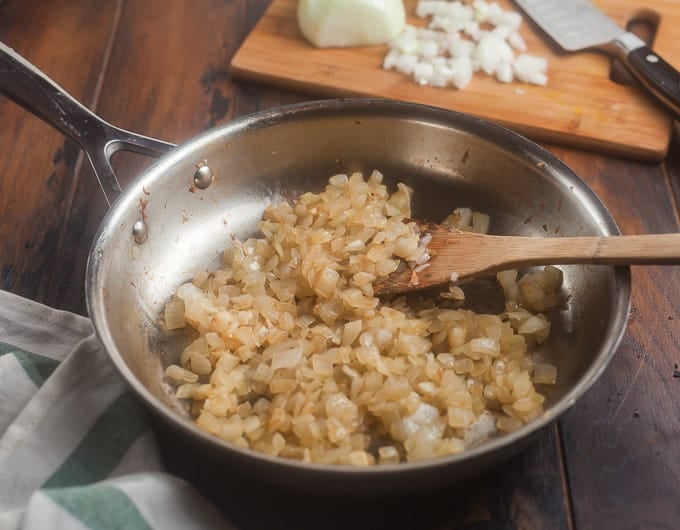 How to Sauté Onions Recipe
Contributor: Lauren Keating
So many recipes start by instructing you to sauté onions, but have you ever wondered how to do it properly? We're showing you how.
Author:

Prep Time:

5 minutes

Cook Time:

5 minutes

Total Time:

10 minutes

Yield:

1 cup

1

x

Category:

Side Dish

Method:

Stovetop

Cuisine:

American
1 Tbsp

. oil

1 Tbsp

. butter

2

yellow onions, chopped

1/8 teaspoon

salt
Heat a large skillet over medium-high heat.
When the pan is hot, add the oil and butter. When the butter has melted, swirl the pan so that it's evenly coated with fat.
Add the onions and cook, stirring constantly, for 5-8 minutes, until the onions soften and take on a pale golden color. If the onions brown too fast, turn down the heat.
Remove from heat and stir in the salt.
Love this recipe? I'd appreciate it if you could scroll down and add a *5 star rating* to help others know they'll love it as well!
This post originally appeared in November 2020 and was revised and republished in June 2023.