French Onion Soup with Vidalia Onions
There's no better way to showcase the sweetness of Vidalia onions than with French onion soup. It's a quick soup too. You're gonna love this. Slurp! This series is sponsored by the Vidalia Onion Committee. Vidalia Onions are available from late April through early September in grocery stores across the country. The season is short and sweet just like the delicious onions themselves, so make sure you look for them in your local retailer and learn more at www.vidaliaonion.org.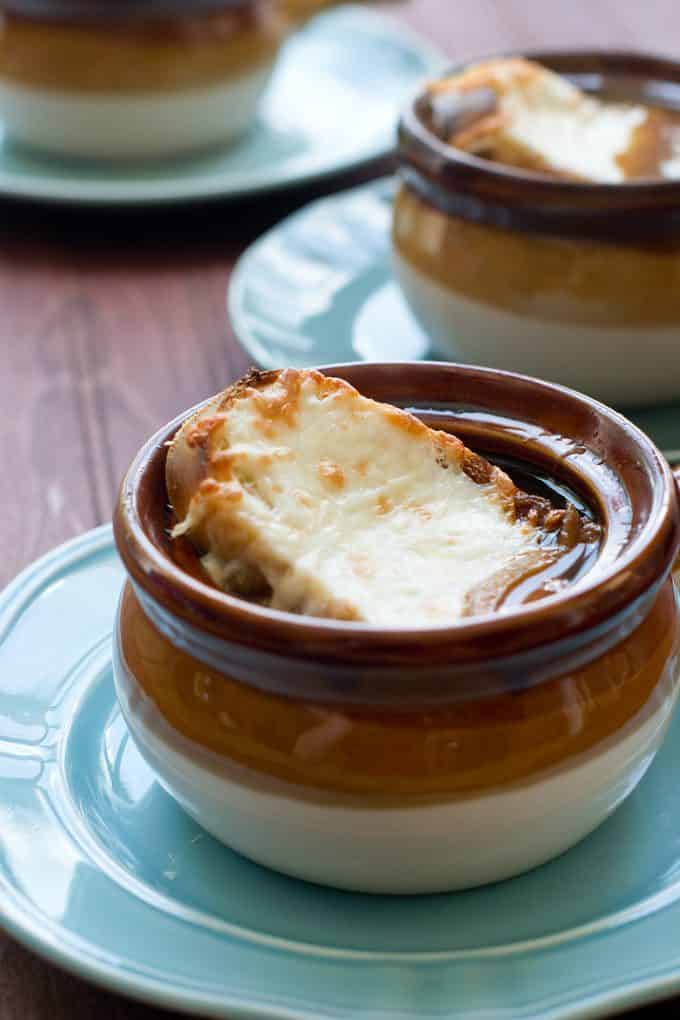 Usually French onion soup requires that you slowly cook onions for a long time to caramelize them and develop their sweetness. If you use Vidalia onions instead of regular onions though, you can speed up the cooking process by quite a bit. This is because Vidalia onions are already very sweet and so they don't require that caramelization. Good deal, right?
This French onion soup has all the delicious sweet onion flavor of the classic version but it's ready in way less time. You're going to love it!
Quick French Onion Soup with Vidalia Onions
Yield: 4-5 servings
Prep Time: 15 minutes
Total Time: 15 minutes
Ingredients:
4 Tbsp. unsalted butter
3 large Vidalia onions, divided
1 and 1/2 tsp. brown sugar, divided
salt
coarse black pepper
6 cups low or no-sodium beef broth
3 sprigs fresh thyme
baguette or other white bread
5 oz. Gruyere cheese
1 cup red wine
Directions:
Cut the butter into small pieces and put it into a very large skillet over medium heat. Peel and slice one Vidalia onion. Add it to the skillet. Increase heat to medium-high. Add 1/2 teaspoon of the brown sugar and a pinch of salt and of black pepper. Stir. Peel and slice a second onion. Add it to the skillet with another 1/2 teaspoon brown sugar and some salt and pepper. Stir. Repeat with final onion. Cover skillet. Continue to cook over medium-high heat, stirring occasionally, until well-browned and very soft, 10-11 minutes.
Meanwhile, preheat the broiler. Pour the beef broth into a large pot or Dutch oven over high heat. Add 1 teaspoon of salt and the thyme. Cover and bring to a boil. Reduce to a simmer. While the broth is heating, slice the bread into 4-5 slices. Put in a single layer on a baking sheet and put it under the broiler until it is toasted. Shred the cheese. Remove toast from broiler. Flip slices over. Top each with some of the cheese. Return it to under the broiler until cheese is melted.
When the onions are well-browned, add the wine to them. Stir it until most of the wine has evaporated. Add the onions and wine to the hot broth. Taste and add salt and pepper if needed. Ladle soup into bowls. Top each serving with a slice of cheese toast.
Disclosure: This post is sponsored by the Vidalia Onion Committee. All opinions are ours and honest.