Slurp away the flu with this quicker than quick Homemade Chicken Noodle Soup.
This soup will make you feel better instantly — or at least that's what my mom said whenever I tried to stay home from school. Nowadays I whip up a batch of Lickety Split Chicken Noodle Soup when one of my besties is sniffling. Yes, I'm that kind of friend. But only because, when I'm feeling sad, they bring me chocolate in return.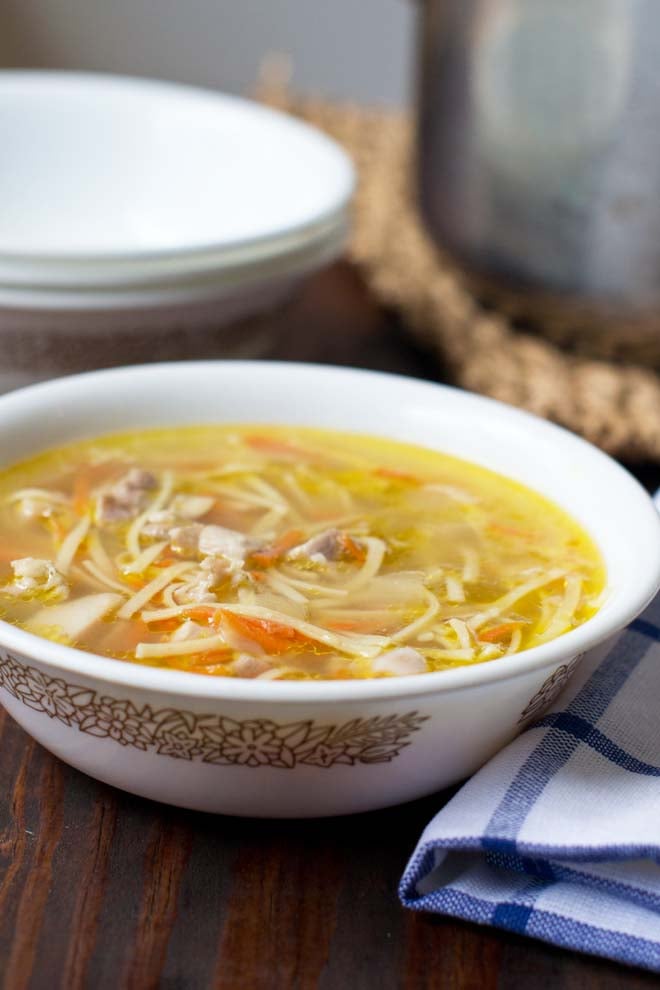 Here's A Video On Quick Chicken Noodle Soup:
Making It Quickly
There are a few reasons why this soup comes together so quickly and yet tastes so crazily like long-simmered homemade soup.
First, butter. You sauté the onions in butter. This doesn't exactly match the maltz (rendered chicken fat) flavor of a traditional chicken soup but it comes close. Using dark chicken meat (boneless skinless thighs here) also helps get that flavor going.
Second, some key quick-cooking ingredients. Shredded carrots and fine egg noodles. You can buy shredded carrots (sometimes labeled as "matchstick carrots") in the produce section near the packages of baby carrots. No need to peel or chop these. They're ready to go straight into your soup and their small size means they'll cook fast. The fine egg noodles (really thin ones) only need to go into the soup for the last few minutes because their small size gives them a short cooking time. Read our ravings about other quick-cooking soup ingredients over here.
More Cozy Chicken Recipes
Print
Lickety Split Chicken Noodle Soup
Contributor: Christine Pittman
Slurp away the flu with this quicker than quick Homemade Chicken Noodle Soup.
Author:

Cook Time:

15 minutes

Total Time:

15 minutes

Yield:

5

servings (10 cups)

1

x
7

cups

no-sodium or low-sodium chicken broth

1 Tbsp

. neutral oil (vegetable or grape seed)

1 Tbsp

. butter

2

cups

carrot matchsticks

1

small onion

1

clove garlic

1/2 tsp

. salt

1/4 tsp

. coarse black pepper

1

bay leaf

3/4

lb

. boneless skinless chicken thighs (about 3)

2

cups

uncooked fine egg noodles (or other noodles with very short required cooking time)
Pour the chicken broth into a large microwave-safe bowl and microwave it on high for 6 minutes.
Put a large pot or Dutch oven over medium heat. Add the oil and butter. Roughly chop the carrot matchsticks and add them to the butter.
Stir. Chop the onion and add it. Stir. Peel and mince the garlic and add it along with the salt, pepper and bay leaf. Stir and cook for 30 seconds.
The broth in the microwaves should be finished around now. Carefully add the hot broth to the pot. Stir. Cover and increase heat to high.
Chop the chicken into ½ inch pieces. When the broth comes to a boil, stir in the chicken. Bring it back to a boil and then reduce heat to a simmer. Cook until chicken is cooked through, about 1 minute.
Increase the heat to high and add the fine egg noodles. When it comes back to a boil, reduce to a simmer and cook until noodles are al dente, about 3 minutes. Remove bay leaf. Taste and add more salt and pepper if desired.