This chicken and noodles casserole combines all of your favorite chicken noodle soup flavors into a cozy one-pan dinner.
When you're craving a comforting soup, but want a more substantial, stick-to-your-ribs kind of meal, this Chicken and Noodles recipe is the perfect solution. This chicken recipe has all of the flavors of your favorite homemade chicken noodle soup, with a creamy sauce, tender chicken pieces and veggies, and lots of buttery egg noodles.
Scroll down to read more about how it all comes together or click here to jump straight down to the recipe.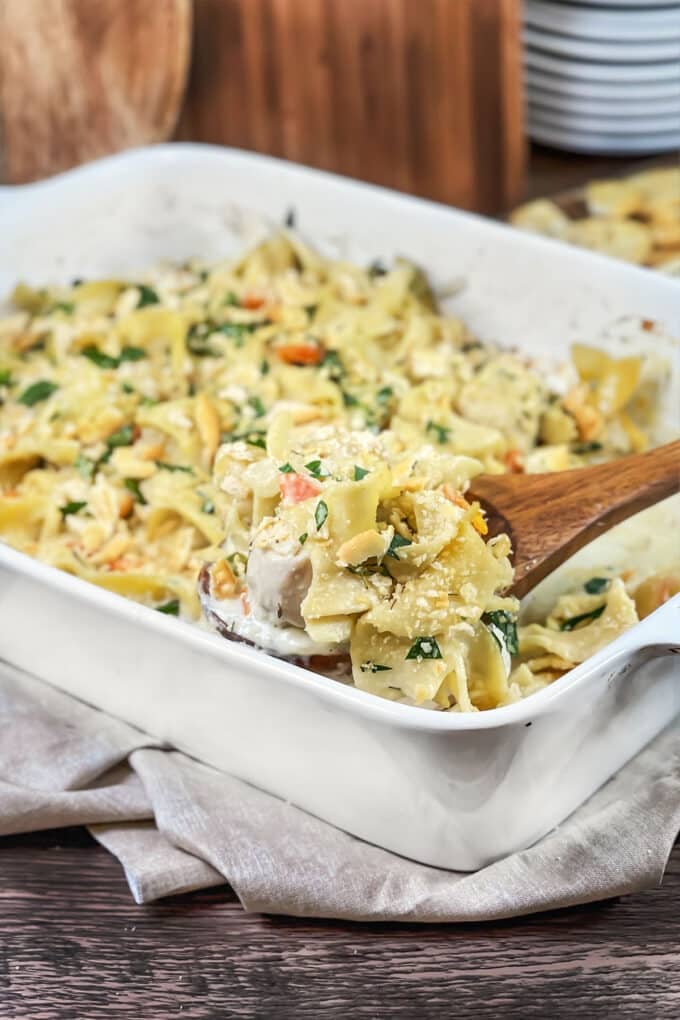 Ingredients
To start, we've got wide egg noodles. It's just not going to feel like cozy chicken noodle soup without some kind of egg noodle, so avoid pasta substitutions here.
What veggies are included? I've included the classics from my Chicken Noodle Soup recipe – carrots, celery, and onion. You'll want to cut these into similarly sized pieces so they cook evenly.
Because everything will simmer and sometimes boil while baking, I prefer to use chicken tenderloins for this recipe because they always remain tender throughout the long bake time. Although the chicken is submerged in liquid the entire time, chicken breasts can still taste dry and overcooked if baked at a high temperature for too long.
If you prefer dark meat, boneless, skinless chicken thighs can be used, which will also always remain tender. Another option is chopped rotisserie chicken, but because that is already cooked, you would stir that in after the initial half hour cook for the noodles and sauce.
For the liquid, I prefer using milk because it's what I always have in my refrigerator. Plus I prefer the lighter consistency I get from the sauce. Half-and-half or heavy cream can also be used as substitutions. The half-and-half or cream will make a richer, creamier sauce, more like a Campbell's Cream of Chicken soup. Whatever option you choose, it gets mixed with the chicken stock, butter, and flour as the base.
For seasoning, I keep it simple with onion powder and dried thyme, in addition to salt. Now we're ready to get cooking!
How To Make Chicken And Noodles
Preheat the oven while you handle the little bit of chopping needed for this recipe. Once that's all set, everything comes together quickly. Add the uncooked egg noodles to the casserole dish, along with the chopped vegetables and raw chicken.
The sauce for this casserole starts out as a thin liquid and thickens as everything bakes. To make it, in a large bowl, whisk together the chicken stock, milk, melted butter, flour, and seasonings until no lumps of flour remain. Pour this mixture into the casserole dish, and stir to combine and evenly distribute all of the ingredients.
It's important to tightly wrap the casserole dish in aluminum foil before it goes into the oven so that absolutely no steam can escape while it's baking. This will allow the sauce ingredients to come to a boil and not only cook the noodles, chicken, and vegetables but infuse its flavor into everything, too. In the process, the flour and butter, along with that little bit of milk, will thicken and create a light, creamy sauce all around the noodles.
Once the casserole dish is tightly covered, bake undisturbed at 425F for 30 minutes. Remove the dish from the oven and remove the aluminum foil but don't crumple it up or recycle it yet.
Give the ingredients a good stir to redistribute everything. The sauce might still feel a little thin, but don't worry. Recover the dish using the same aluminum foil and bake for 10 minutes more.
Remove the dish from the oven and discard the aluminum foil, then give everything another stir. Those last 10 minutes in the oven helped the sauce to fully thicken and coat every noodle. Spoon the creamy Chicken and Noodle Bake into mugs or bowls. Then top with a handful of your favorite soup crackers, crushed.
Are you team Saltine or Ritz crackers?
More Comforting Chicken Recipes
We have a whole collection of great chicken recipes but here's some more comforting options that I've chosen to highlight for you:
Podcast Episode: Making Chicken and Noodles
Listen to learn how to make this recipe, along with some great tips from Christine:
Listen to more Recipe of the Day episodes here.
Print
Chicken and Noodles Recipe
Contributor: Christine Pittman
This chicken and noodles casserole combines all of your favorite chicken noodle soup flavors into a cozy one-pan dinner.
Author:

Prep Time:

10 minutes

Rest Time:

10 minutes

Cook Time:

40 minutes

Total Time:

1 hour

Yield:

6

servings

1

x

Category:

Entrée

Method:

Baked

Cuisine:

American
1

(12 oz.) package wide egg noodles

3

large carrots, peeled, cut into bite-sized pieces

2

large celery ribs, cut into bite-sized pieces

1

small onion, diced

6

chicken tenderloins, cut into bite-sized pieces

4

1/2

cups chicken stock

1/4

cup whole milk, half-and-half, or cream

3 Tbsp

. butter, melted

2 Tbsp

. all-purpose flour

1

1/2

tsp. salt

1 Tbsp

. onion powder

1/2

tsp. dried thyme

24

Soda or butter crackers, lightly crushed
Preheat the oven to 425°F.
To a 9×12-inch baking dish add the uncooked egg noodles, carrots, celery, onion, and chicken.
In a large bowl whisk together chicken stock, milk, butter, flour, salt, onion powder, and thyme until no flour lumps remain. Pour mixture over egg noodles. Stir to combine then evenly distribute ingredients.
Cover baking dish tightly with aluminum foil so that no steam can escape. Place pan in oven. Bake 30 minutes.
Remove pan from oven, remove aluminum foil and set aside. Stir noodles to redistribute.
Cover the pan with aluminum foil and place into oven until noodles and chicken are fully cooked and sauce has thickened a bit, about 10-14 minutes more.
Remove pan from oven and discard aluminum foil. Stir everything then let stand uncovered for 10 minutes before serving. The sauce will continue to thicken in this time.
Top with crackers and serve.
Love this recipe? I'd appreciate it if you could scroll down and add a *5 star rating* to help others know they'll love it as well!