This Mushroom Flatbread with Caramelized Onions is earthy, hearty, and delicious! Read on for the recipe and wine pairing suggestions.
Technically speaking, flatbread can be any bread that's thin and, well, flat, with or without toppings. Many cuisines have some version of it—pizza, focaccia, naan, lavash, and pita could all be considered flatbreads.
That generic-ness is one of flatbread's charms. It can be anything you want. If you top it, those toppings can be anything too. And you can serve it as a main course or a side dish or finger food. There are even dessert flatbreads!
This one celebrates all that yet is particularly special. Brimming with silky caramelized onions, tender sautéed mushrooms, and crumbled goat cheese, it definitely deserves a spot in your regular rotation.
Making The Mushroom Flatbread
The hardest thing about making this recipe is the caramelized onions—and they're pretty easy. More than any great skill, they just take patience. The directions are included in the recipe, but if you want more detail read this post on how to make caramelized onions.
For the dough, you can make homemade pizza dough or use store-bought. Again, making your own is easy. It takes time, but not a lot of hands-on time. That said, most supermarkets sell pretty good pizza dough these days—look in the bakery section, the prepared foods section, or the freezer section.
As for the mushrooms, I definitely chose to include them because they're a classic pairing for light red wines, particularly Pinot Noir (more about wine in a sec)—especially earthier brown mushrooms that mirror the earthy quality of the wine. But if you prefer, use white mushrooms, a combination of brown and white, or even wild mushrooms.
The final topping is goat cheese. If that's not your jam, substitute blue cheese, feta, or anything similarly light and bright. That quality provides nice contrast to the more savory onions and mushrooms.
What Wines Go With This Flatbread?
As I explain in this Guide to Pairing Party Foods and Wine, this dish is sort of in the middle of the spectrum in terms of food and wine pairing—a Mushroom Flatbread could go with a heavier white like Chardonnay or a lighter red like Pinot Noir or Grenache.
But I was deliberately trying to create a light red pairing so, as I mentioned earlier, I chose meatier brown mushrooms to push the recipe in that direction. Even the goat cheese is deliberate—it adds richness which works for red, but also a little tang which is better for a light red.
Other Possible Wine Pairings
A heavy white wouldn't be poison with this dish—at all. Especially if you use white mushrooms. If you decide to go that direction, Chicken Skewers with Rosemary is another recipe in this series that would go with a big white wine.
If you want your Mushroom Flatbread to work with a bigger red wine like Merlot, Syrah, or Cabernet Sauvignon, try drizzling it with a little balsamic, adding Italian sausage, and/or switching the cheese to something more intense, like Parmesan or sharp cheddar. Any or all of those would add weight and intensity, pushing the flatbread towards a bigger red. Should you go that route, try serving these Stuffed Dates as well, which are also perfect with big red wines.
Last but not least, try this with sparkling wine. It's super light and white, but it works. Why? Because while like-with-like is always a good strategy with food and wine pairing, contrasts can work too. Also bubbly things are nice with crunchy things, like the flatbread's crust. And many sparklers, especially Champagne, have bready, biscuity, and earthy qualities—so there is like-with-like similarity in the combo as well. Should you decide to go with a sparkler, my recipe for Puff Pastry Tart with Parmesan and Apples also works with that wine.
Print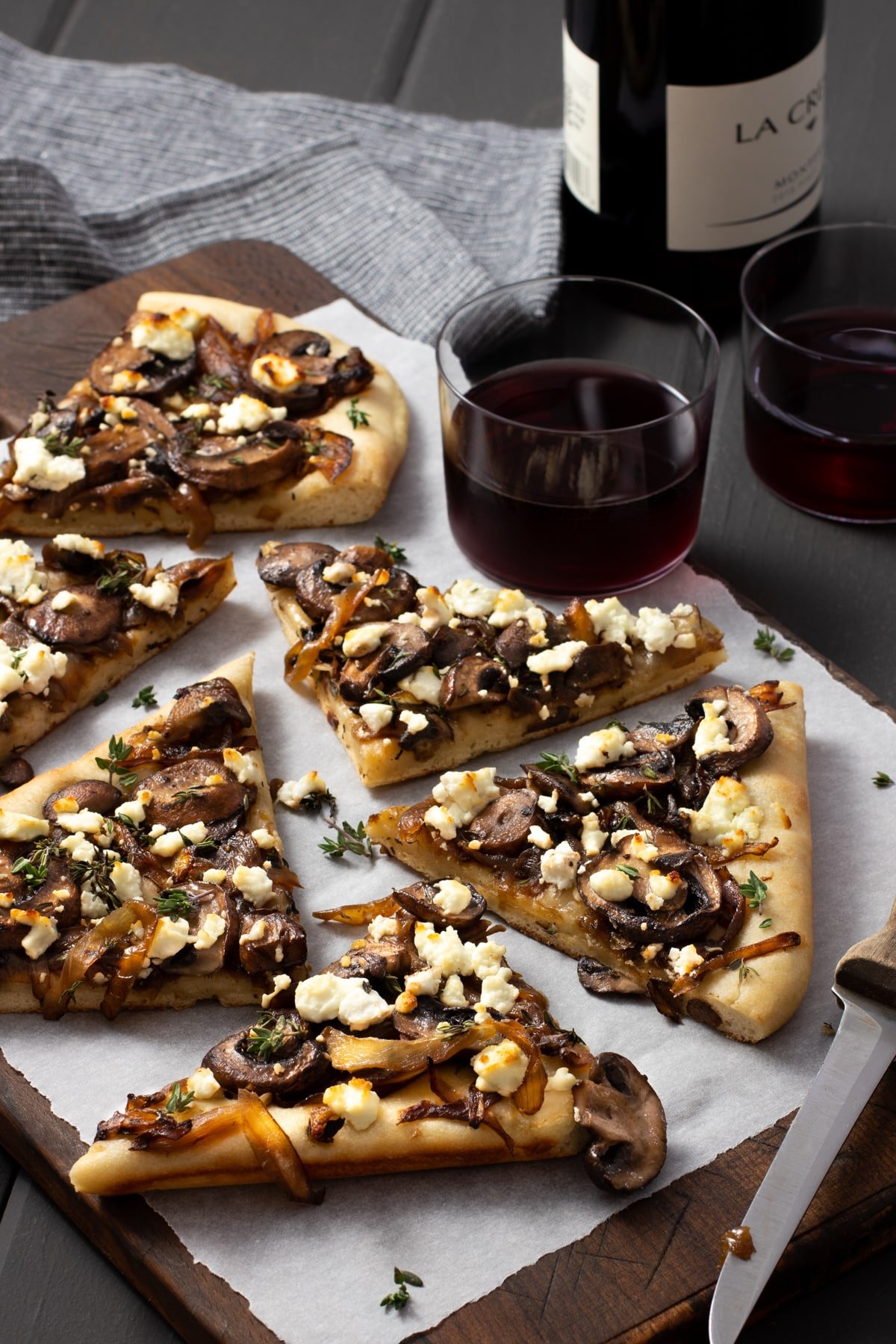 Mushroom, Caramelized Onion, and Goat Cheese Pizza Flatbread
Contributor: Jill Silverman Hough
This Mushroom Flatbread with Caramelized Onions is earthy, hearty, and delicious!
Author:

Prep Time:

10 minutes

Rest Time:

30 minutes

Cook Time:

1 hour

Total Time:

1 hour 40 minutes

Yield:

4

–

6

servings

1

x

Category:

Appetizer

Method:

Baked

Cuisine:

American
2 Tbsp

. olive oil, divided

1

large sweet onion, sliced

3/4

tsp. salt, divided, or more to taste

8

oz

. sliced brown mushrooms

1/4

tsp. pepper, or more to taste

1

1/4

lb. prepared pizza dough, homemade or store-bought

1/2

cup crumbled goat cheese

1 Tbsp

. fresh thyme leaves (optional)
Instructions
In a large skillet over medium-high heat, heat 1 tablespoon of the oil.
Add the onion, cover, and cook until the onion begins to soften, about 5 minutes.
Add 1/2 teaspoon of the salt.
Reduce the heat to very low and cook, uncovered and stirring frequently, until the onion is a deep golden color, 35 to 40 minutes. Remove from the heat, add more salt to taste, and set aside to cool.
While the onions are cooking, in a medium skillet over medium-high, heat the remaining 1 tablespoon of oil.
Add the mushrooms, pepper, and remaining 1/4 teaspoon of salt and cook, stirring occasionally, until the mushrooms are browned and tender, 6 to 8 minutes. Remove from the heat, add more salt and pepper to taste, and set aside to cool.
While the onions and mushrooms are cooling, on lightly floured surface, roll or spread the dough into an approximately 10-by-12-inch rectangle. Transfer to an oiled baking sheet and set aside 30 minutes.
Meanwhile, preheat the oven to 500°F, with a pizza stone if you have one.
Dimple the dough with your fingertips. Top with the onions, mushrooms, and cheese. Bake, with the baking sheet directly on the pizza stone if you have one, for 10 minutes.
Sprinkle with the thyme, if using, and continue baking until browned, 3 to 5 minutes.