The most important step in making beef carpaccio is to start with slightly frozen meat, making it easier to slice thinly. Using the correct knife is also very important for those thin slices. Find out everything you need to know to make this delicious appetizer below. Our Knife Skills series is sponsored by Cutco.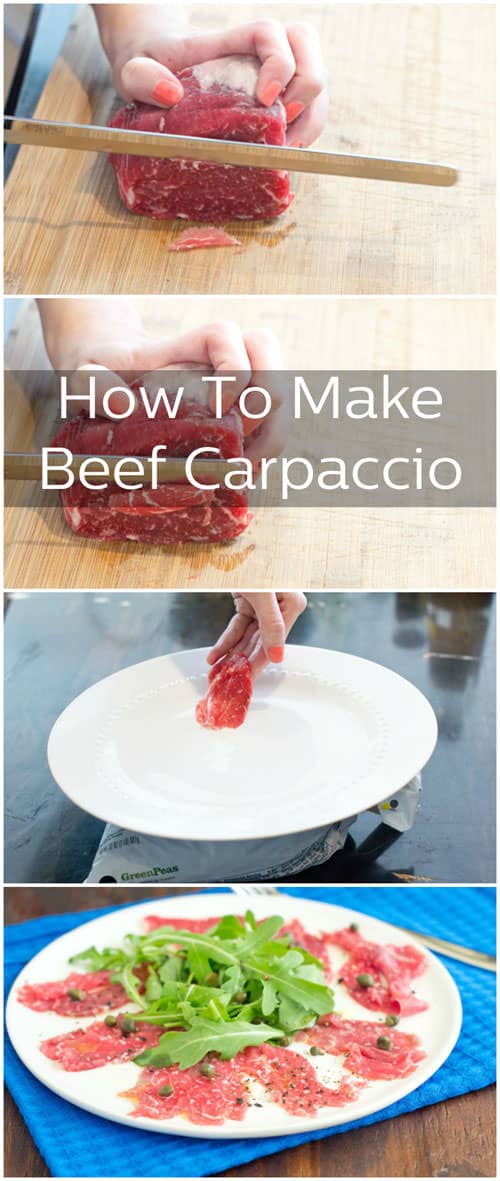 What is Beef Carpaccio?
Beef carpaccio is an Italian dish centered around raw beef. Yes, that's right, it's raw!
The first time I saw beef carpaccio I was very hesitant. I've been told from a young age about health hazards of eating rare meat, let alone raw.
Is it Safe to Eat?
There is always a risk when you eat uncooked or under-cooked meat. But if you take a few precautions, you can be pretty sure that it will be alright. To make sure your carpaccio is as safe to eat as possible, buy your beef tenderloin from a clean and credible butcher, tell the butcher what you plan to do with it, and ask if the chosen meat will be suitable. Then, keep the meat refrigerated at all times except when preparing it and eating it. Make the carpaccio on the same day you buy the meat and eat it that day as well. Do not save or eat any for leftovers.

Preparing Beef Carpaccio
Step #1
Place your beef tenderloin in the freezer to get it partially frozen. Meat is easier to cut thinly if it has been frozen in this way. Our meat took around two hours to freeze to that point but it can all depend on your freezer and how big of a cut you have. Ours was 1/3 lb. so it froze quite fast. You want it really really cold and frozen but not frozen solid.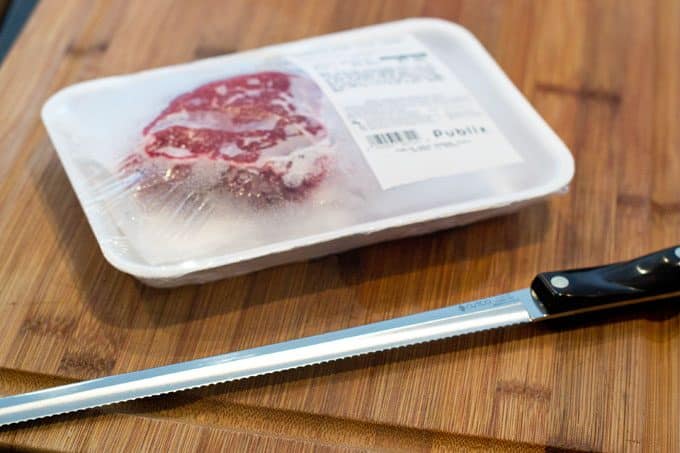 Step #2
Once the beef is frozen use your slicer to cut extremely thin pieces of meat. When you hold the slice up you should almost be able to look through it.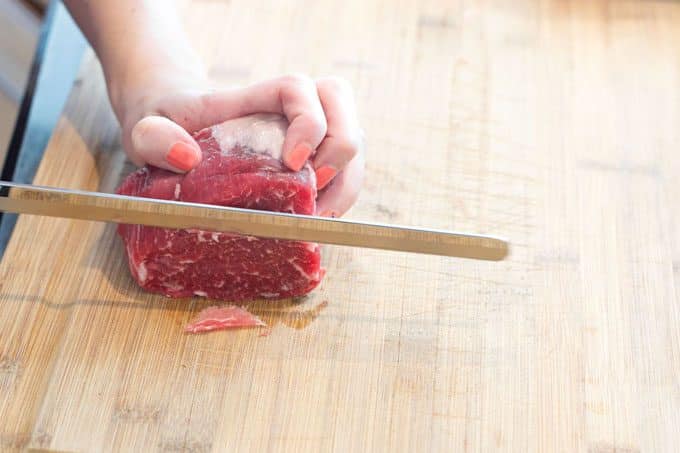 Since the slicer has serrated edges you need to move your knife back and first to cut.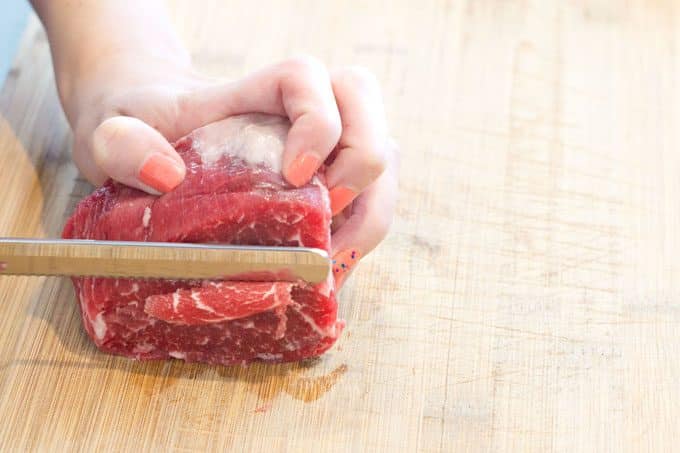 Step #2
Place your sliced beef on a cool plate. And I don't mean like awesome, cool, I mean like, put it in the fridge and bring to a lower temperature cool. We've popped a bag of frozen peas under our plate to keep it cold while we work.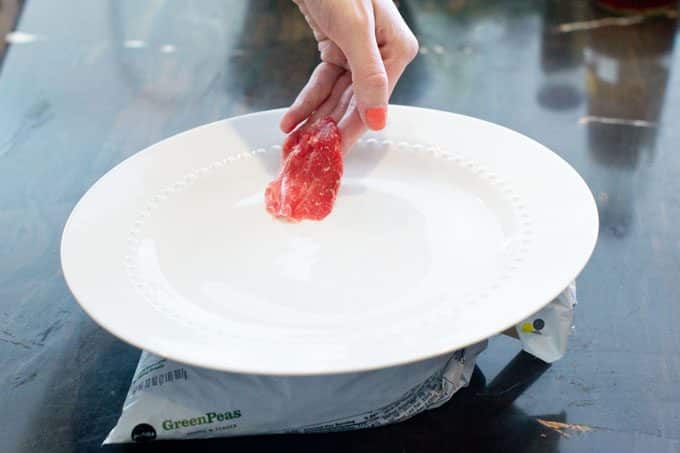 Step #3
Once all of your beef slices are on your cold plate, it's time to add the garnishes. Beef carpaccio is all about the garnishes. Add capers, sea salt, ground pepper, arugula, and a small drizzle of oil and red wine vinegar. Eat immediately. I mean, how could you even resist???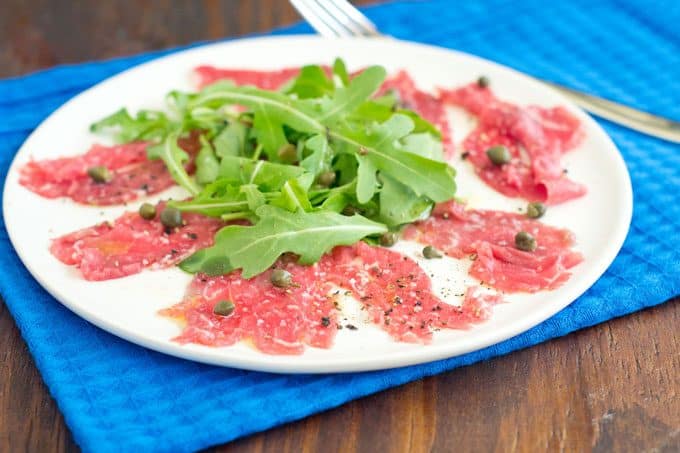 Print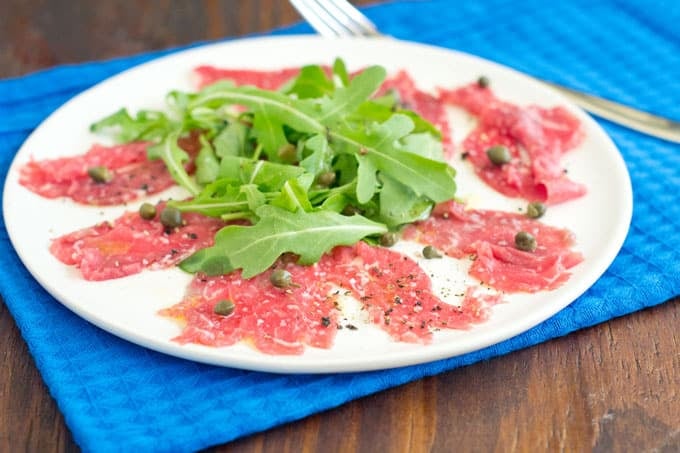 Beef Carpaccio
Contributor: Lyndsay Burginger
The most important step in making beef carpaccio is to start with slightly frozen meat, making it easier to slice thinly.
Author:

Prep Time:

2 hours

Total Time:

2 hours

Yield:

2

servings

1

x

Category:

Appetizer

Method:

No-Cook

Cuisine:

Italian
⅓

lb. beef tenderloin
handful arugula

2 tsp

. capers

2 tsp

. red wine vinegar

4 tsp

. olive oil
cracked black pepper
sea salt
Instructions
Freeze beef tenderloin until very firm but not rock solid, about 1-2 hours. While the beef is in the freezer, place the plates in the fridge to chill.
Once the beef is firm, slice very thinly against the grain and place slices on chilled plates.
Top each serving with a handful of arugula and capers. Drizzle with vinegar and olive oil and add a pinch of freshly cracked black pepper and sea salt. Serve immediately.
Disclosure: This article is sponsored by Cutco. All opinions are ours and honest.
This post originally appeared in October 2016 and was revised and republished in March 2020.