Steak Tartare is a fancy restaurant experience that you can absolutely do at home for a great appetizer.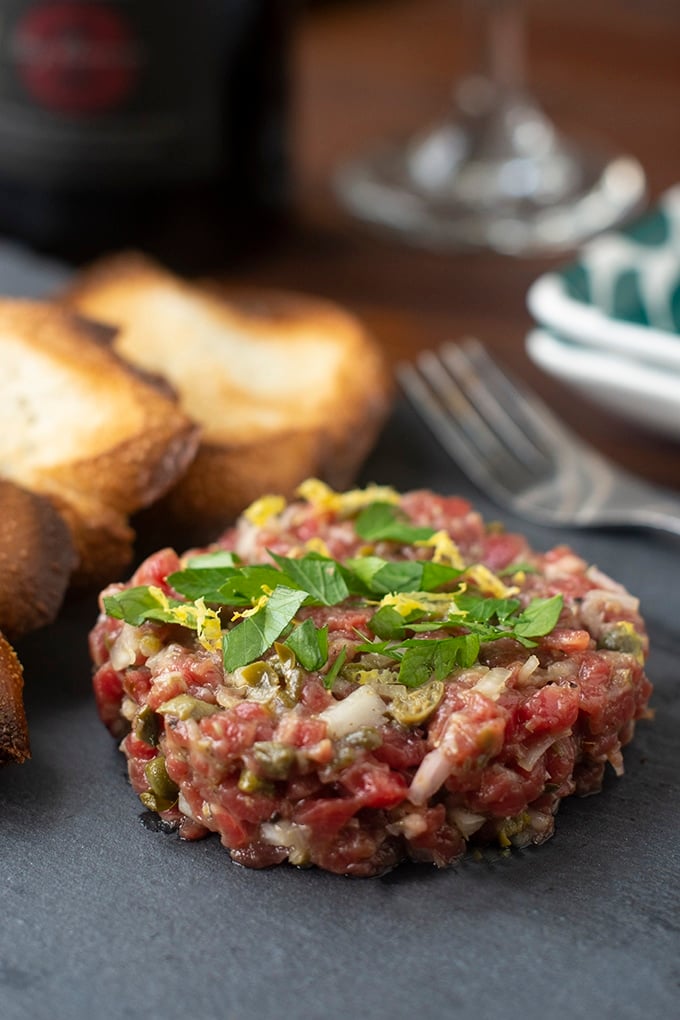 What is Steak Tartare?
Steak Tartare is raw beef mixed with some really flavorful ingredients like egg yolk, shallots, and capers. Raw beef may sound intimidating, but it makes for a great appetizer. Like Beef Carpaccio, the key to this dish is cutting the meat very thinly so that's it's easy to chew and very tender.
Steak Tartare is often found in fancy restaurants and is popular in France and Switzerland. Sometimes it is prepared table-side with the steak being chopped in front of you which makes for a fun experience. Today, we bring the restaurant home to you and show you how to make this great dish.
What Kind of Beef Should I Use?
For steak tartare, you'll want to use a beef tenderloin. In addition to this being a very tender cut of meat, it's also very low on fat and gristle which you don't want when eating it raw.
Beef tenderloin is sold as a long roast or it is cut into small steaks, which are called filet mignon. You're only going to need a small 4 oz. filet mignon for this dish. If they're sold such that 2-4 are packaged together, ask the butcher or meat department manager for a package with just one. Or, buy the larger package and use the others as steaks. Or, make more steak tartare!
Is it Safe to Eat Raw Beef?
First off, if you are immuno-compromised or have other health issues that make you concerned about eating raw meat (like if you're pregnant, for instance), it's best to skip this one. Use your best judgement and personal risk factors when deciding if you want to try steak tartare.
To minimize risk, use very fresh beef. When at the store, look for a sell-by date that is far into the future. You can also talk to the butcher at your store for advice and to get the best cut for this purpose. You'll want to get a beef tenderloin, refrigerate it as soon as you get home, and prepare it the same day.
If you want to be extra careful, you can also cut off the outer layer of the meat off, on all sides, and discard it. The reason is that the outside is where most bacteria growth would be.
Do not use ground beef for this dish. Ground beef has a lot of surface area. Every little ground of it has surface on all sides. So there's more bacteria in ground beef than on a steak. Ground beef should therefore not be eaten raw.
How to Prepare Steak Tartare
This recipe makes an appetizer for 2-4 people, but you can easily double it or more.
Step #1
Start by cutting the steak into thin slices. You'll then cut those into strips, and finally small pieces.
Some people freeze the steak slightly first to make it easier to slice thinly but I find that if I have a sharp knife this isn't necessary. If you want to freeze it, put it into the freezer for 45 minutes before slicing it. Note that this freezing is more important for carpaccio since you want paper thin slices for that and it's hard to do that with meat that isn't frozen. The slices for the tartare don't have to be quite that thin.
YOu can see in the picture below that I'm taking the filet mignon (top left) and cutting it into thin slices (bottom left). Then cut those slices into thin strips (bottom right). Finally, chop those strips finely (top right).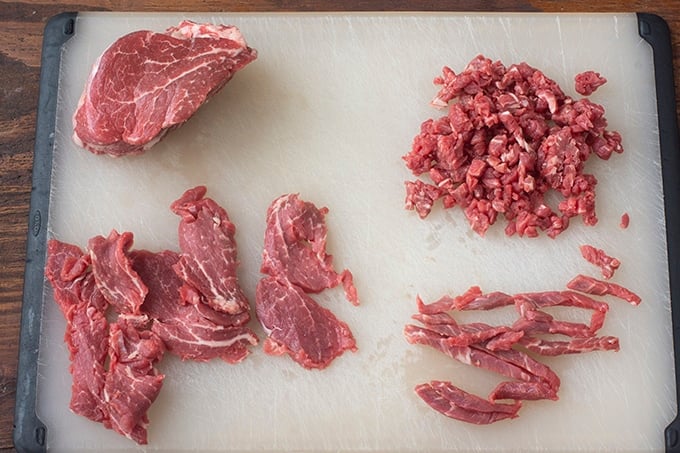 Step #2
Mix together some delicious ingredients with some egg yolk. For the 4 oz. steak I used, I needed only half of an egg yolk. To the egg yolk I added olive oil, sherry vinegar, dry mustard powder, shallots, capers, salt, and pepper. Whisk that all together then add the chopped beef. Stir it together gently. You want it thoroughly mixed, but over-mixing beef makes it tough. Also, you don't want the meat to be squished at all. Use a fork and just turn it over about 8 times until it seems like it looks the same throughout the mixture.
Step #3
Once you've mixed up your steak with the other ingredients, get a round cookie cutter. A lightly greased ramekin will also work.
My cookie cutter is about 3 and 1/2 inches in diameter and is the perfect size for this recipe, which uses 4 oz. of steak.
Put the cookie cutter on the serving plate. Fill it with the beef mixture, press lightly on the meat so it holds together, and then lift off the cookie cutter. If using a ramekin, fill the ramekin and then invert it onto the serving plate.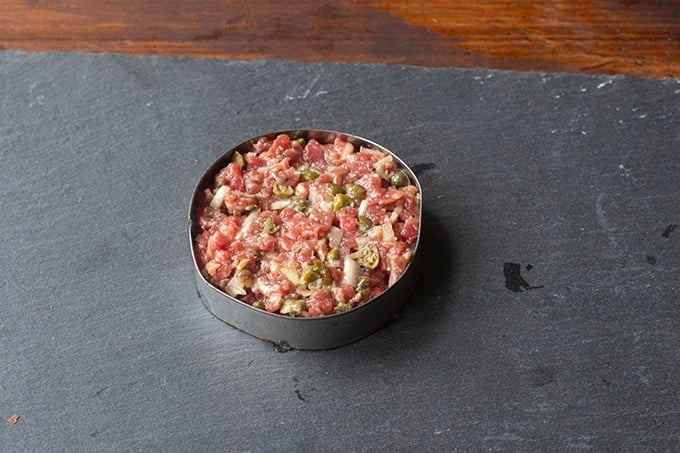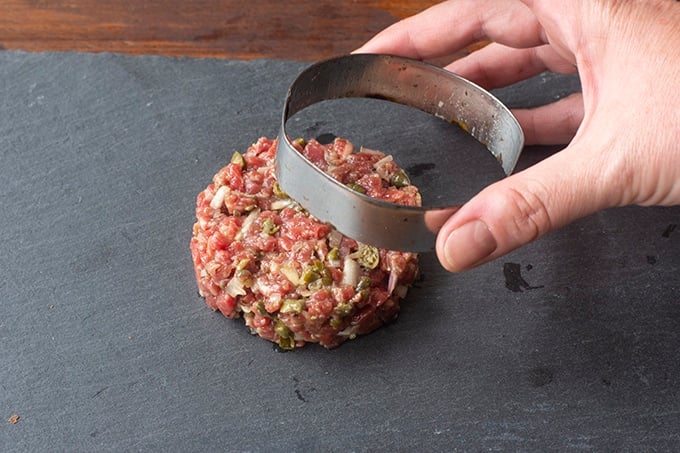 Step #3
Top the steak tartare with chopped parsley and lemon zest. Don't skip the lemon zest. It adds so so much!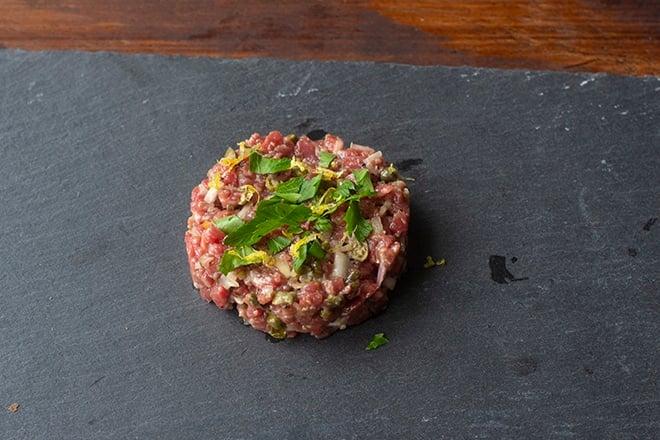 What to Serve with Steak Tartare
Serve your Steak Tartare with toast points, crusty thinly-sliced bread, or even house made potato chips. Scoop a small amount of the tartare onto whatever sort of bread you're using and enjoy!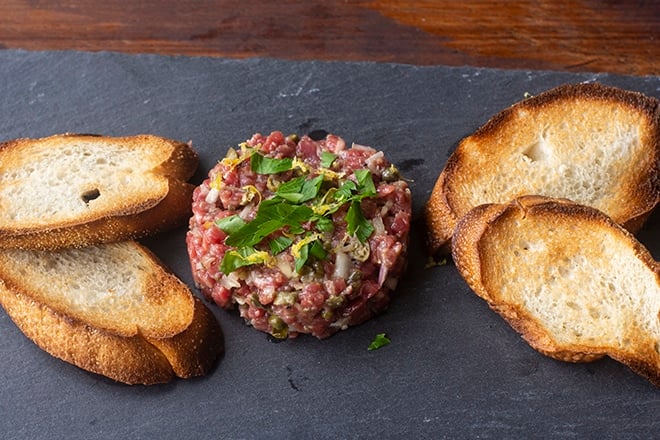 Print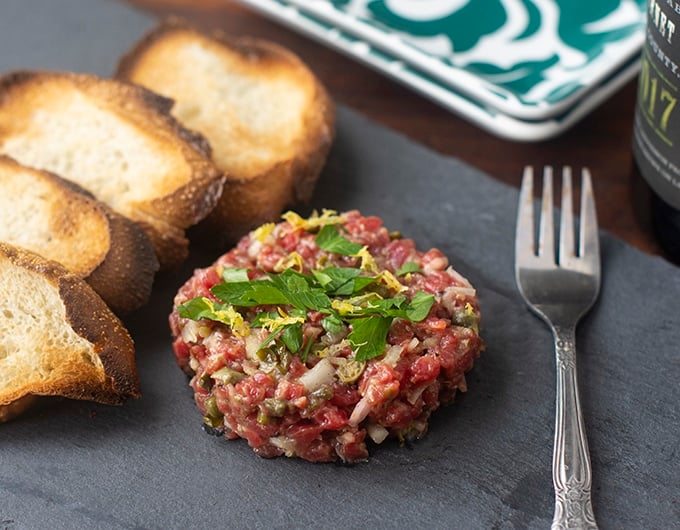 Steak Tartare
Contributor: Christine Pittman
Steak Tartare is a fancy restaurant experience that you can absolutely do at home for a great appetizer.
Listen to our editor, Christine Pittman, explain briefly about how to make this appetizer, with some great tips along the way, by clicking the play button below:
Author:

Prep Time:

15 minutes

Cook Time:

0 Minutes

Total Time:

15 minutes

Yield:

4

servings

1

x

Category:

Appetizer

Method:

No-Cook

Cuisine:

French
1/2

raw egg yolk

1 Tbsp

. olive oil

1/4 tsp

. sherry vinegar

1/4 tsp

. salt

1/8 tsp

. coarsely ground black pepper

1/2 tsp

. dry mustard powder

2 Tbsp

. chopped shallot

2 Tbsp

. capers, chopped

4

oz

. filet mignon steak

1 Tbsp

. chopped flat-leaf parsley

1 tsp

. lemon zest
Sliced baguette, to serve
Instructions
In a medium bowl whisk together the egg yolk, olive oil, sherry vinegar, salt, and black pepper. Mix in the mustard powder, shallot, and capers. Set aside.
Trim any fat off of the filet.
Slice the filet as thinly as you can into wide strips. Slice the wide strips into the thinnest slices that you can. Chop the slices into the smallest pieces that you can.
Gently combine the chopped steak with the egg yolk mixture, making sure it is thoroughly mixed but not over-mixed.
Put a 3 and ½ inch diameter round cookie cutter* onto a serving plate. Fill with the steak mixture. Press gently down on the meat to set it. Remove the cookie cutter.
Top the meat evenly with the lemon zest and the parsley. Arrange slices of baguette around the meat and serve.
Notes
*If you don't have a cookie cutter, you can use a ramekin or two. Lightly grease the inside of the ramekin. Fill with the meat mixture. Gently press the meat to set it. Invert the ramekin on a plate and tap it to release the meat.