Air Fryer Bacon Wrapped Chicken Bites are a simple but tasty appetizer with just 3 ingredients.
When I was growing up, my mom used to make rumaki as an appetizer for parties. Have you had these before? It's a chicken liver with a slice of water chestnut wrapped together in bacon. I wasn't a huge fan of the chicken liver part, but the water chestnut and bacon made it totally edible and delicious.
That's how I got the idea to make these bacon-wrapped chicken bites. It's a piece of chicken thigh or breast (instead of liver) wrapped in bacon. You can add a slice of water chestnut if you'd like as well. I like it with the water chestnut because it gives it a nice little surprising and satisfying crunch, without adding much in terms of flavor. The flavor is all bacon and chicken…mmmm.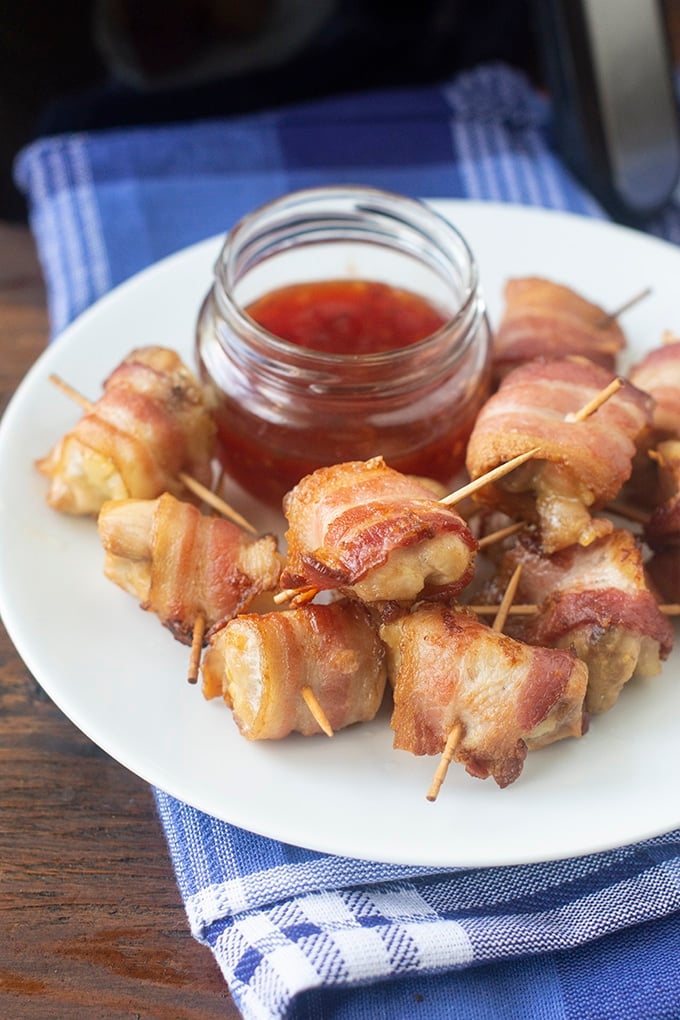 How To Make Bacon Wrapped Chicken Bites
I think you're going to be surprised at how quickly you can make these. You use raw chicken and raw bacon so there's no pre-cooking of anything. You just wrap small pieces of chicken in bacon, secure them with a toothpick, and then put them into the air fryer for 10-13 minutes. You don't even need to flip them halfway through once they're in there.
Here is what you need to set up to make these. Get out some bacon and cut the slices in thirds (if your bacon is center cut and thus the slices are shorter, you should cut the slices in half instead).
Then cut your chicken into bite-sized pieces. If you're using boneless skinless chicken thighs, unroll a thigh and then cut it into 6 pieces. If you're using boneless skinless chicken breasts, cut it into cubes between 1 to 1 and 1/2 inches. I prefer using the thighs because they're much juicier than the breasts, but it's good with chicken breasts too.
If you're using water chestnuts, buy them already sliced. Just drain them and you're ready to go.
The only other thing you need is toothpicks.
And an air fryer.
Then just wrap the cut bacon slices around the chicken, secure with a toothpick, and cook in the air fryer.
Why Use An Air Fryer For Bacon Wrapped Chicken?
Cooking these in the air fryer saves a lot of time. You don't have to preheat the air fryer, and it's really hot in there so the bites are done in under 15 minutes. They take longer in the oven for sure.
The con to making these in the air fryer is that you can't make very many at a time. But, since they're so quick, you can easily get a batch into the air fryer and have them cooked while you roll up another batch.
Making The Chicken Bites In The Regular Oven
You can absolutely make this same recipe on a sheet pan in the oven. The benefit to doing so is that you can make more at a time. With the air fryer you can fit about 12 at a time. If you want more than 12, you have to do it in batches. In the oven you can do a whole sheet pan full, or even two sheet pans full, if you want.
To make them in the oven, preheat the oven to 400°F and line a sheet pan with parchment paper. Put the bites on the pan and bake for 12 minutes. Flip them over and bake until chicken is cooked through and bacon is crisp, about 10-15 minutes more.
What To Serve With Bacon Wrapped Chicken Bites
I like these by themselves but they're even better with a dip. No need to get fancy or complicated though. My favorite is to just use some bottled sweet chili sauce. They're also good dipped in ranch dressing (although I wouldn't go that route if you included the water chestnuts because I'm not sure they'd go together very well).
I hope you love these tasty bites! – Christine xo
Print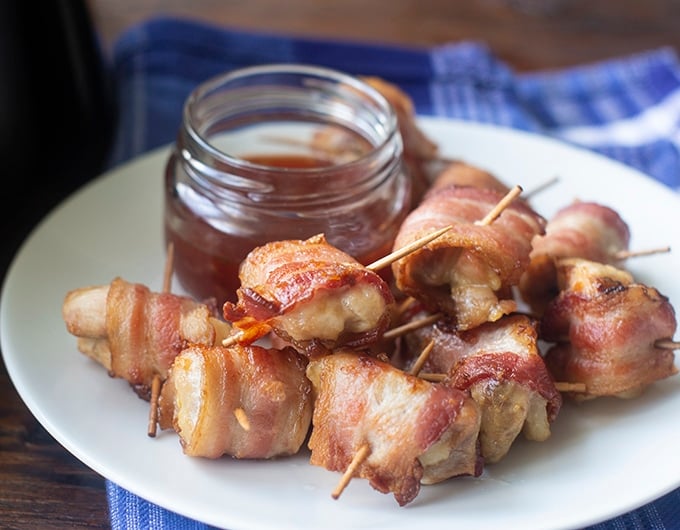 Air Fryer Bacon Wrapped Chicken Bites
Contributor: Christine Pittman
Air Fryer Bacon Wrapped Chicken Bites are a simple but tasty appetizer with just 3 ingredients.
Author:

Prep Time:

10 Minutes

Cook Time:

10 Minutes

Total Time:

20 minutes

Yield:

4

Servings

1

x

Category:

Appetizer

Method:

Air Fryer

Cuisine:

American
2

boneless skinless chicken thighs

4

strips of bacon

12

slices of water chestnut (optional)

12

toothpicks

¼

 cup dipping sauce, such as sweet chili (optional)
Instructions
Turn air fryer to 400°F.
Cut the chicken thighs into 12 bite-sized pieces.
Cut the bacon slices into thirds.
Wrap a cut slice of bacon around the chicken, including a water chestnut slice, if desired. Secure with a toothpick. Repeat with remaining ingredients.
Arrange them in the air fryer in a single non-overlapping layer.
Cook until chicken is no longer pink inside and the bacon is cooked, 10-13 minutes.
Remove and serve immediately with dipping sauce, if desired.