Bacon + Avocado = BLISS! These Bacon-Avocado Wedges are the ultimate finger food. Time to dig in!
The other day we shared a recipe for avocado fries. Those ones were breaded and then baked until golden brown. They were seriously addictive. So addictive that I needed to riff on them. Riff on them by adding bacon, of course.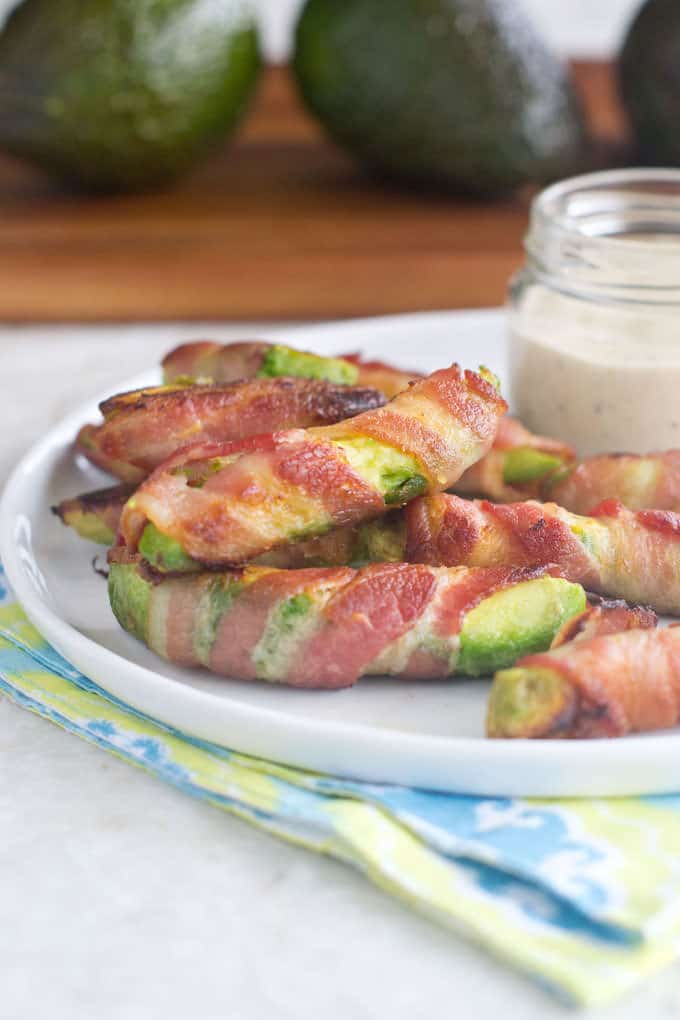 Making Bacon-Wrapped Avocado Wedges
These avocado wedges are really easy to make. You simply take bacon and wind it around avocado wedges. I stretch the bacon a bit first so that it's thinner and crisps up quickly. Also, make sure you only do a single layer of bacon for the same reason. Don't overlap it very much, if at all. You might need to trim some of the bacon off if the strip is too long for the wedge.
Then you put the bacon-wrapped avocado wedges on an oiled pan and bake them for 7 minutes. Have a peek and see if there's a lot of bacon grease on the pan. If the fries are sitting in bacon grease, the bacon won't crisp up as well, so you'll want to carefully drain that fat off. Bake for 5 more minutes, then flip the fries over so that the bacon has a chance to crisp up on all sides.
How To You Get The Bacon Even Crispier
For the recipe below, and as explained above, the bacon will be cooked but not super-crisp. If you want it really crispy, there is something that you can do.
Put some paper towel on a microwave-safe plate. Arrange your bacon slices (you might have to do this in two batches to get them all) on the plate in a single non-overlapping layer. Microwave one minute at a time until bacon has rendered some of its fat but is still very limp and pliable. It will be about 2-4 minutes total, depending on the thickness of your bacon and how many slices you're doing. Crucially, the bacon needs to still be soft.
Then, let it cool a bit so you can handle it, and use that bacon to wrap the avocado wedges.. Because the bacon is now partially cooked, it will be able to get crisper in the oven.
Note that instead of the microwave, you can par-cook the bacon on the stove, or even in the oven. Whichever method you like best to cook bacon will work here. Just, however you do it, you need to make sure that the bacon is only cooked a bit so that it will still wind around the avocado.
How To Serve Avocado Wedges
I love to serve them with some ranch dressing as a dip. This homemade ranch is nice and thick, and made with Greek yogurt, so it's a great choice. Store-bought ranch works great too. Or, if you're in a pinch, you can mix up a tablespoon or two of homemade ranch seasoning and then mix it with sour cream or Greek yogurt to make a quick homemade ranch dip.
These are so easy to make and are seriously delicious. Love them up!
Podcast Episode On Making Bacon-Wrapped Avocado
Listen to our editor, Christine Pittman, explain briefly how to make these avocado fries, with great tips along the way, by clicking the play button below:
Listen to more Recipe of the Day episodes here.
Print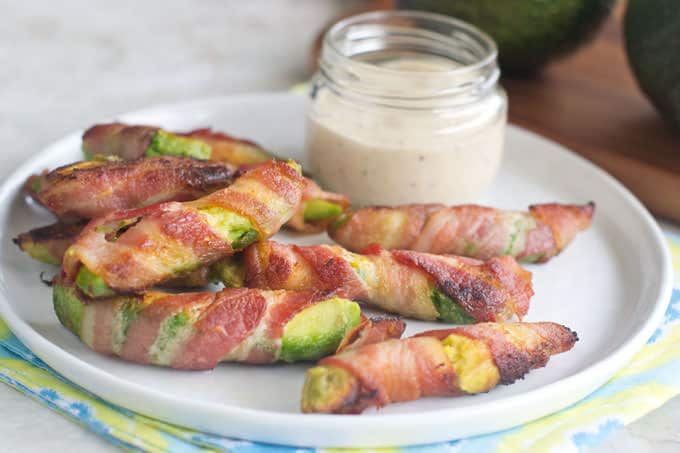 Bacon-Wrapped Avocado Wedges Recipe
Contributor: Christine Pittman
Bacon + Avocado = BLISS! These Bacon-Avocado Fries are the ultimate finger food. Time to dig in!
Author:

Prep Time:

10 minutes

Cook Time:

15 minutes

Total Time:

25 minutes

Yield:

4

servings

1

x

Category:

Appetizer

Method:

Baked

Cuisine:

American
Cooking spray

2

ripe avocados

16

strips of bacon

1/4

cup

ranch dressing
Preheat oven to 425°F. Spray a baking sheet with cooking spray.
Cut the avocados in half and carefully remove the pit. Use a soup spoon to carefully scoop the avocado halves out of the skin, keeping the halves intact. Slice each half into 4 wedges.
Take a slice of bacon and stretch it to make it thinner. Wind it around an avocado wedge in a single, slightly overlapping, layer. Trim the bacon if it is too long. Place bacon-wrapped slice on the baking sheet and repeat with remaining avocado wedges.
Bake for 7 minutes. Check if there's a lot of grease in the pan. If so, carefully drain it off and discard it or save it for another use.
Bake for another 5 minutes.
Use a spatula and tongs to carefully lift the avocado wedges from the baking sheet and flip them over. Bake until bacon is crisp all around, about 4-6 minutes more. Serve with ranch dressing for dipping.