Avocado Macaroni and Cheese
Let's make macaroni and cheese more decadent and, at the same time (yes, really) healthier than ever by adding creamy, luscious avocado. Who's in?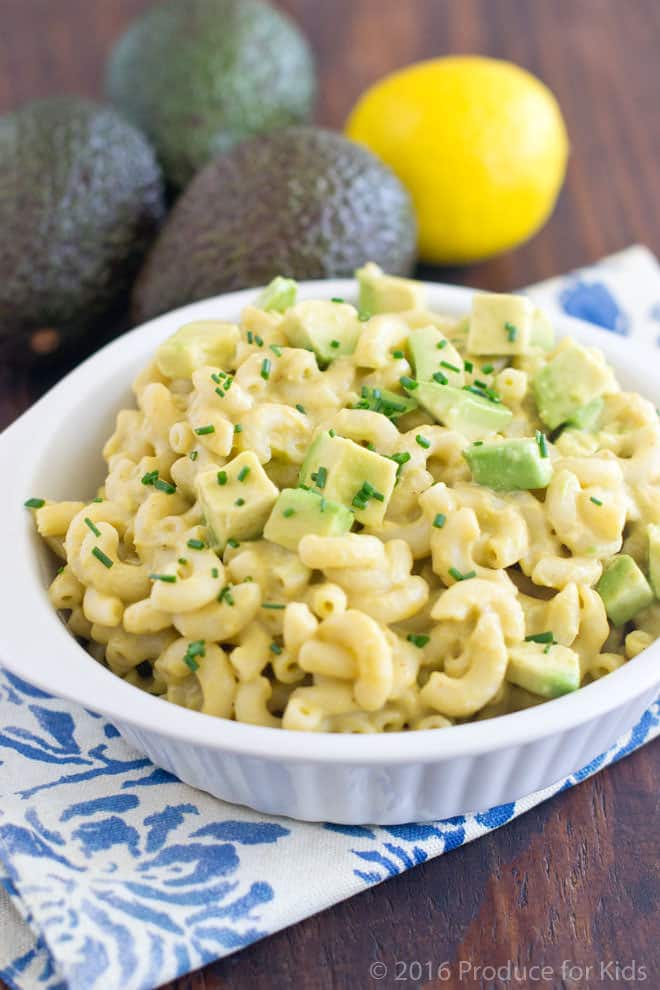 I developed this recipe for Produce for Kids because, in recognition of the health benefits of avocado, they were trying to find more ways to get kids eating them. Avocado Macaroni and Cheese is definitely one of those ways.
The avocado is right in the cheese sauce. It's pureed right in there. It makes the sauce extra rich and creamy while adding tons of nutrients. Healthy and delicious. Everyone loves this one!
Avocado Macaroni and Cheese
Yield: 6 servings
Prep Time: 15 minutes
Ingredients:
1 lb. whole wheat elbow macaroni
1 1/2 cup 1% milk
3 cloves garlic, chopped
1/2 tsp. chili powder
1/2 tsp. salt
1/4 tsp. pepper
2 avocados, halved, pitted
2 cups shredded sharp Cheddar cheese
1 Tbsp. (plus ½ Tbsp.) lemon juice, divided
2 Tbsp. chopped chives, (optional)
Directions:
Cook macaroni according to package instructions.
Meanwhile, combine milk, garlic, chili powder, salt and pepper in microwave-safe bowl. Microwave on high in 1 minute intervals until hot.
Place 1 and ½ of avocados and 1 tablespoon lemon juice into blender and pulse. Add cheese and hot milk, and blend until smooth. Chop remaining ½ avocado and toss with the remaining ½ tablespoon lemon juice.
Mix avocado sauce with pasta. Serve topped with chopped avocado and chives, if using.