Avocado Soup
Avocado soup is lusciously creamy and rich with lots of good flavors like lime, garlic, onion, cumin and cilantro. This recipe is based on a Columbian soup called Crema de Aguacate.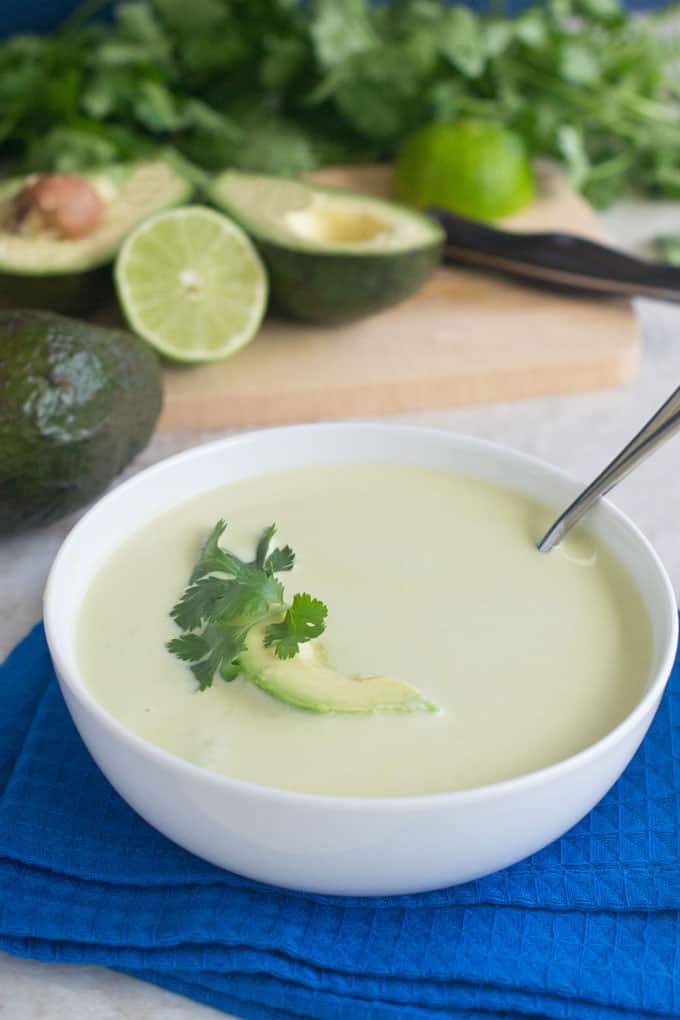 When I first heard of Columbian Crema de Aquacate (Cream of Avocado Soup) I thought ewwww. I don't know what I was thinking of, like, guacamole thinned out with water. Something like that. Kinda lumpy, watery, bland.
I was soooo wrong!
Avocado Soup is full of rich and delicious flavor. Which wasn't surprising when I realized that it is made in basically the same way as other creamy soups. That is, nobody just mashes up the ingredient and adds water. Duh. To make Avocado Soup, you sauté onions and garlic in olive oil and then add chicken broth, lime juice, mashed avocado, cumin and salt. You cook that for a bit. Then puree it until smooth. The final touch is to add half and half and heat it all through.
See? There's so much flavor there. I actually wound up addicted to it and ate most of the pot of soup myself the first time I made it. Every time I walked by it, I had a few spoonfuls until very little was left. You're going to love this one too. I just know it!
Avocado Soup
Yield: 6 servings
Prep Time: 10 minutes
Cook Time: 20 minutes
Total Time: 30 minutes
Ingredients:
1 Tbsp. olive oil
1 small onion, chopped
1 clove garlic, minced
4 cups unsalted chicken broth
2 tsp. lime juice
2 ripe avocadoes, peeled, cored and mashed
½ tsp. salt
¼ tsp. cumin
1 pint half and half
6 sprigs cilantro (optional)
Directions:
Heat a large pot over medium heat. Add onion and sauté until translucent. Add garlic and cook 30 seconds. Add chicken broth and lime juice. Stir. Add avocadoes, salt and cumin. Stir.
Increase heat to high and bring to a boil, stirring occasionally. Reduce to a simmer and cook 5 minutes.
Transfer to a blender (depending on the size of your blender, you may have to puree half of the mixture at a time). Puree until smooth.
Return avocado puree to the pot. Add the half and half. Heat through over medium heat, stirring continuously. Ladle into soup bowls and garnish with cilantro, if desired.