These quick Air Fryer Mozzarella Sticks are crunchy on the outside and full of melted cheese. And, they're ready from start to finish in only 10 minutes!
Recently we shared a recipe for Air Fryer Mozzarella Sticks. These are really tasty and they are actually fairly easy to make. However, they're time-consuming and a tad annoying because you have to freeze them after breading them.
Why do you have to freeze them? So that the cheese doesn't melt and ooze out before the breading browns.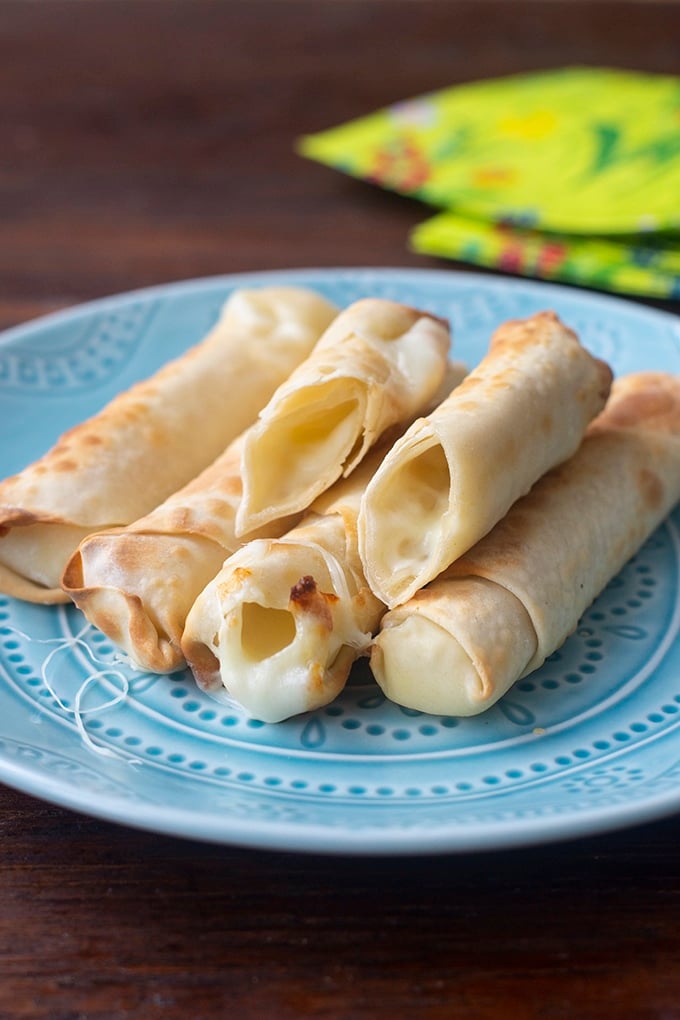 Mozzarella Sticks In Egg Roll Wrappers
So one day I was craving mozzarella sticks but I didn't want to wait all that long. I happened to have some egg roll wrappers in my fridge and I decided to try wrapping cheese in those. It worked!
I just took a stick of string cheese, wrapped it in an egg roll wrapper, lightly oiled the outside, and put it into the air fryer for 6 minutes. The wrapper was crunchy and golden and the cheese inside was melted. The whole experiment took 10 minutes tops. I was delighted!
I know you are probably wondering if any cheese leaks out during cooking. The answer is yes. When I make a batch of 6 cheese sticks, usually 2 have some cheese coming out of one end. However, it seems to just leak a little bit at that end and the rest of the cheese stick is still full of cheese. So it doesn't seem to matter that much.
As to clean up, my air fryer is non-stick so the melted cheese just wipes right off.
If you want your cheese sticks to leak even less though, you can do an extra step that isn't in the recipe. What you do is whisk together an egg with 1 tablespoon of water. Then, when the recipe says to moisten the edges of the egg roll wrapper, use that egg mixture instead of the water.
I have a tutorial over here for how to roll egg rolls. You can use that or just have a look at this image here which shows everything you need to know: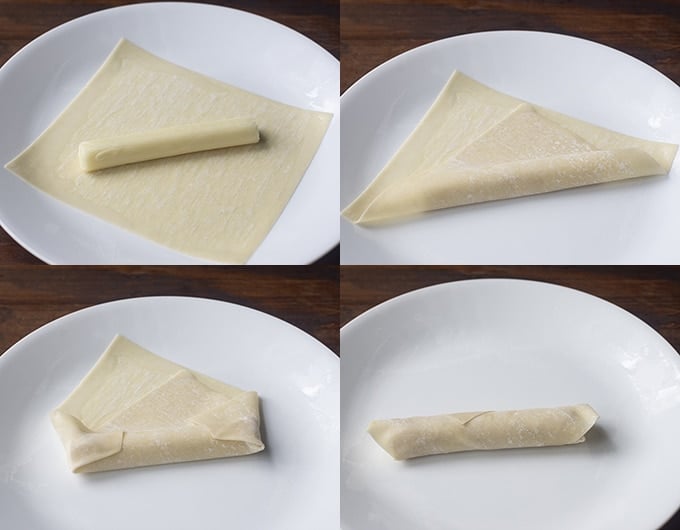 One more thing to note, I don't do more than 6 at a time because more doesn't seem to work well. With 6 they all end up brown and crunchy. When I've tried 8, even though they fit, they are a bit soft in places, but too brown in other places to make me want to cook them for longer. So just do 6 at a time.
Dip For Air Fryer Mozzarella Sticks
The only thing left to say is that you need to serve these babies with a dip. A little bit of plain marinara sauce heated a bit in the microwave would be super traditional. If you want to try something amazing though, go for this Sriracha Mayo. It's soooo good with the mozza sticks!
OK, let's get going on making these crunchy bits of cheese heaven. Yeah!
Print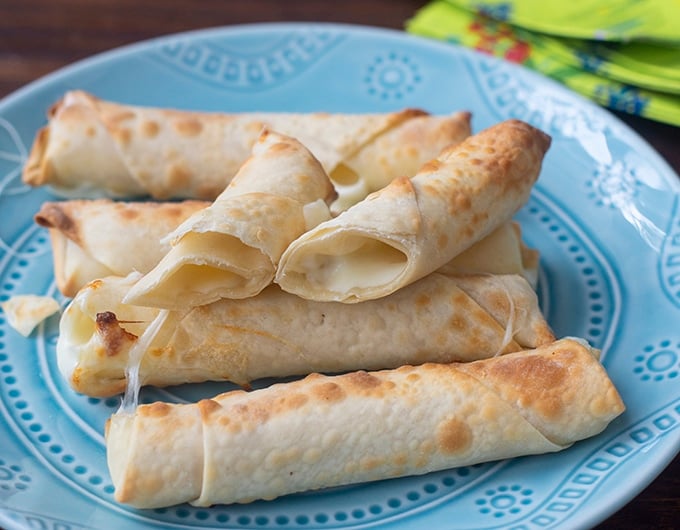 Quickest Air Fryer Mozzarella Sticks
Contributor: Christine Pittman
These air fryer mozzarella sticks are crunchy on the outside and full of melted cheese. And, they're ready from start to finish in only 10 minutes!
Author:

Prep Time:

4 minutes

Cook Time:

6 minutes

Total Time:

10 minutes

Yield:

2

servings

1

x

Category:

Appetizer

Method:

Air Fryer

Cuisine:

American
6

egg roll wrappers

2 Tbsp

. water or use an egg wash

6

sticks of string cheese
Cooking spray
Instructions
Lay an egg roll wrapper on a large plate or cutting board with one of the four points pointing toward you (it will look like a diamond shape).
Moisten the edges lightly with the water.
Put a stick of cheese in the middle of the egg roll wrapper horizontally from the point on the left toward the right.
Fold the cheese into the egg roll wrapper like a burrito: Starting with the corner closest to you, fold the corner up and over the cheese so that it is almost touching the opposite corner. Now you have a triangle with a cheese stick running along inside the base of the triangle.
Fold the two side corners in and over the ends of the stick of cheese.
Roll the cheese up the rest of the way, keeping the side corners tucked in, to the remaining corner.
Make sure the edges are sealed.
Repeat the above with the remaining egg roll wrappers and sticks of cheese.
Preheat air fryer to 400°F.
Lightly spray all sides of the egg rolls with cooking spray.
Arrange rolls in a single layer in the basket of the air fryer with as much room between them as possible.
Cook until browned in places and crunchy, 6-7 minutes.