Air Fryer Baked Brie is one of those appetizers that every time you make it you wonder why you don't make it more often. Melty gooey cheesy goodness for the win.
I'll never forget the first time I ate baked brie. The gooey cheese encased in buttery, flaky pastry was one of the most magical things I've ever tasted.
Since that first bite, baked brie has been one of my favorite things to contribute to holiday meals. And now that I started making baked brie in an air fryer, it's faster and tastier than ever.
Air fryers work by circulating hot air around food as it cooks, getting it super crispy and golden brown. When you air fry baked brie, it comes out more like mozzarella sticks with a super crackly pastry coating. If you haven't tried making air fryer baked brie yet, I can't recommend it enough.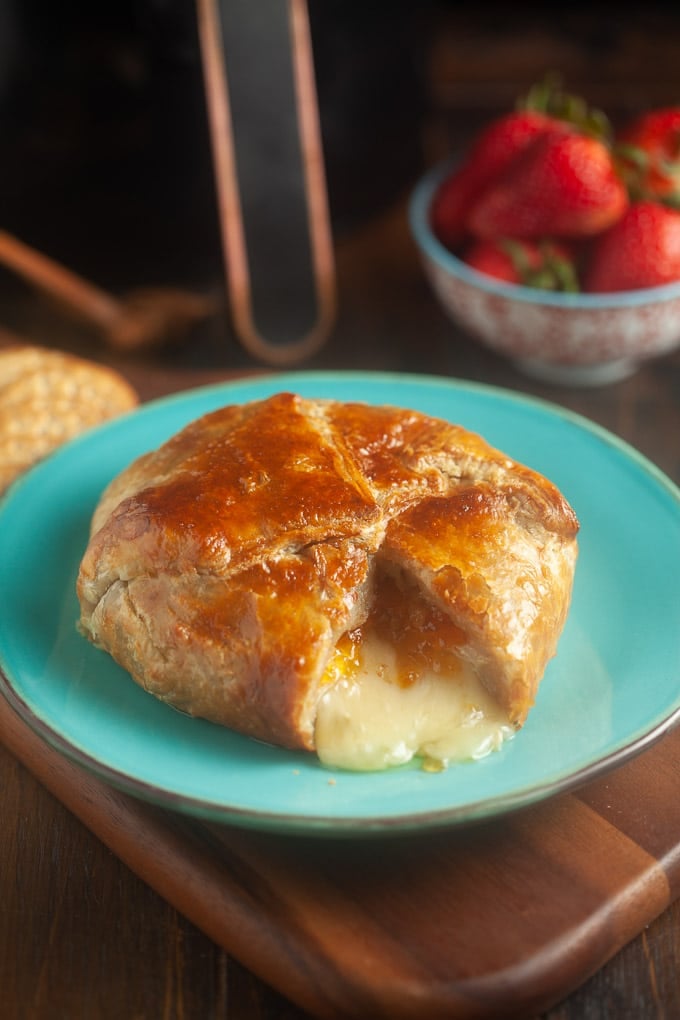 What Do You Need To Make Baked Brie?
Baked brie relies on just a few ingredients.
First, you'll need a wheel of brie. I love the super creamy texture and mild flavor of triple-creme brie cheese. An 8-ounce wheel is the perfect size to fit in most air fryers. Don't worry about removing the powdery white rind from the cheese – it's perfectly edible and you'll end up wasting a bunch of good cheese if you try to cut it off.
You'll also need a sheet of puff pastry. You can usually find this in the frozen section of the grocery store, near the frozen pie crusts. It's typically sold with two sheets per box, so you'll have enough to make two baked brie appetizers. Keep the puff pastry frozen until you're ready to use it, then let it defrost on your counter until it's soft enough to unfold without tearing.
You'll also want some sort of topping for your brie. There are so many options here, from brown sugar and pecans, to fruit like chopped strawberries or stewed cranberries, or your favorite fruit spread. You can even make a savory baked brie with pepper jelly. Whichever you choose, you'll need about ¼ cup of topping.
For the brie pictured here, I used apricot preserves and toasted walnuts.
What To Serve With Baked Brie
Baked brie is great on its own. The baked pastry gives you something to hold onto and provides a bread-like element to balance out the super creamy cheese. But it's also common to serve it with crackers or baguette slices.
One of my favorite less traditional ways to serve baked brie is with gingersnap cookies. Their spicy flavor pairs especially well with fruit filling and tastes just as great with summer strawberries as with cranberry baked brie during the holiday season.
Tips For Air Fryer Baked Brie
You might be surprised to hear that making baked brie in an air fryer isn't that different than making it in an oven.
You'll want to preheat your air fryer to help keep the pastry from sticking. You could also use a perforated air fryer parchment paper sheet.
Try to minimally overlap the pastry dough when wrapping the Brie. Too much overlapping will create thick areas that will not cook and puff all the way. You can trim the pastry dough if there is too much excess.
Brushing the outside of the puff pastry with egg before putting it in the air fryer will help you achieve that gorgeous shiny golden color on your brie. You can also use the egg wash to help the dough edges stick together.
Be sure to cook it with the pastry seam-side up. This will prevent the hot cheese from seeping out and making a mess.
Just like with oven baked brie, you'll want to be sure to let brie cooked in an air fryer rest for a few minutes to let the cheese set up before slicing into it.
Print
Air Fryer Baked Brie
Contributor: Lauren Keating
Air Fryer Baked Brie is one of those appetizers that every time you make it you wonder why you don't make it more often. Melty gooey cheesy goodness for the win.
Listen to learn how to make this recipe, along with some great tips from Christine:
Author:

Prep Time:

10 minutes

Cook Time:

15 minutes

Total Time:

25 minutes

Yield:

8

servings

1

x

Category:

Appetizer

Method:

Air Fryer

Cuisine:

American
1

sheet puff pastry, thawed

8

oz

. brie cheese

1/4

cup fruit preserves

2 Tbsp

. toasted nuts

1

egg

1 Tbsp

. water
Preheat the air fryer to 375°F.
Unroll the puff pastry. Place the brie on the center of the pastry sheet. Don't cut away the rind of the cheese.
Top the brie with the preserves and nuts.
Bring the corners of the pastry up and over the brie, gathering them at the top. Pinch the edges of the pastry together tightly to seal them.
In a small dish, whisk together the egg and water. Brush the egg onto the pastry in an even layer.
Carefully transfer the brie to the basket.
Air fry the brie at 375°F for 15-20 minutes, until the pastry is golden brown and slightly puffed.
Let the brie cool for 5 minutes before removing from the air fryer and serving.