Three great tips for making baked brie that is better than ever. Plus the hands down best baked brie recipe. We can't wait for you to try it!
Do you love baked Brie? I'm a big fan of cheese and baked Brie is one of my favorite easy appetizers. Well, I'm about to make it even better by doing three things.
Keep reading to get all my tips or click here to head straight to the recipe.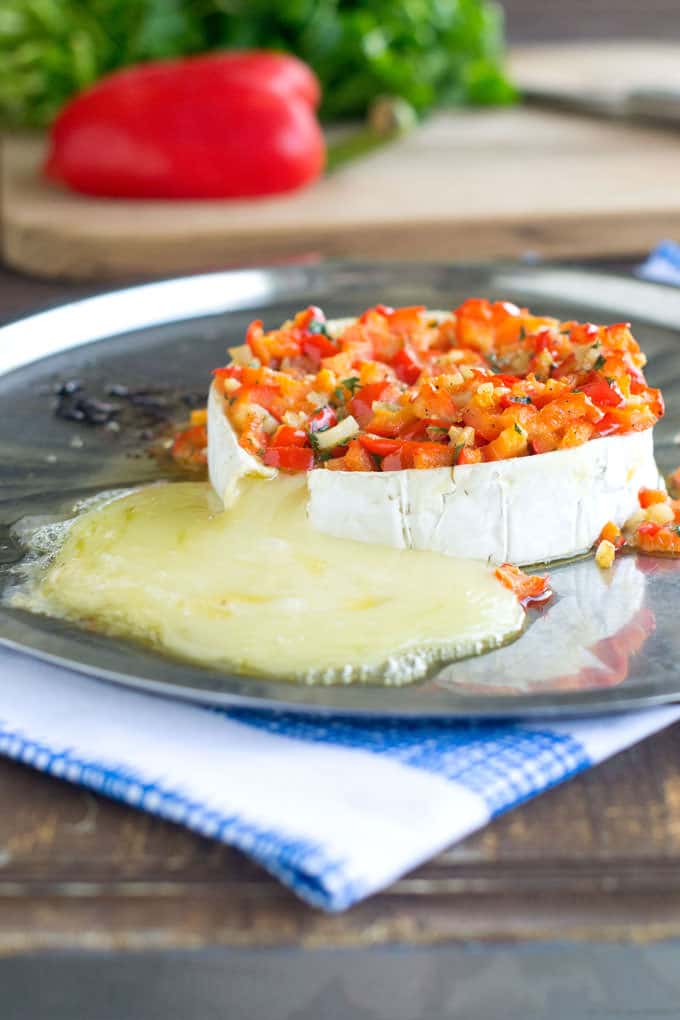 Tips For The Best Baked Brie
First, marinating it. Whatever topping you like to put on your brie can make a bigger more delicious impact if you poke holes in the cheese first. What you do is put the brie on the pan that you plan to cook it on. Then use a fork to poke holes all over the top surface of the cheese. Go all the way down into the cheese but don't break through the bottom rind. When your brie is all punctured (lots of punctures. Like 40 or so) pile your topping on top. Ideally, your topping has a touch of liquid in it. That liquid is going to drip down into the holes you just made and flavor the interior of the brie.
Second, making it savory. I'm not sure why baked bries are so often given sweet toppings. I mean, sure, it's good. But a savory topping loaded with garlic and herbs is way better. But then, I don't have a sweet tooth really. I know. It bothers my loved ones greatly. Anyhow, try something savory on there. For this one, we infuse olive oil with garlic and then add chopped bell pepper, lemon juice, Dijon mustard, parsley, salt and pepper. That garlic oil drips down into the brie and makes you moan with every mouthful. That's a promise.
Third, grill it. OK, so it's maybe not technically "baked" brie if you grill it but the result is pretty similar. The difference is that you get a smoky flavor on the cheese. A bit. Maybe. Or not really. I'm lying. Mostly, I do it because it looks pretty impressive to my friends when they realize that I'm cooking brie on the grill. Theatrics make food taste better. They really do. Every time I grill a wheel of brie, people end up standing near me and watching. Nobody EVER does that when I put brie in the oven. NEVER. Then, when I don my oven mitts and take the brie off the grill and to the table, the oooooo sounds are much louder and more enthusiastic than the traditional baked brie oooooos we're more used to.
How To Grill Brie Cheese
To grill a wheel of brie, put it on a rimmed baking sheet. You need the rim. If you accidentally cook the brie too long, or if it gets a puncture, it's going to ooze all over the place. You don't want it inside of your grill so use a rim. The grill should be set up for medium-high heat (around 350ºF) indirect cooking. That means that you have one burner on and one burner off. Then you put the pan of cheese (yes, the pan and the cheese) over the off burner. Close the lid of the grill and let it be for 10 minutes. Then check it. It's probably going to need at least 5 more minutes but checking never hurt. Plus you know everyone wants to have a peek at it anyhow. It's done with the sides are bulging and the top is soft to the touch, about 15-20 minutes.
Note that I've given instructions for baking this brie in the recipe below as well just in case you want to do it the boring way. Boohoo. 😉
Print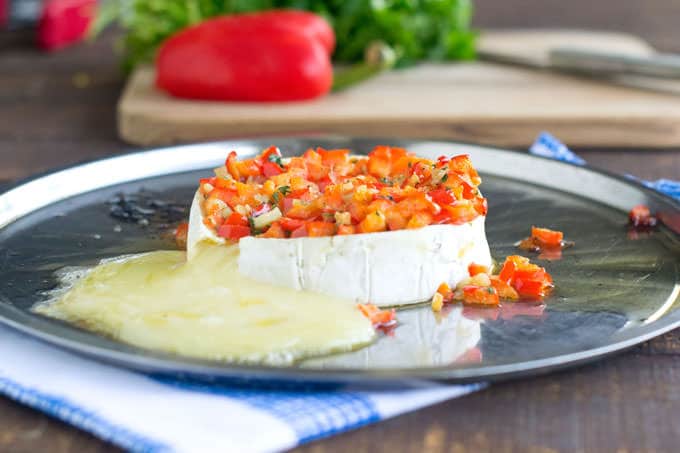 The Best Baked Brie, with Garlic and Red Pepper
Contributor: Christine Pittman
Three great tips for making baked brie that is better than ever. Plus the hands down best baked brie recipe. We can't wait for you to try it!
Listen to me explain briefly about how to make this garlicky brie recipe, with some great tips along the way, by clicking the play button below:
Author:

Prep Time:

10 minutes

Cook Time:

20 minutes

Total Time:

30 minutes

Yield:

6

servings

1

x

Category:

Appetizer

Method:

Grilled

Cuisine:

American
2 Tbsp

. olive oil

2

cloves garlic, minced

1/2

red bell pepper, diced

1 tsp

. lemon juice

1 tsp

. Dijon mustard

1/4 tsp

. black pepper

1/8 tsp

. table or fine grind kosher salt

2 Tbsp

. chopped fresh parsley

1

(8 oz.) wheel of brie
Sliced French bread or water crackers
Into a small skillet measure the olive oil and add garlic. Warm the skillet over medium low heat until very fragrant and garlic is softened, 5-6 minutes, stirring occasionally. Add the bell pepper and continue to cook for another 2-3 minutes.
Remove skillet from heat. Stir in lemon juice, mustard, black pepper, salt and parsley.
Place the brie on a rimmed baking sheet. Using a fork, poke holes all over the top surface of the brie. Go all the way to the bottom of the cheese but do not pierce the bottom rind.
Pile the red peppers and garlic oil onto the top surface of the cheese. Use a spatula to scrape all the oil onto the cheese. Set aside for 15 minutes, allowing the garlic oil to drip through the holes you've made in the cheese. (You can marinate it in the fridge for longer, even overnight. If doing so, cover with plastic wrap before placing in the fridge).
If using a grill: Preheat grill to 350°F and prepare for indirect grilling. Once heated, place the cheese-pan on the grill, being sure that it is over indirect heat (i.e., that the heat is not directly below the pan). Put the cover down. If using an oven: Preheat oven to 350°F. Once oven is preheated put in the pan of cheese.
Grill/bake for 15 minutes. If the brie is bulging at the sides and soft to the touch on top, it's ready. If it's not soft and bulging, grill/bake for another 5-7 minutes but check on it every minute or so (you want to catch it at the bulging stage not at the oozing-all-over-the-pan stage). Serve on the pan with bread or crackers and knives for scooping and spreading.
Love this recipe? I'd appreciate it if you could scroll down and add a *5 star rating* to help others know they'll love it as well!
This post originally appeared in July 2016 and was revised and republished in March 2023.