The easiest Velveeta Mac n Cheese only needs three ingredients and is ready to eat in less than 20 minutes. Sounds like perfect comfort food to me!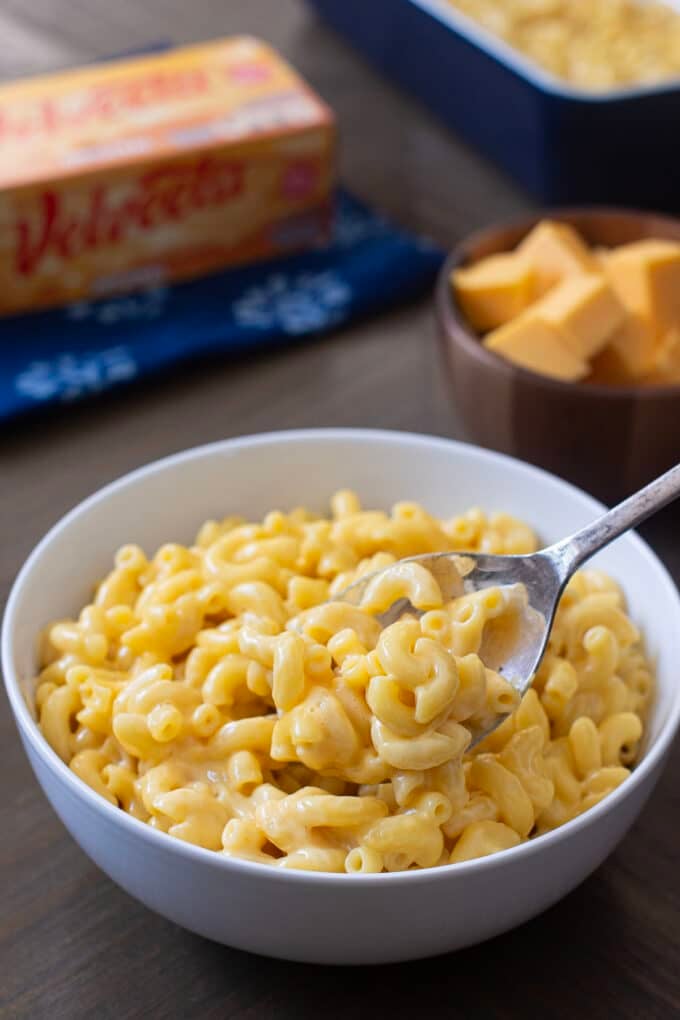 Video: Making Velveeta Mac
Why Make Mac With Velveeta?
One day recently I had Velveeta in the fridge because I'd used some to make queso. I wanted to use the rest to make macaroni and cheese. So I went searching for a Velveeta Mac and Cheese recipe for some easy comfort food. I thought that it would involve just melting the Velveeta.
Instead, I found a bunch of recipes that have you make a roux and essentially a white sauce and then melt the Velveeta cheese into it. I use that technique for my amazing basic cheese sauce, except it uses real (not processed) shredded Cheddar cheese. That's also the technique I use when making my most decadent and most creamy mac and cheese recipe.
So I was confused, honestly, because to me the whole point of using Velveeta to make macaroni would be that you don't have to make a sauce. Just melt the cheese, right? And so I had to try it to find out.
Can you make Velveeta mac and cheese just by melting the Velveeta into the pasta? The answer is yes! If you follow what I found out. Then you get to make the easiest mac 'n cheese out there. And it's so so tasty too! Making mac 'n cheese with Velveeta is quick and delicious and only uses 3 ingredients.
What is Velveeta?
Velveeta has been around since 1918 and while it originally was made with real cheese to minimize waste, now it's more classified as a "pasteurized prepared cheese product." It's a processed cheese, similar to American cheese, and it got it's name from the velvety smooth texture.
So what's it made of? The ingredient list includes whey, milk, water, milk protein concentrate, lactic acid, enzymes, salt, and cheese culture. While that may not sound delicious, trust me, it is. Plus, it melts so wonderfully, making it perfect not only for mac and cheese, but also grilled cheeses and queso dips.
Don't want to use Velveeta cheese? You can use Cheez Whiz spread instead. The only other thing that works in this recipe is American cheese because for this simple recipe you want the processed cheese product. Whichever of these three options you use, you'll want 1/2 pound of it.
What Kind Of Pasta To Use
Elbow macaroni is the classic choice and also the best choice. I love how the sauce gets right into the tube, coating the pasta inside and out. I mean, I think that's the reason why macaroni is used in this dish.
Other small pasta shapes with a tube are therefore great, like penne. Another good option here is shells, since that's what comes with the boxed Velveeta pasta mix.
Why Am I Saving Pasta Water?
The key to this dish is to use some pasta water to finish the sauce. Pasta water is the water that pasta is cooked in. It's therefore salted water that has acquired some starch from the pasta. That hot water, when added to the Velveeta and noodles, helps to melt the Velveeta, but it also helps to make the Velveeta into a smooth flavorful sauce that coats the noodles.
To help yourself remember to scoop out that pasta water before draining the pasta, here's what you do. Right when you put the pot of water on to boil, get out your colander. Put it into the sink and put a measuring cup in the colander.
This way, when you bring your pot to the colander to drain it, you will immediately see the measuring cup there. This will remind you to quickly scoop out a cup or so of the cooking water before draining the rest away through the colander.
Note that the recipe is vague about how much pasta water to add to the dish. That's because it depends on a couple of things. First, how well your macaroni is drained. If it's drained really well, you'll need more pasta water. But, if the pasta shapes still have some cooking water in their tubes, which is often the case, then you'll need less.
Also, the pasta water is being used to help melt the Velveeta, so it will depend on how small your Velveeta pieces are. And then, it comes down to personal preference. I like to add as little of the water as possible so that the sauce is as cheesy as possible while still getting that creamy texture. So I'm adding the least amount that I can to help melt the cheese and to form that smooth sauce.
Seasoning Mac and Cheese
Some people prefer their mac n cheese to be minimally seasoned so it just tastes like cheese and pasta. If that's you, you don't add anything to this recipe other than the pasta, butter, and Velveeta.
If, on the other hand, you enjoy some other mild background flavor notes, then you can add in 1/4 teaspoon of 1 or 2 of the following: garlic powder, onion powder, mustard powder, paprika, smoked paprika, or chili powder. You can also add a tiny pinch of cayenne if you want a bit of background heat.
Can I Add Extras?
I've kept this macaroni recipe as simple and delicious as possible, but if you want to add in some protein or veggies, you can. Stir in chopped bacon, shredded chicken, or diced ham at the end. Or try adding in finely chopped cooked broccoli or frozen peas to get some veggies in.
If you want to add toppings, check out the ideas in Toppings for Your Mac and Cheese Bar.
More Delicious Pasta Recipes
Podcast Episode: Making Velveeta Mac and Cheese
Listen to me explain briefly about how to make this recipe, with some great tips along the way, by clicking the play button below:
Listen to more Recipe of the Day episodes here.
Print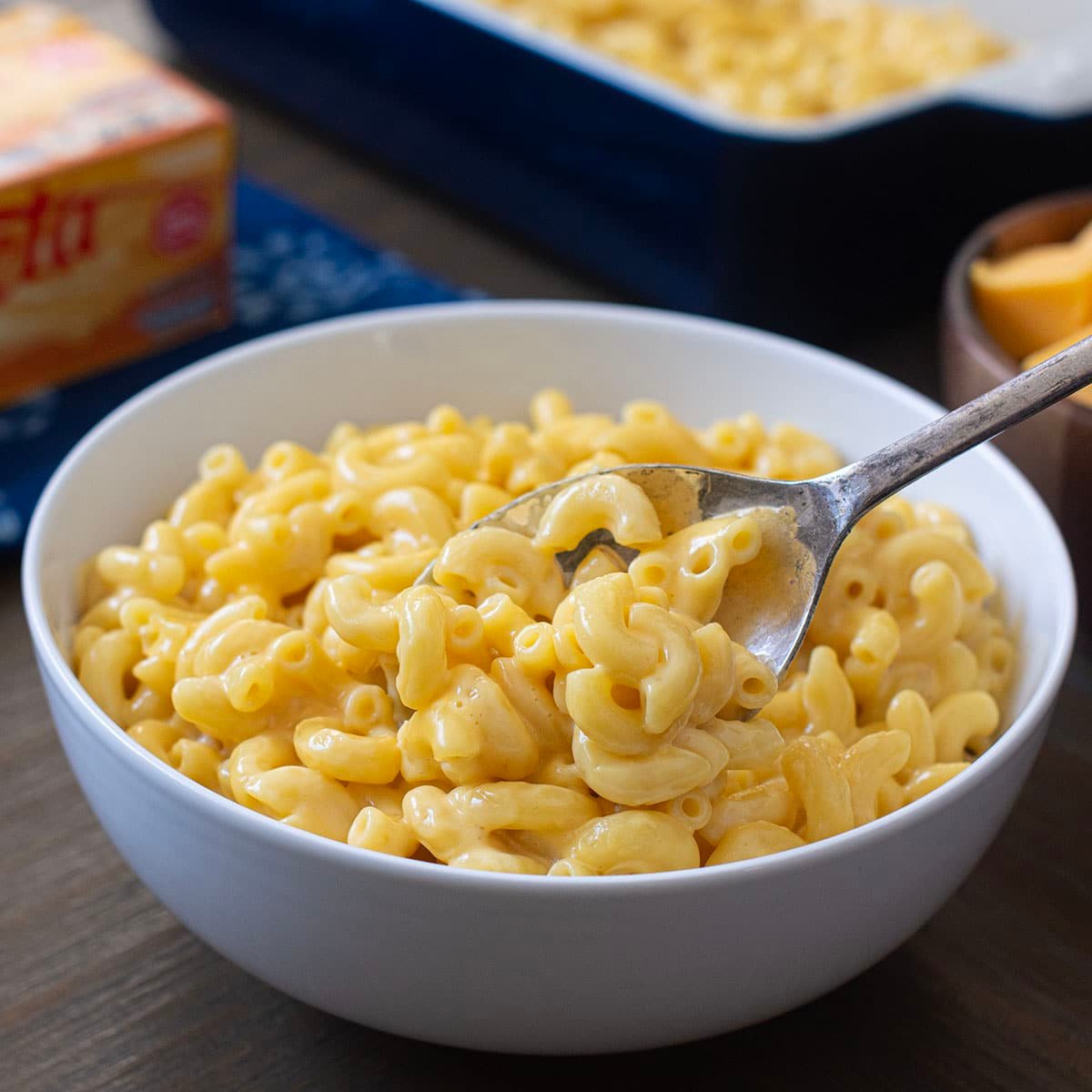 Easiest Velveeta Mac n Cheese Recipe
Contributor: Christine Pittman
The easiest Velveeta Mac n Cheese only needs three ingredients and is ready to eat in less than 20 minutes. Sounds like perfect comfort food to me!
Author:

Prep Time:

1 minute

Cook Time:

17 minutes

Total Time:

18 minutes

Yield:

4

servings

1

x

Category:

Entrée

Method:

Stovetop

Cuisine:

American
1/2

lb. Velveeta

2

cups

(8 oz.) elbow macaroni

2 Tbsp

. butter, melted
Take the Velveeta out of the fridge. Cut it into small cubes. Leave it at room temperature while the pasta cooks.
Cook macaroni according to package instructions, but right before draining it, remove 1 cup of the cooking water from the pot. Set that water aside and then drain the rest of the water off of the pasta. Return the pasta to the pot it was cooked in.
Immediately add the butter to the pasta and stir.*
Add the Velveeta and stir for 30 seconds to start it melting. Drizzle in about 2 tablespoons of the pasta water and stir.
Keep stirring until the Velveeta is fully melted, 1-2 minutes, adding a tiny bit more pasta water if needed to help it melt and to form a smooth sauce.
Love this recipe? I'd appreciate it if you could scroll down and add a *5 star rating* to help others know they'll love it as well!
Notes
*If you'd like to add additional seasonings to your mac 'n cheese, this is where you'd stir them in. Choose 1-2 of the following: 1/4 tsp. garlic powder, 1/4 tsp. onion powder, 1/4 tsp. mustard powder, 1/4 tsp. paprika, 1/4 tsp. smoked paprika, 1/4 tsp. chili powder, a pinch of cayenne.