Slow Cooker Queso with Velveeta
Note: This post may contain affiliate links. Thanks for supporting The Cookful!
It's the one. The only. The classic. Queso dip made with Velveeta. This one's done in the slow cooker making it easier than ever.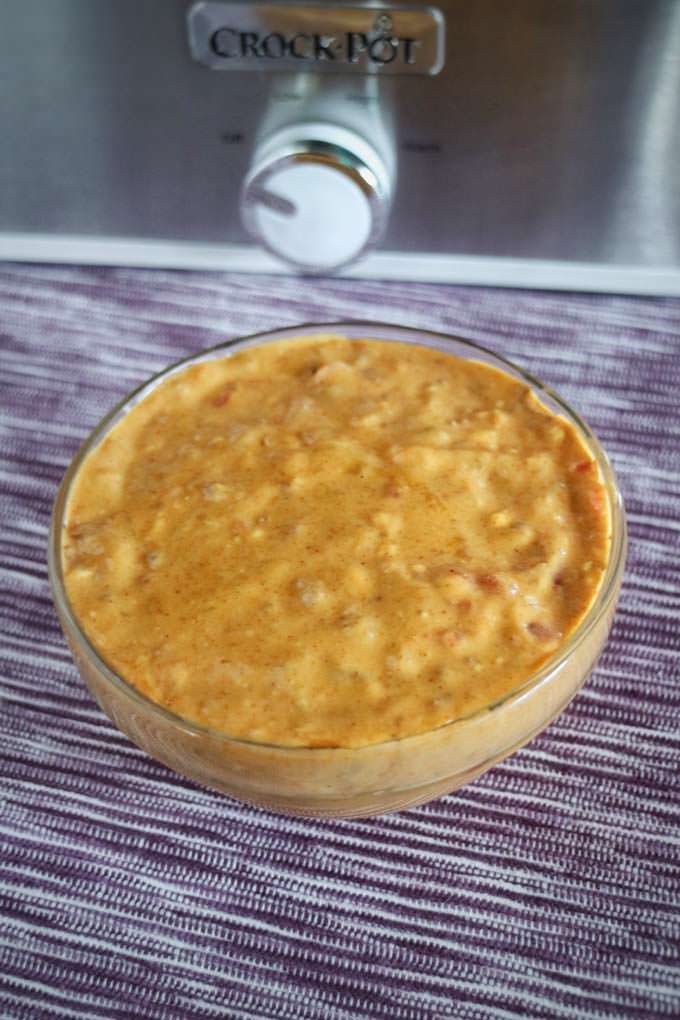 There's good reason why Velveeta is often referred to as liquid gold; it has magical melting power. Well, not really magical. It all comes down to the ingredient list and basic chemistry but essentially, Velveeta and other processed cheese products melt well because they don't actually include real cheese. Modern day cheese-food creators have made a product from milk fat, whey, salts, and other additives that somewhat resembles cheese and melts extremely well.
If you're in need of an easy dip to serve a crowd, this is it. It couldn't be any simpler to assemble–just throw everything into the slow cooker and then let it do the rest of the work.
If you're not a fan of processed cheese though, no worries. I posted here the other day with a recipe for a queso using real cheddar cheese instead of Velveeta. It's actually just as easy to make as the Velveeta version but does contain actual cheese!
Note: This post may contain affiliate links. Thanks for supporting The Cookful!
Slow Cooker Queso with Velveeta
Yield: 6 servings
Prep Time: 5 minutes
Cook Time: 3 hours
Total Time: 3 hours and 5 minutes
Ingredients:
16 oz. Velveeta cheese (4 mini blocks)
1 (15 oz.) can no-bean chili
1 (10 oz.) can mild diced tomatoes & green chiles (like Rotel), drained
8 oz. 2% milk
1 tsp. chipotle chili pepper seasoning
1 tsp. ground cumin
½ tsp. cayenne pepper
½ tsp. salt
Directions:
If using a large block of Velveeta cheese, cut into 2-inch cubes first to speed up the melting process. Add all ingredients to a slow cooker, cover and set on low to cook for 2 hours.
Stir to combine ingredients and continue to cook, covered, for one more hour.
Keep the slow cooker on warm for serving. Serve queso with tortilla chips.