Sweet and Sour Meatballs
Note: This post may contain affiliate links. Thanks for supporting The Cookful!
You've never tasted meatballs like these Sweet and Sour Meatballs. Perfect for a last-minute appetizer or easy weeknight dinner, your friends and family will rave about them.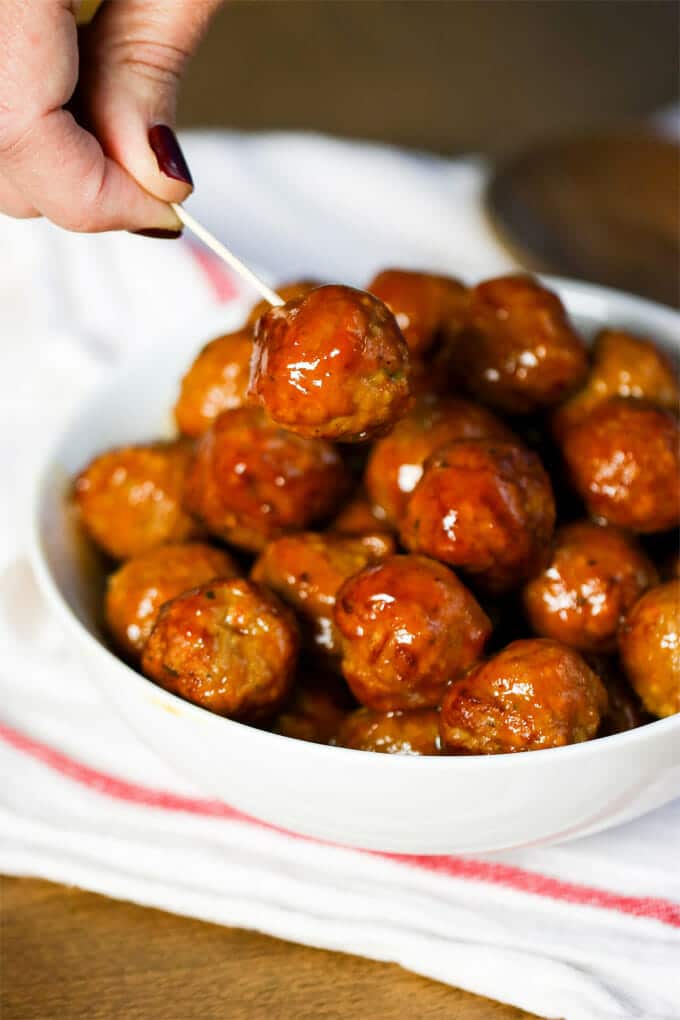 Meatballs are one of my favorite dishes to serve as an appetizer. They're easy to keep warm (and hold up well) in a slow cooker and have endless possibilities of flavors that are sure to be a crowd-pleaser. Seriously, it's hard to choose just one recipe to make when you have all these delicious options like Grape Jelly Meatballs, Cranberry Meatballs, and BBQ Meatballs. (I hear you! Totally agree. We should make a variety of them for our next party.)
I have a new twist that is irresistibly different. In fact, my mouth is watering just thinking about them. These Sweet and Sour Meatballs are just the thing when you want to add some bold flavor.
The sauce has a fruity flavor with tang from the pineapple juice and vinegar while brown sugar brings a nice molasses-y sweetness that tones down the acidic bite and brings a perfect balance to it. You can use the sauce on pretty much any protein or veggie so be sure to tuck this recipe away for when you need a new dinner idea. (Chicken and stir-fry veggies, anyone?)
One of my favorite kitchen hacks is to keep frozen store-bought cocktail-sized meatballs on hand because they make such an easy last-minute family dinner or party app when I don't feel like making my own. They're small enough that you can microwave them a couple minutes to warm them up or you can place them in the sauce to heat through. Just be sure to stir occasionally to ensure an even coating on the meatballs as well as to not scorch the bottom of the sauce. Just like that, you have a party app.
Note: This post may contain affiliate links. Thanks for supporting The Cookful!
Sweet and Sour Meatballs
Yield: 64 meatballs
Prep Time: 15 minutes
Cook Time: 20 minutes
Total Time: 35 minutes
Ingredients:
1 cup pineapple juice
1/4 cup ketchup
1/4 cup brown sugar
1/4 cup vinegar
2 Tbsp. soy sauce
1 Tbsp. cornstarch
1 Tbsp. water
64 (1/2 oz.) meatballs
Directions:
In a large sauce pan, mix together pineapple juice, ketchup, brown sugar, vinegar and soy sauce. Bring to a boil then lower heat to a simmer.
In a small bowl, mix together cornstarch and water to create a slurry. Add this to the sauce mixture and stir. Allow to simmer 5 minutes to thicken.
Add meatballs to mixture and stir to coat. Cover and simmer 15 minutes until meatballs are warmed through, stirring occasionally.