Baked sweet potato fries can easily end up a limp mess, but amazing oven fries are totally possible when you follow these steps.

It takes a little bit of preparation, but you can achieve oven fries that are crispy on the outside and soft and sweet on the inside.
How should you prepare the potatoes?
You'll want to start by cutting your peeled sweet potatoes into ¼-inch thick sticks. Thinner sticks are key to crispy fries, and uniformity is important so that all the fries cook to the same texture and crispiness.
Do you really have to soak the potatoes?
Possibly, the most important step for these fries is soaking them in cold water. This tip from the restaurant world draws the starches out of the potatoes, which helps them achieve crispiness.
You'll want to soak the sweet potato sticks for at least an hour, and up to 24 hours. It's a great idea to start soaking them in the morning so they're ready when you want dinner! Just pop the sweet potato sticks in a bowl of cold water, cover, and chill in the fridge until you're ready to bake.
How do you get the crispy exterior?
When frying in oil, the chemical process pulls starches to the exterior of the potato and forms a crust. Since we don't get that reaction during the baking process, we have to add our own starch to the exterior of the sweet potatoes. We used a blend of corn starch and tapioca starch (and some spices for flavor).
Bonus: using this blends of starches means your fries are still gluten-free. Just be sure to use gluten-free spices.
When should you salt the fries?
Finally, we reserve salting for after the fries come out of the oven, since salt draws out moisture and adding it early on can make the fries soggy. Be sure to salt them immediately after removing them so they are still nice and hot and the salt sticks.
No more excuses for floppy fries. Follow this advice and you'll have perfect crispy oven fries by dinnertime.
Print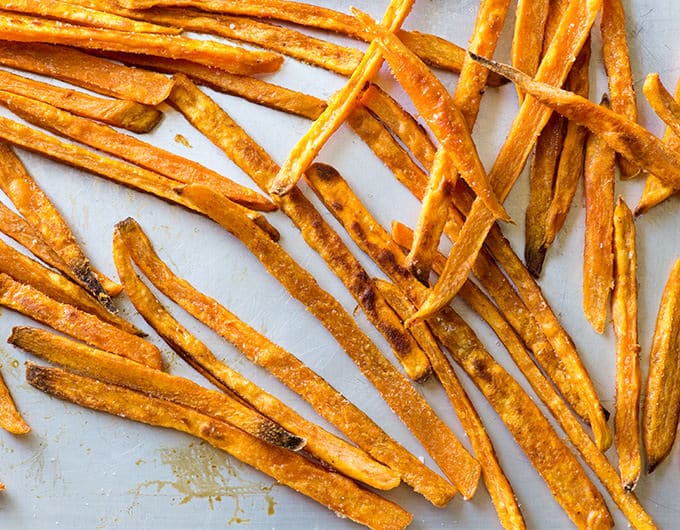 Crispy Oven Sweet Potato Fries
Contributor: Maria Siriano
Baked sweet potato fries can easily end up a limp mess, but amazing oven fries are totally possible when you follow these steps.
Author:

Prep Time:

1 hour

Cook Time:

30 minutes

Total Time:

1 hour 30 minutes

Yield:

4

servings

1

x

Category:

Side Dish

Method:

Bake

Cuisine:

American
2

large sweet potatoes, peeled and cut into uniform 1/4-inch thick sticks

3 Tbsp

. cornstarch

3 Tbsp

. tapioca starch

1/4 tsp

. smoked paprika

1/8 tsp

. cayenne pepper

2 Tbsp

. canola oil
Salt, to taste
Instructions
Place sweet potato sticks in large mixing bowl and cover in cold water. Cover with plastic wrap and place the bowl in the refrigerator for at least one hour and up to 24 hours.
When ready to bake, place your oven racks in the upper and lower thirds of the oven.
Preheat the oven to 425°F.
Line two baking sheets with foil and coat with cooking spray.
Drain and rinse the sweet potatoes, then blot with paper towels (they should still be a little damp).
Place the sweet potato sticks in a large container with a lid, a large zip-top bag, or a clean, dry mixing bowl.
In a small bowl, whisk together both starches, smoked paprika, and cayenne pepper. Sprinkle the starch mixture over the sweet potato fries. If using a lidded container or zip-top bag, seal and shake to coat the sweet potatoes. Otherwise, toss them in the mixing bowl to coat evenly. Tap out any excess starch.
Drizzle canola oil over the sweet potatoes and toss to coat.
Spread the sweet potatoes evenly onto the baking pans, being careful not to overcrowd the pans (the fries shouldn't touch each other).
Bake for 15 minutes, then flip the fries over. Rotate the pans from top to bottom and back to front and bake for an additional 15-20 minutes, until the fries are brown on the outside, but not burnt.
Cool on the pan placed a wire rack for 5 minutes, then sprinkle with salt.