Baked Sweet Potatoes with Marshmallows
Jazz up your side dish. Baked sweet potatoes are a delicious alternative to boring baked potatoes.
We're getting closer and closer to Thanksgiving. Are you in the sweet potato casserole mood? We sure are. We've posted a classic sweet potato casserole recipe, a healthier version and an adorable bite-sized appetizer version. Now here we are with a quick weeknight idea to get everyone in the spirit.
I do these sweet potatoes in the microwave. They're cooked through in about 6-8 minutes. Then I add some marshmallows and pop them under the broiler just until they're browned. Super-quick, fun, tasty and easy. We all love them and I hope you do too. Have a great day!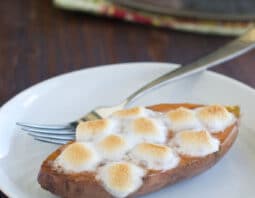 Baked Sweet Potatoes with Marshmallows
Yield: 4 servings
Prep Time: 5 minutes
Cook Time: 10 minutes
Total Time: 15 minutes
Ingredients:
2 medium sweet potatoes
2 Tbsp. melted butter
1 Tbsp. brown sugar
1/4 tsp. cinnamon
20 mini marshmallows
Directions:
Preheat broiler.
Pierce sweet potatoes with holes with a fork. Put on plate, microwave 6-8 minutes.*
Meanwhile, mix butter, brown sugar and cinnamon.
Test if sweet potatoes are done with a fork. It should pierce through easily in a couple of spots. Cut sweet potatoes in half. Score with knife. Pour butter mixture into scores. Transfer sweet potatoes to a baking sheet. Top each with 10 marshmallows.
Put sheet far from the broiler and watch carefully until marshmallows are lightly browned.
*Alternatively, you can bake the whole sweet potatoes in a 375F oven for 1 hour to 1 and 1/4 hours, unit pierces easily with a fork.