Classic Sweet Potato Casserole
A Thanksgiving classic, here's our best Sweet Potato Casserole recipe.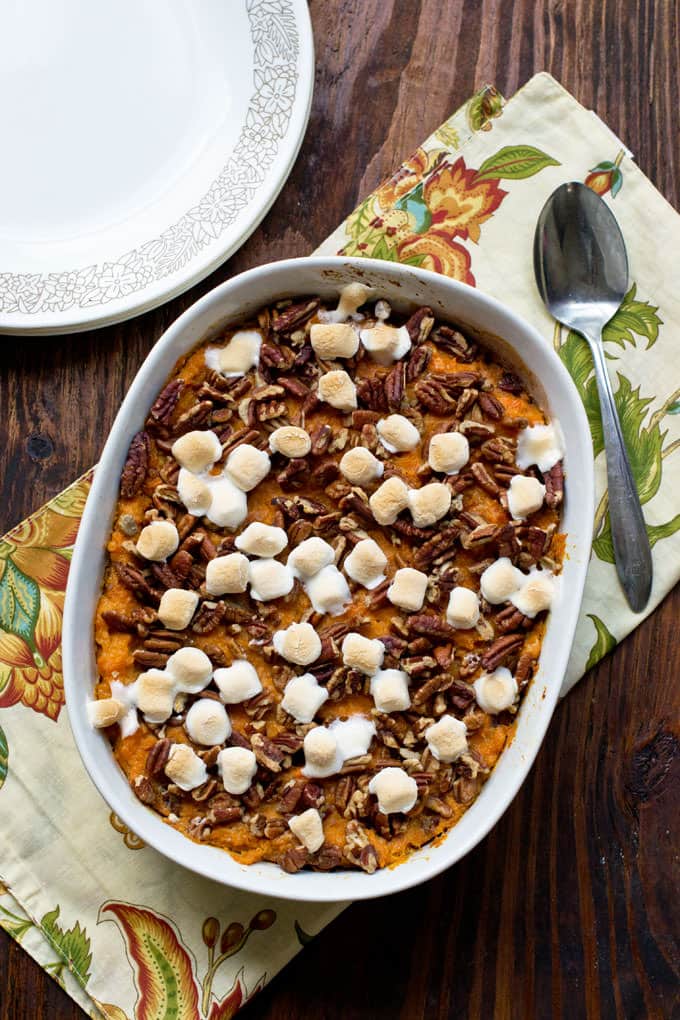 This is a pretty classic Sweet Potato Casserole recipe. We've gone with both pecans and marshmallows in the topping so that everyone is happy. The flavor of the sweet potato part is really amazing. This is because we roasted the sweet potatoes instead of boiling them or using canned ones.
There isn't a ton of sugar in here because the sweet potatoes are already pretty sweet. If you like it on the sweeter side, you can double the sugar though. The best thing to do is to make the sweet potato mixture adding everything except the eggs. Then give it a taste and decide if you want more sugar or not. I think you'll find that it's just about right.
I wish you and your family a happy and delicious Thanksgiving. If  you try this recipe, please write a comment below letting us know how you liked it or how you changed it up (we totally know you're gonna do that!).
Classic Sweet Potato Casserole
Yield: 8 servings
Prep Time: 15 minutes
Cook Time: 1 hour and 30 minutes
Total Time: 1 hour and 45 minutes
Ingredients:
5 medium sweet potatoes with peels on
1/4 cup butter, softened
1/2 cup milk
1/4 cup white sugar
1 tsp. vanilla
1/2 teaspoon table salt
1/2 tsp. cinnamon
2 eggs, lightly beaten
1/2 cup pecans, roughly chopped
1/2 cup mini marshmallows
Directions:
Preheat oven to 375ºF. Put the sweet potatoes whole on a baking sheet. Bake until very tender when pierced with a fork, 1 to 1 and 1/4 hours. Remove from oven. Let them cool a bit until you can handle them or wear oven mitts to handle them. Turn oven down to 325ºF.
Cut each sweet potato in half and scoop insides into a large bowl. Add the butter, milk, sugar, vanilla, salt  and cinnamon. Mash it all together and then stir until smooth. Stir in the eggs.
Transfer sweet potato mixture to a 9x13" baking dish. Sprinkle with the pecans and marshmallows. Bake for 30 minutes. Keep your eye on it. If the marshmallows start to get too dark, cover with foil.