Quesadillas are made insanely healthy with sweet potatoes and black beans. And whoa, are these ever delicious too!
I took the above picture for Produce for Kids (now knowns as Healthy Family Project) a couple of years ago. I didn't create the recipe though. They did. When I first read the recipe, I was skeptical of the flavor combination: sweet potatoes, black beans, and cheese.
Sweet Potatoes And Black Beans
Honestly, it sounded like a weird combo. I was so wrong. These are some of the best quesadillas I've ever had. I couldn't stop eating them. Those guys have good instincts on flavor and on making things healthy.
I think it's the creaminess of the sweet potatoes that makes these quesadillas so good. It somehow seemed like they had way more cheese than there was because of it. Mmmmm. I think you're going to love these.
Having Multiple Quesadillas Ready At The Same Time
This recipe makes four quesadillas, but they are cooked one at a time in a skillet. If you want everyone to be able to eat at the same time, there are two things that you can do.
Making Quesadillas In The Oven
Quesadillas made in the oven can get nice and crisp on the outside, while being gooey and melty on the inside if you follow these three rules:
Make sure your filling is at room temperature. If it is hot, it will steam the tortillas in the oven and make it harder for them to crisp up. If it is cold, it will not heat up enough in the time it takes the quesadilla to crisp.
Heat the baking sheet with some oil or cooking spray on it before you add the quesadillas. By having the oil and the pan hot, the underside of the quesadilla will start crisping more quickly and will then be less likely to get soggy.
Use high, but not too high, heat. I set my oven to 425F for oven-quesadillas. Any hotter and the edges of the tortillas start to burn before the middles are browned and the cheese is melted. Any cooler and the crisping up doesn't happen as well.
So, if you want to have all your quesadillas ready at once, prep the filling, make sure it's room temperature, heat your oven to 425F, and put an oiled baking sheet in there for 5-7 minutes. Assemble your quesadillas and then arrange them on the hot baking sheet.
Bake the quesadillas for 8 minutes. Take the pan out of the oven and use two metal spatulas or egg flippers to flip the quesadillas over. Return the pan to the oven and cook until the underside is brown and crispy, 5-10 more minutes.
Keep Quesadillas Warm In The Oven
The other way to have all of your quesadillas ready at once is to cook them in the skillet but then keep them warm in the oven. To do this, put an oven-safe metal cooling tray over a baking sheet and preheat the oven to 250F.
After the first quesadilla is cooked, transfer it to the rack and transfer the baking sheet with rack to the oven. Using a rack allows the air to circulate under the quesadilla so that it is less likely to get soggy.
As you cook each quesadilla in the skillet, transfer it to the rack over the baking sheet in the oven to stay warm.
If you're a sweet potato lover like we are, be sure to check out our whole Sweet Potato Series. You'll find more reasons than ever to love sweet potatoes with our recipes, tips, and how-tos.
Print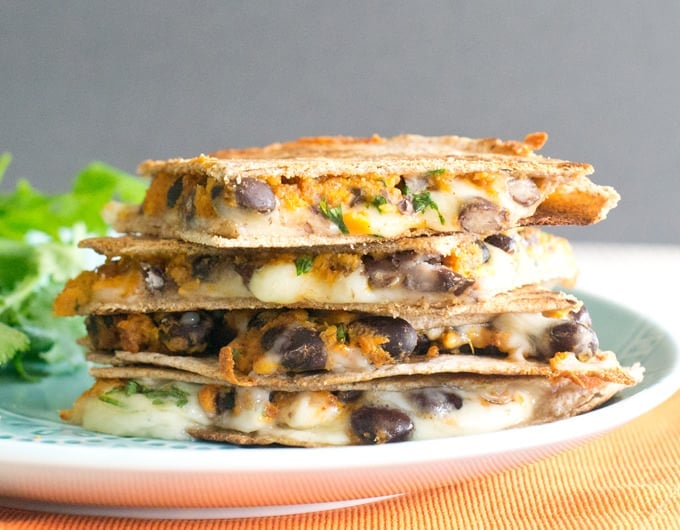 Sweet Potato Quesadillas
Contributor: Christine Pittman
Quesadillas are made insanely healthy with sweet potatoes and black beans. And whoa, are these ever delicious too! See the article above for cooking these quesadillas in the oven so that multiple quesadillas can be ready at the same time.
Listen to our editor, Christine Pittman, explain briefly about how to make these quesadillas, with some great tips along the way, by clicking the play button below:
Author:

Prep Time:

5 minutes

Cook Time:

10 minutes

Total Time:

15 minutes

Yield:

4

servings

1

x

Category:

Entrée

Method:

Stovetop

Cuisine:

American
1

large sweet potato

1

can low sodium black beans, drained, rinsed

1/4

cup chopped cilantro

1 Tbsp

. low sodium taco seasoning

8

whole wheat tortillas

1 cup

shredded low-fat Monterey Jack cheese
Instructions
Prick sweet potato with fork, place on microwave-safe plate, and microwave for 5 minutes on high power. Let cool slightly.
Cut in half lengthwise and scoop flesh into large bowl. Mash with a fork until smooth.
Add beans, cilantro, and taco seasoning to sweet potato and mix well.
Heat skillet over medium heat.
Spread sweet potato mixture evenly on one side of a tortilla, sprinkle with 1/4 of the cheese and place second tortilla on top.
Put into the skillet and cook until lightly browned underneath and cheese is starting to melt, 3-4 minutes. Flip and cook until other side is browned and cheese is fully melted, 2-3 more minutes. Remove from skillet and cut into quarters.
Repeat steps 5-6 with remaining tortillas and mixture.