Whether you're making your own homemade pepperoni, or just want some great pepperoni flavor, you'll love this seasoning blend. It's full of flavor with sweet paprika, fennel, allspice, and more!
Note: Below you'll find a recipe for a full 1/2 cup (4 oz.) batch of pepperoni seasoning. In addition, in case you just want to make a little bit, we've also given a recipe below that makes a small batch of just 2 tablespoons. We hope you find this helpful!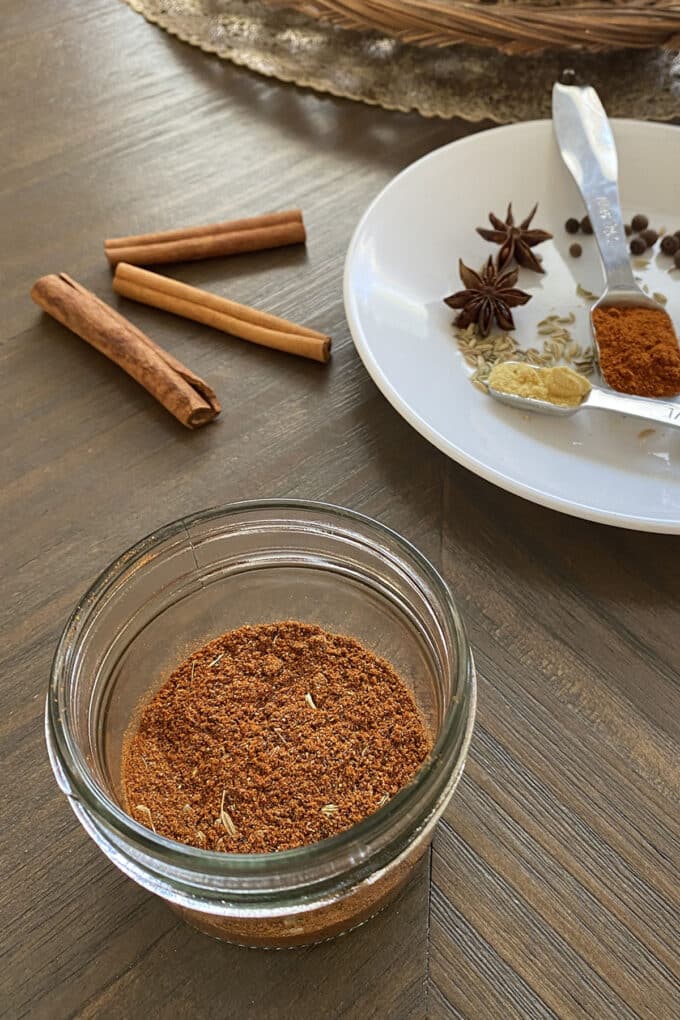 What Is Pepperoni Seasoning?
Well, simply put, it's the blend of seasonings that you would use to make your own homemade pepperoni sausage.
Since this pepperoni seasoning recipe is just the spices and doesn't contain any meat or dairy, it's actually vegan and can be used to make anything taste like pepperoni! Sprinkle it on vegetarian pizza or into pasta or soup to get that sausage-y flavor, without the actual sausage.
What Spices Are In Pepperoni?
The spices in are typically sweet paprika, black pepper, fennel seed or anise, allspice, mustard powder, and cinnamon. It also contains red pepper flakes or cayenne if the pepperoni is spicy.
If you're making your own pepperoni spice, you can add or subtract different ingredients, or use different versions of things. For instance, for a smokier flavor, you can use half sweet paprika and half smoked paprika.
The blend below uses crushed fennel seed, which has a nice licorice flavor and is very common in pepperoni and in sausages. However, some people use anise seed or ground star anise instead, just use about half as much of it since it's ground instead of crushed.
Note that the seasoning blend doesn't contain salt. So add salt to your recipe according to your own taste. When I add salt directly to the full 4oz. blend to use as a pizza or pasta seasoning, I add 2 teaspoons. 
How Much Meat Will This Season?
This blend is enough to season 6 pounds of ground meat for making sausages or loose sausage-flavored ground meat.
When doing that, to make fresh (uncured) sausage, you'd also add 1/4 cup of salt and 3 teaspoons of sugar (brown or white). To make cured sausage, in addition to the salt and sugar, you also need to add the curing salt and water. Here is how to make your own cured pepperoni.
Making A Small Batch Of Pepperoni Spice
If you want to keep pepperoni spice on hand to add delicious flavor to dishes, go ahead and scroll down to the full recipe at the bottom. But if you just want to make a small amount to use right away, here's how to make 2 tablespoons of it. I've included an optional amount of salt to use. If you're adding it to a recipe that already has salt, you'll want to skip that or taste it first.
To Make 2 Tablespoons of Pepperoni Seasoning, Combine:

• 1 Tbsp. sweet paprika
• 1 tsp. black pepper
• ¾ tsp. crushed fennel
• ½ tsp. ground allspice
• ⅛ tsp. mustard powder
• ⅛ tsp. cinnamon
• ½-¾ tsp. crushed red pepper flakes (optional)

Optional ½ tsp. salt, if adding it directly
More Sausage Seasonings:
If you like the idea of making your own Pepperoni Seasoning, you will also love making other seasoning blends that are used to flavor sausage. These can be used to make sausage, or also to make other dishes you cook have that flavor profile. They're wonderful mixes to have on hand!
Enjoy! -Christine xo
Print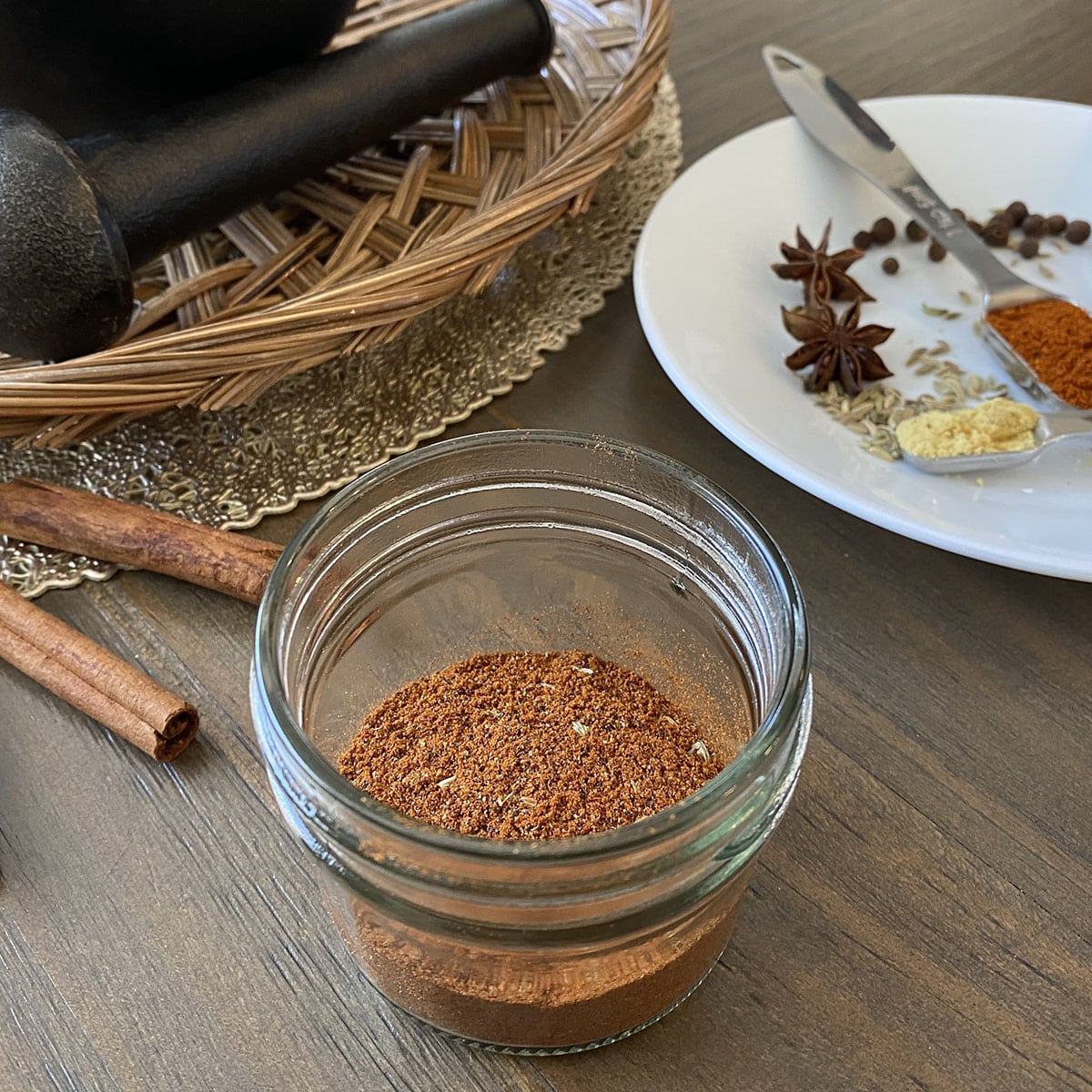 Pepperoni Seasoning Recipe
Contributor: Christine Pittman
This recipe doesn't contain salt. If you're making homemade pepperoni, add the amount of salt listed in the recipe. If you're adding it directly to other dishes, you can include 2 tsp. salt to the seasoning blend recipe, or add salt to taste when cooking with the seasoning.
This recipe makes enough to season 6 pounds of ground meat.
Author:

Prep Time:

5 minutes

Cook Time:

0 minutes

Total Time:

5 minutes

Yield:

About

4 oz

. (

1/2 cup

)

1

x

Category:

Spice Blend

Method:

No-Cook

Cuisine:

American
4 Tbsp

. sweet paprika

4

and

1/2

tsp. black pepper

3 tsp

. crushed fennel seed

2 tsp

. ground allspice

1/2

tsp. mustard powder

1/2

tsp. ground cinnamon

2

–

3

tsp. crushed red pepper flakes (optional)
In a medium bowl, whisk together all ingredients.
Transfer mixture to an air-tight container. Store up to 3 months in a cool, dry, dark, place.