Learn to make rugelach, a delicate flaky cookie filled with jam, nuts and dried fruit. This is one of the most beloved desserts in all of Jewish cuisine whether you are from Europe, America, or Israel.
What Are Rugelach?
Rugelach are a traditional Jewish cookie that has crossed over into the mainstream of baked goods. You probably have seen them before in bakeries or at a holiday cookie exchange. Typically these cookies look like little crescents made by rolling up a triangle of dough that is filled with jam, dried fruit, and nuts. However, it is also common to see rugelach that are round and rolled up like a spiral.
Rugelach means "little twists" in Yiddish. It originally came from eastern Europe, where they were made with an eggy, yeasted dough. Interestingly, in Israel, rugelach continue to be made with a yeast-risen dough in the European tradition.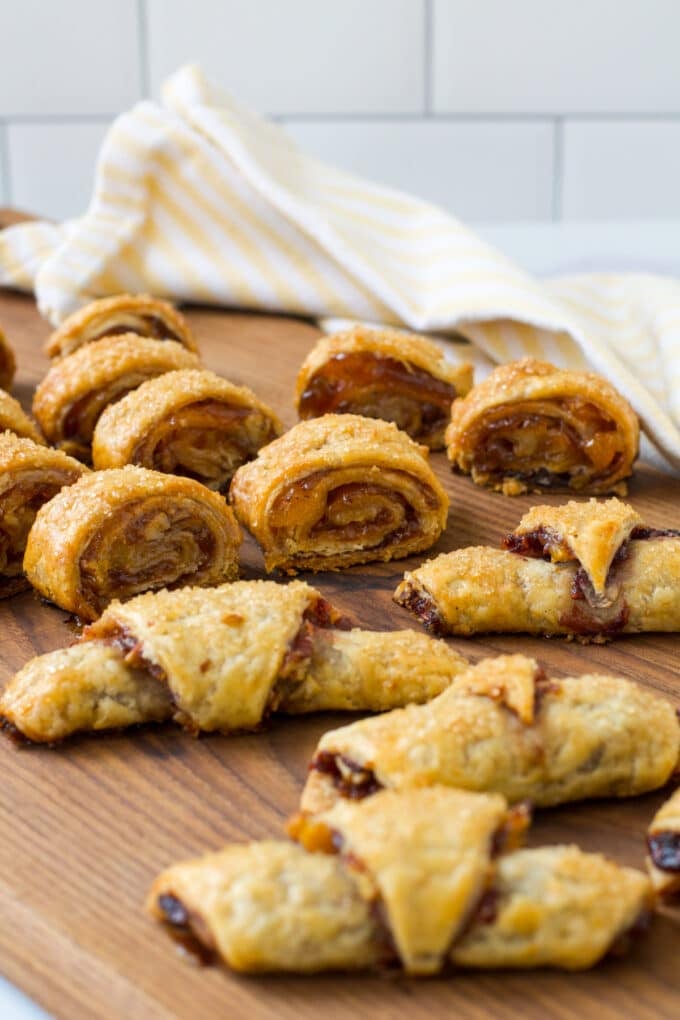 What Kind Of Dough Does This Rugelach Recipe Use?
Rugelach dough made with cream cheese – for extra tenderness – is an American adaptation of this centuries-old cookie. Kraft began selling cream cheese in the late 1920's and it caught on quickly as more and more homes became equipped with early refrigerators known as iceboxes. During the Great Depression, cream cheese became even more popular as it was a source of inexpensive calories for many people.
At the 1939 World's Fair, Kraft handed out small cookbooks full of recipes incorporating cream cheese as a way to promote the product. After that, Jewish bakers embraced the mild, creamy spread. Rugelach made with a cream cheese dough began appearing in American Jewish bakeries and cookbooks in the 1940's and the cookie just took off from there.
Rugelach dough bears some resemblance to pie dough in that it is a short dough. This means that it has a high proportion of fat to flour, the fat here being the butter and cream cheese. Short doughs are designed to be flaky, tender, and crumbly. As when making pie dough, you want to keep the fat in this dough cold and leave small pieces of the fat intact to ensure a flaky dough. I find that the food processor is the best tool to incorporate the fat into the dough. You could also use a pastry cutter or two knives.
How Long Does Rugelach Dough Need To Chill?
It is important to chill the dough before rolling it out to allow the gluten in the flour to relax. You need to chill the dough for at least a few hours but overnight is better. This is nice because you can spread out the work of making the cookies over a few days.
You can even make the rugelach dough a few weeks in advance and freeze it until needed. This is really handy during the holiday baking season! Just let the dough thaw in the refrigerator overnight before proceeding.
Shaping Rugelach Cookies
Once the dough has had time to chill, you then roll it into a circle to make crescent-shaped cookies or a rectangle for rolled cookies. Crescent shapes are the most traditional type of rugelach, but it can be time-consuming to roll up each cookie. To save time, you can also roll the dough into a log and slice it into cookies, which is especially helpful when making large batches. (Indeed, this recipe can easily be doubled if baking for a large crowd or gifting.) I give you instructions for both shapes below in the recipe card.
What Fillings Do I Use?
Once you roll out the rugelach dough into your preferred shape, it is time to add the fillings. As I mentioned, it is traditional to spread the dough with jam and then sprinkle chopped nuts, dried fruits, or mini chocolate chips over the jam. It is really fun to come up with your own combinations of jam, fruit, and nuts.
Some of my favorite filling combos:
• Peach jam or apple butter with golden raisins and walnuts
• Raspberry jam with chocolate chips
• Plum jam with dried cranberries and pecans
• Sour cherry jam with dried apricots and almonds

But use your imagination! You can also replace the jam with a chocolate spread like Nutella.
If you are using a jam that has large chunks of fruit, you may want to purée it first in a food processor so it will spread more evenly. Or simply make sure the fruit pieces are evenly dispersed on the surface of the dough. Please note also that if you may have nut allergies in your family, as I do, green pumpkin seeds, known as pepitas, are a good substitute for nuts. Just toast them lightly and chop them into small pieces for sprinkling on the dough.
You can even experiment with savory rugelach. Just omit the orange zest and cinnamon from the dough recipe and fill the cookies with grated cheese and toasted nuts for a delicious little bite to serve with drinks.
Once the cookies are filled and shaped, it is a good idea to chill them once again before baking to ensure that they hold their shape in the oven. Twenty to thirty minutes should do the trick.
Baking Rugelach
Lastly, give the cookies a brush with egg wash for a beautiful golden finish and sprinkle them with cinnamon sugar or a coarse sugar like Turbinado. They will bake at 350°F. The crescent shape cookies only take 15 to 20 minutes in the oven, but the rolled log cookies take about twice that, so just plan ahead.
Sadly, rugelach are just one of those cookies that taste the best the day they are made. The dough is at its most flaky and crispy during the first few hours after the cookies are baked. That being said, they still taste pretty darn good after a day or two and even longer if stored in the refrigerator. But if you are serving rugelach to guests or at an event, try to bake and serve them in the same day.
If you have ever enjoyed rugelach at a bakery or a friend's home, I really hope that you will try baking these cookies yourself. If you happen to make your own jams and fruit spread, these cookies are a wonderful vehicle to showcase homemade jams.
Print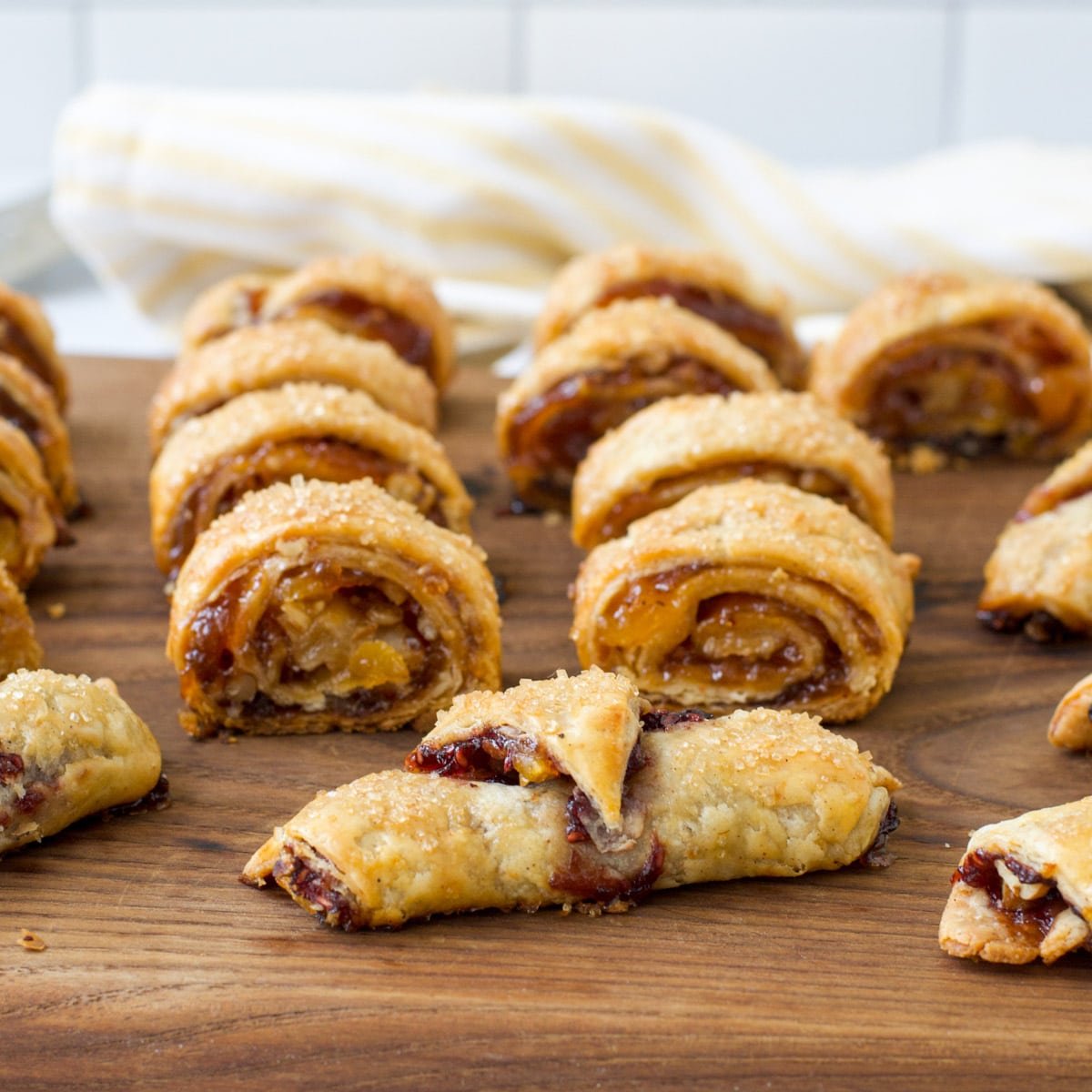 Rugelach Recipe
Contributor: Emily Paster
Read the directions carefully before you get started! There's required chill times and the unshaped dough can stay in the fridge up to 2 days before baking.
I've also included instructions for the two ways these are shaped and they require different baking times.
Author:

Prep Time:

20 minutes

Chill Time:

4 hours

Cook Time:

25 minutes

Total Time:

4 hours 45 minutes

Yield:

24

cookies

1

x

Category:

Dessert

Method:

Baked

Cuisine:

Jewish
1

cup

all-purpose flour

1/4

tsp. fine sea salt

1/4

tsp. cinnamon
Zest of

half an

orange

4

oz

. cold, unsalted butter, cut into cubes

4

oz

. cold cream cheese, cut into cubes

1/2

cup jam or fruit butter

1/4

cup dried fruit, chopped if the piece are large, or mini chocolate chips

1/4

cup nuts, such as walnuts, almonds or pecans, or pepitas, finely chopped

2 Tbsp

. cinnamon sugar*, divided

1

egg beaten with 1 tsp. water
Instructions
To make the dough, place the flour, salt, cinnamon, and orange zest in the bowl of a food processor, and pulse several times to combine. Add the butter and cream cheese and pulse several times until the dough resembles coarse meal. Do not let dough form a ball.
Turn the dough out onto a cutting board and gently knead it into a ball. Divide the dough into two equal pieces. Flatten each piece to about 3/4 inch thick and wrap each portion in plastic wrap. Refrigerate the dough for at least three hours and up to two days.
When ready to form and bake the cookies, preheat the oven to 350°F and line two sheet pans with parchment paper or silicone baking mats.
Take one half of the dough out of the refrigerator, and let it sit at room temperature for 5 minutes. (This will make for easier rolling and reduce cracking.)
To form the traditional crescent-shaped cookies, roll out the dough on a well-floured surface into a 12-inch circle approximately 1/8 inch thick. If the edges of your circle are ragged, trim them with a knife. Leaving a slight plain edge, spread 1/4 cup of jam over the dough. Evenly sprinkle 2 tablespoons of the dried fruit or chocolate chips over the jam, followed by 2 tablespoons of the nuts. Avoid placing any fruit, chips or nuts in the very center of the circle. Sprinkle 1 tablespoon of cinnamon-sugar over the dough.
As if cutting a pizza, cut the dough round into six wedges, then halve each wedge vertically until you have 12 pieces. Starting at the wide, outside edge, carefully roll up each wedge to form a crescent. Place the crescent on the parchment-lined pan with the end point on the bottom. (Do not panic if some of the filling comes out the edges; this is common and it will bake with no problems.) Chill the formed cookies for 15 to 20 minutes prior to baking. Meanwhile, repeat the shaping process with second disk of dough.
When ready to bake, lightly brush the tops of the cookie with the egg wash, and sprinkle them with cinnamon sugar. Bake the crescents for 20 to 25 minutes until golden brown. Let cookies cool on the pan for five minutes, then remove them to a cooling rack to cool completely.
Alternatively, to form sliced cookies, roll out the dough on a well-floured surface into an 8×12 rectangle approximately 1/8 inch thick. If the edges of your rectangle are ragged, trim them with a knife. Leaving a slight plain edge on one long side, spread 1/4 cup of jam over the dough. Evenly sprinkle 2 tablespoons of dried fruit or chocolate chips on top of the jam, followed by 2 tablespoons of nuts. Sprinkle cinnamon sugar over the dough.
Starting at the long plain edge, carefully roll the dough up tightly into a log, and pinch the seam closed. Place the log on the parchment-lined baking sheet with the seam on the bottom side. Refrigerate the first log while you repeat the process with the other half of the dough. After forming the second log, place it on the same baking sheet, and refrigerate both logs for fifteen to twenty minutes.
When ready to bake the cookies, lightly brush the tops of the logs with egg wash, and sprinkle them with 2 teaspoons of cinnamon sugar. With a serrated knife, cut the dough at one-inch intervals slicing 3/4 of the way down to the bottom, but do not cut all the way through the dough. Bake the logs for 40 to 45 minutes until golden brown. Let the cookies cool on the pan for about 30 minutes, then finish slicing the cookies all the way through before serving.
Notes
*Note: To make cinnamon sugar, combine 1/2 cup granulated sugar with 3/4 tsp. cinnamon.