Most margarita recipes say to rim the glass with kosher salt. Why kosher salt? We needed to know and so we did a taste test to find out.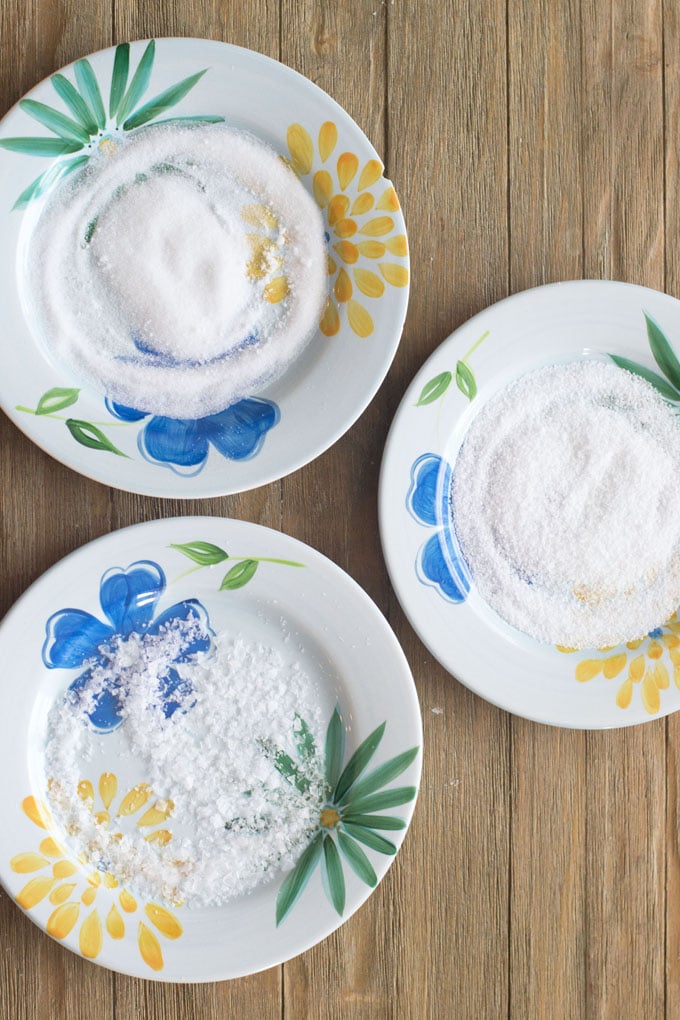 In researching for our Margarita Series here on The Cookful, we've read A TON of margarita recipes. Most of them mention that you should salt the rim of the glass (not sure how to rim a glass? Learn here). And most of those say that you should use kosher salt to do it. We had to ask though, "Why kosher salt?" It seems to be the accepted norm but is it the only way to go?
You can of course buy salt that is specifically for rimming glasses. We're not sure that it's worth the extra money. But go ahead and check it out over here. For our taste test, we turned to what we typically have in our pantries: iodized table salt, kosher salt, flaky sea salt.
We started with the table salt: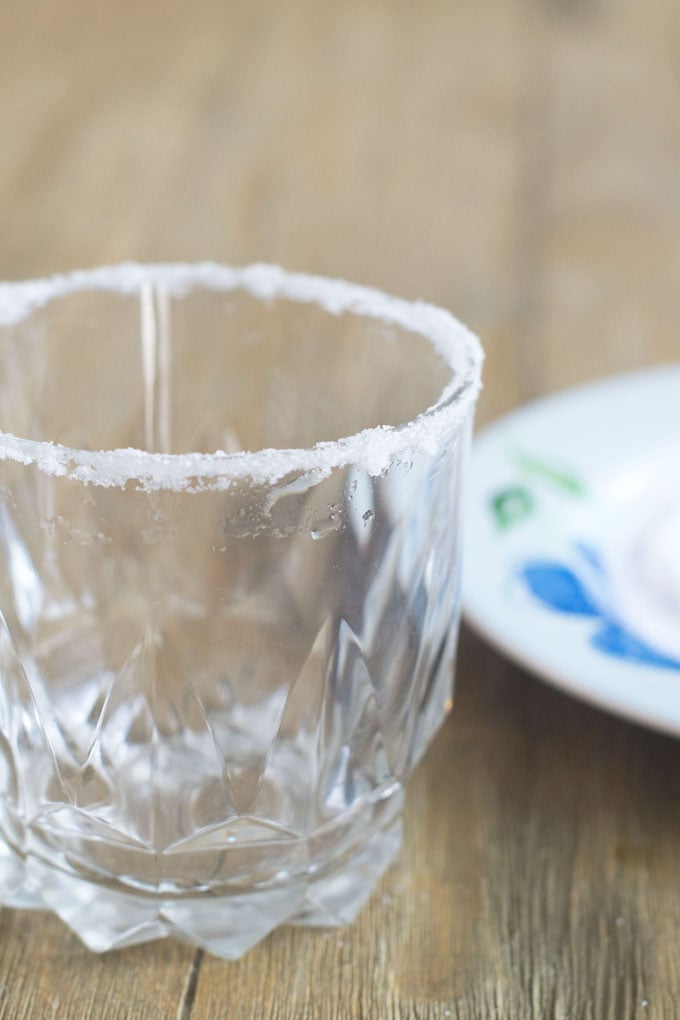 What we immediately noticed is that you end up with QUITE a bit of salt on there. And it's really clumpy. It certainly doesn't look very nice. Then we poured from our BEST margarita recipe and tasted. It was VERY salty. Overpowering, really. We knew instantly that table salt was not going to be our favorite.
Next up, the oft-cited kosher salt: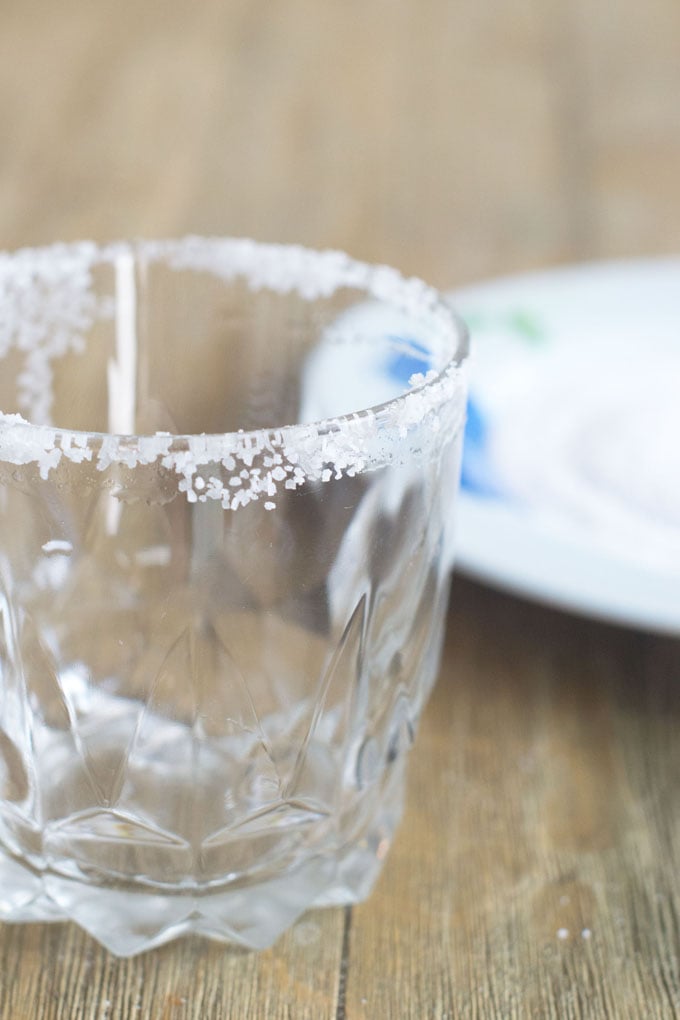 It certainly looks nicer. Less clumpy. You can also easily see that not as many grains of salt are on there. Definite improvement. The taste test? Not as salty. Much better.
Finally, the sea salt:
I had Maldon sea salt at home. I always do. My mother-in-law's originally from Maldon and whenever she visits us she brings some straight from the source. The best.
It certainly looks pretty on the glass.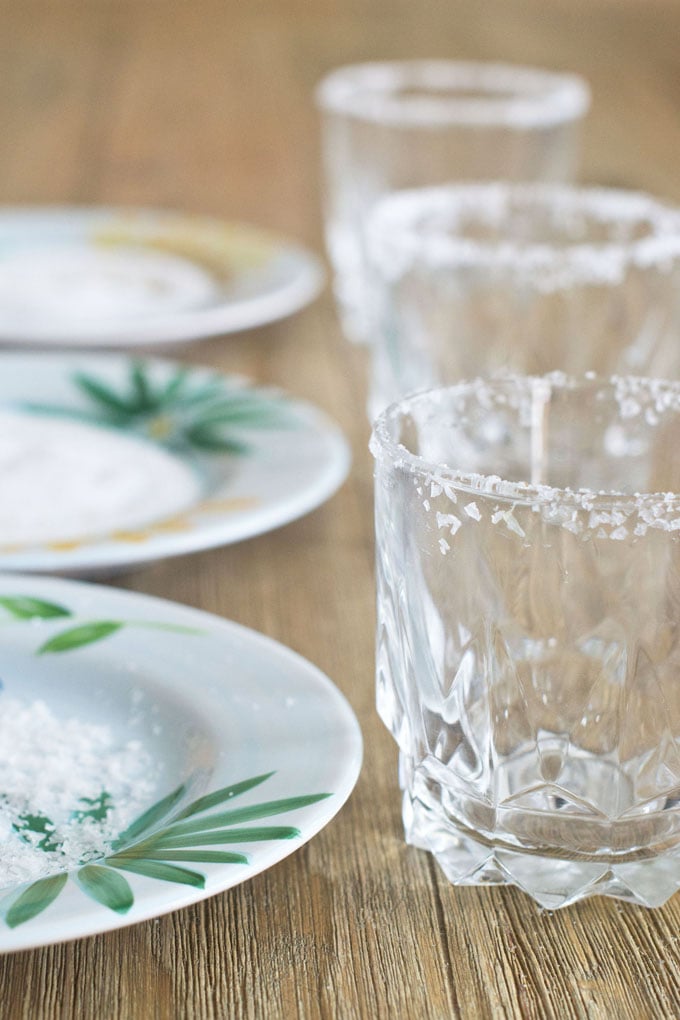 Much fewer salt crystals actually stuck. The contrast between this and the table salt is huge. As to the taste? Divine. Really. This sea salt is less purely salty in flavor than the other two. It's very subtle. Just adds that tiny bit that you really want to perfectly counter the sweet and sour in a classic margarita.
But it's a lot more expensive. The 8.5oz. box on Amazon is almost $6.00. A 3lb. box of kosher is $8.00. Doing the math, a similar-sized box of Maldon would be around $36.00. That's a huge difference.
Given the fact that a lot of salt is often wasted when rimming a glass, we're pretty sure that the sea salt is not the way to go. It looked and tasted better than the kosher, but not by enough to justify the cost. If you were having a fancy margarita party or using a very expensive tequila, it might be worth it. But for your regular day-to-day margs, like this one, stick with the kosher.
All of that to say we agree with the recipes calling for kosher salt. But now we know why. We like knowing why.