Ranch Water is a refreshing cocktail that originated in Texas but is taking the country by storm. It's showing up on menus everywhere, and so now is a great time to learn how to make this easy delicious drink that only uses three ingredients.

There's a good reason why the Ranch Water Cocktail is so popular. It's because it uses such light and fresh ingredients. From the very bubbly Topo Chico mineral water, to the fresh lime juice and the crystal-clear tequila blanco, it's light and refreshing every step of the way. It's also ridiculously easy to make! There are more details about the ingredients and how to make this Texas cocktail below, or you can click here to jump straight down to the recipe.
What Is Ranch Water?
It's a bit like a margarita, but on the skinny side. It's made of silver tequila (blanco tequila), fresh lime juice, and a very bubbly brand of sparkling water called Topo Chico.
The cocktail is thought to have originated at the White Buffalo Bar at the Gage Hotel in Marathon, Texas.
What is Topo Chico?
Topo Chico is a very bubbly mineral water that is sourced from an inactive volcano in Monterey, Mexico. If you can't find it at your local store, you can buy it online.
The big question is, do you have to use Topo Chico for it to count as Ranch Water? The answer is yes and no. Yes, you can use any sparkling water and this drink will taste good. And technically, one of the beautiful things about Ranch Water is how laid back it is in style, and how versatile it is. So using what you can get your hands on is part of the easy joy of this drink. However, one of the best things about this drink is how very bubbly it is. That's what adds to its fun and freshness. Other sparkling waters, like Le Croix, just don't have as much effervescence. So, if you can get some Topo Chico, do use it. If not, don't stress out too much.
If you look closely at the above picture where Topo Chico is being poured into the glass, you can actually see the effervescence floating in the air above the glass. It really is that fizzy!
When it comes to choosing the flavor of the soda water, plain sparkling water is the usual go-to for Ranch Water. However, you can absolutely use any flavor that you really like for a tiny change to the drink. My favorites are the Topo Chico Twist of Lime, but the Twist of Tangerine gives the drink the kind of slight orange flavor you get from the orange liqueur (like Triple Sec) used in a classic Margarita.
Type Of Tequila In Ranch Water
Similar to when choosing tequila for Margaritas, blanco or silver tequila is the most usual choice. It's clear and light in this drink. But if you want a stronger tequila flavor, you can use something heavier. For a smoky twist, try Mezcal in there.
The Lime Juice
Fresh lime juice is always going to be the best option for Ranch Water. That's because there aren't very many ingredients in this drink, so each one matters and you want the best quality available.
Having said that, it's a good idea to keep in mind that Ranch Water is such an easy going drink, so if you don't feel like squeezing limes, you don't have to. Use bottled lime juice and it will still taste good. If you spot cold-pressed lime juice at the store, get that since it has more good lime flavor.
Ingredient Amounts and Ratios
The general ratio for Ranch Water is two parts tequila to 1 part lime juice, topped with ice and Topo Chico and garnished with a lime slice or wedge.
The amount of Topo Chico you add is really up to you, based on how strong you want the drink, and on the size of your glass. For a typical rocks glass, I go with 1 and 1/2 ounces of tequila, 3/4 ounce of lime juice, and 4 ounces of Topo Chico.
Type Of Glass To Use For Ranch Water
In my experience, Ranch Water is most often served in a lowball glass (also called a tumbler or a rocks glass). However, I've also seen it in taller glasses (highball glasses), martini glasses, and mason jars. To me, it's more about having a glass that holds the right amount of liquid than about the style.
The lowball tumbler kind of glass holds about 8 ounces, which is perfect for the 6 ounces of liquid in the recipe below, plus ice.
Variations
As mentioned above, you can change the flavor of the Topo Chico or seltzer water that you use to change the flavor of the drink slightly. Other common things to do are to salt the rim of the glass, or add some rock salt sprinkled over the mixture in the glass right before serving. I've also seen it served with some sliced fresh jalapeno rings and pickled jalapeno rings and once with a spear of pickled spicy okra.
In terms of adding sweetness, the classic version of the cocktail doesn't have any sweet ingredients added. However, many people add some simple syrup or agave nectar, and some bars do a splash of Grand Marnier or Triple Sec for a bit of sweet orange flavor.
Once you know the basics of how to make this delicious Texas cocktail, you can start switching it up in all kinds of ways. It's so simple to make, and simple to make new and fun.
Enjoy! -Christine xo
Print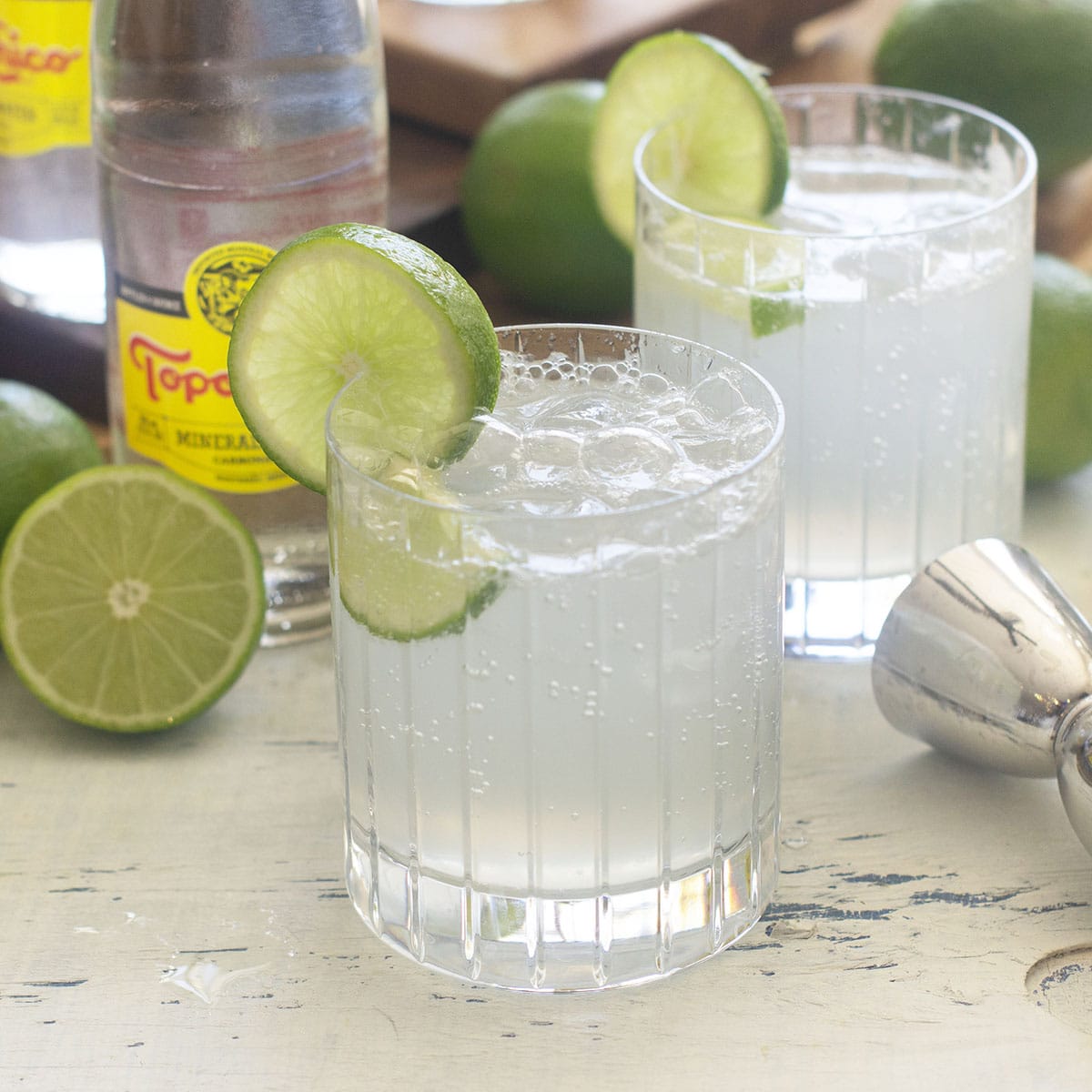 Easy Ranch Water Recipe
Contributor: Christine Pittman
Ranch Water is a refreshing cocktail from Texas. Learn how to make this simple delicious drink that only uses three ingredients.
Listen to learn how to make this recipe, along with some great tips from Christine:
Author:

Prep Time:

5 minutes

Cook Time:

0 minutes

Total Time:

5 minutes

Yield:

1

serving

1

x

Category:

Drink

Method:

Mix

Cuisine:

American
6

ice cubes

1

and

1/2

oz. blanco tequila

3/4

oz. lime juice

4

oz

. Topo Chico*
Lime wedge
Put the ice into a lowball glass.
Measure in the tequila and lime juice.
Top with the Topo Chico and garnish with the wedge of lime.
Love this recipe? I'd appreciate it if you could scroll down and add a *5 star rating* to help others know they'll love it as well!
Notes
*You can use another kind of sparkling water or one with a hint of flavor, but no need for hard seltzer here.