Yup. I said it. It's the best Margarita recipe out there. What makes it so good? It's mine!
O.K., I may have lied a little bit. I don't technically have the best margarita recipe for you. What I have is the best margarita recipe for me. Along with some advice for you.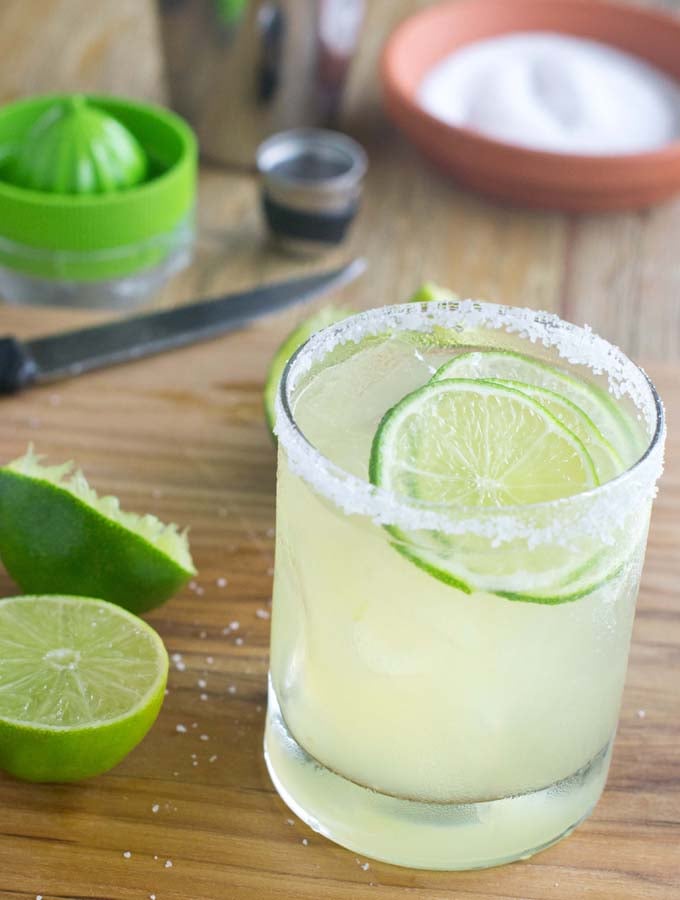 Here's A Video Showing How Easy This Classic Margarita Is:
You see, margaritas are one of those things that are different to different people. Some like them crazy sweet. Others like them really strong. Some want very tart and sour lime. Others, just a citrus whiff. Some want something lighter and a bit fizzy, like Ranch Water. And let's not get started on rocks versus straight up, salt or no salt. Yikes! If I dared to claim that I had the best margarita recipe, a good 75% of you would want to fight with me. But why fight when we can drink?
So, what I'm giving you below is my favorite margarita recipe. It's how I make them to my taste. I don't like them super-boozy. I do like them very limey. And I like a touch of sweetness.
Making Your Own Best Margarita Recipe:
1) Lay on (or off) the booze. If you like it really boozy, not only can you add extra tequila (that's obvious) but you can use Cointreau instead of Triple Sec for the orange liqueur. Cointreau has a higher alcohol content – I definitely sip Cointreau margaritas more slowly than Triple Sec ones (warning, they tend to lead to headaches the morning after).
2) Lime-lover? Decide if you love lime or just like it. Love it, add more. Just like it, add less. But you have to do something else either way: After squeezing your fresh lime juice, dip a finger in (or a teaspoon, if you're not the only one imbibing) and taste it. Do you think, "whoa! acid!" or do you think "mmm… lime"? You see, not every lime is the same. Some are harsher than others. If you've got a harsh one, you might want to add less of it, or counter it with more simple syrup and/or more Triple Sec.
3) Find your sweet spot. The way I determined how sweet I like my own margaritas was to make a marg without any sweetener in it. I made it in a bigger glass than usual to accommodate some vigorous stirring. I took a sip. Whoa Nellie! Sour! I added a teaspoon of simple syrup, stirred and tasted. Better. Not great. Repeat. I got to 3 teaspoons when it was just right for me. A perfect balance of acid and sweet for my taste buds. 3 teaspoons is 1/2 of an ounce, so that works out well for bartender measurements too. Do this experiment for yourself to find your spot. (Note: You can buy simple syrup at the liquor store. Or you can make your own. It's really really easy).
4) Get the right salt. You can buy a rim salt. Or you can make a fun one like this Salty Sweet Citrus Rim Salt. Or go with kosher salt or coarse sea salt (read here about which one we prefer). But do not, under any circumstances, use table salt. It's too salty, harsh and clumpy. Sooo not good. Please. Just don't. (If you aren't sure how to rim a glass, no worries. Head over here. We've got you covered).
5) Get creative! Go out on a limb and add new flavors to you margarita. This Lemon Basil Marg is one of my faves. Of course, you could always go frozen with this Strawberry Margarita.
And now, onto the best margarita recipe. The best margarita recipe for me, that is.
Print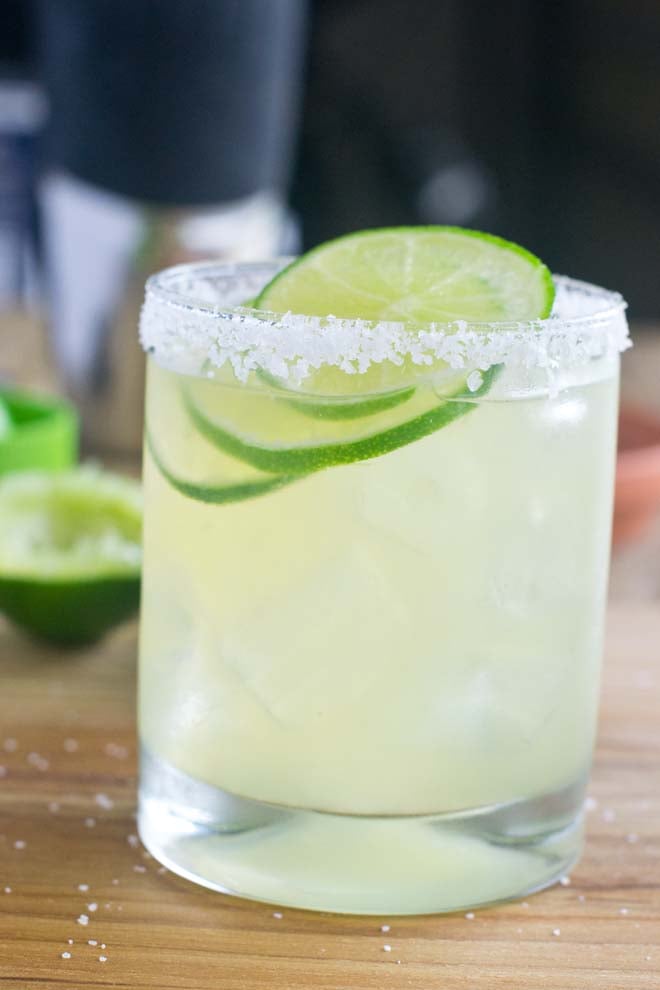 My Best Classic Margarita Recipe
Contributor: Christine Pittman
Yup. I said it. It's the best Margarita recipe out there. What makes it so good? It's mine!
Listen to learn how to make this recipe, along with some great tips from Christine:
Author:

Prep Time:

5 minutes

Cook Time:

0 minutes

Total Time:

5 minutes

Yield:

1

serving

1

x

Category:

Drink

Method:

Mix

Cuisine:

Mexican
Kosher salt
Ice cubes

2

oz

. tequila (I prefer silver or blanco)

1

and

1/2

oz. freshly squeezed lime juice

1/2

oz. simple syrup (if you don't have any, make up a quick and easy batch or use agave syrup)

1/2

oz. Triple Sec
Instructions
Rim a high ball glass with kosher salt (learn how here).
Put two big handfuls of ice cubes into a cocktail shaker. Add remaining ingredients. Shake for a good 10 seconds.
Fill high ball glass half full of ice cubes. Pour contents of shaker over top.