Boozy Frappuccino
This isn't an ordinary drive-thru frappuccino. Oh no, this boozy frappuccino is just for adults and is the perfect summer happy hour drink.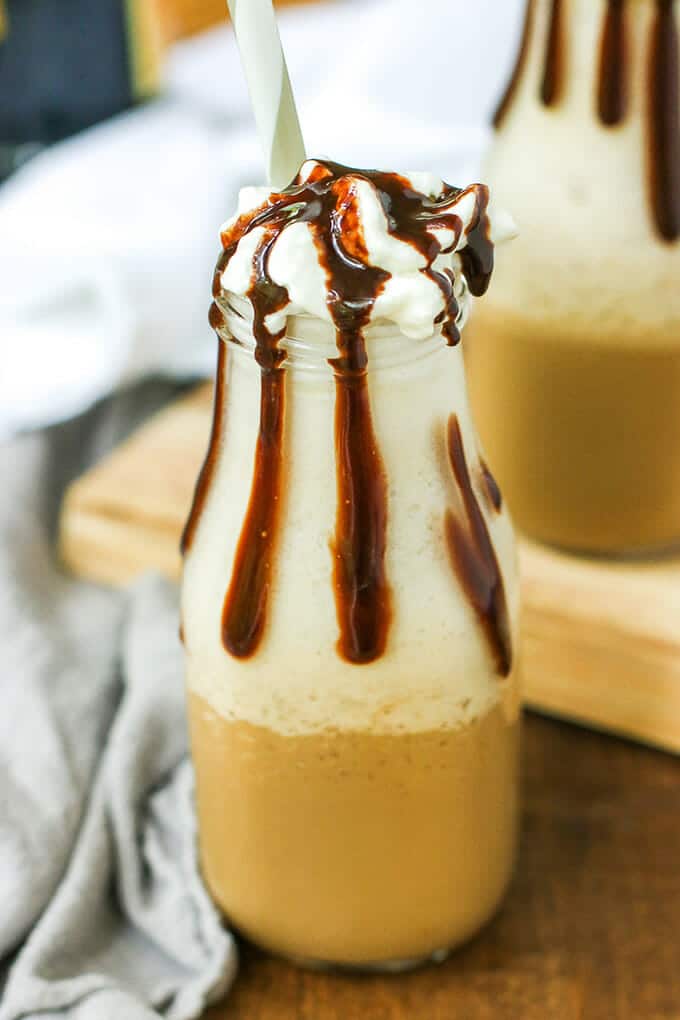 A good Frappuccino can turn your day around, especially in the summer. There's just enough caffeine, cream and sweetness to refresh you and fulfill your sweet tooth.
My personal favorite is a classic coffee-flavored frappuccino, but have fun with it and try adding your own flavors.
Here are my tips for making the best boozy frappuccino in town.
Keep that coffee flavor strong.
Use a pre-made iced coffee that you can find in the refrigerated section of your grocery store. The flavor isn't as diluted as it is if you make coffee and add ice to cool it down. Plus, this shortcut gets your drink in your hand faster.
Another option is to use cold brew if you choose to make the coffee base yourself.
Add in your favorite flavors.
If you want a mocha flavored frappuccino, try adding 1/4 cup chocolate syrup while you're blending the ingredients together. It gives you just enough chocolate flavor while not making it overly sweet.
If you love peppermint, add a splash of peppermint extract, but go light! A little goes a long way.
Add the booze.
To make it extra boozy, replace the vanilla ice cream with 2 ounces of Irish cream.
Want less? You can leave the coffee liqueur out if you don't have it on hand or are just looking for a light adult beverage.
Add some finishing touches.
Drizzle chocolate on the inside of your cup before pouring in your drink like they do at Starbucks. It's super easy but makes your drink look fancy.
Top it all with some whipped cream and more chocolate drizzle.
Finally, make sure you use a high powered blender (like this one) to ensure you don't get big chunks of ice. Getting those stuck in the straw is no fun. Check out our other tips for making perfectly blended iced drinks here.
Now whip up some boozy frappuccinos and enjoy your afternoon.
Boozy Frappuccino
Yield: 2 drinks
Prep Time: 5 minutes
Total Time: 5 minutes
Ingredients:
For the Drink:
2 cups ice
1 cup iced coffee
1/2 cup vanilla ice cream
2 oz. vodka
2 oz. coffee liqueur
To Top:
Whipped cream
Chocolate drizzle
Directions:
Place ice, iced coffee, vanilla ice cream, vodka and coffee liqueur in a blender.
Pulse first and then blend on high until ice is fine, about 2-3 minutes.
Divide between two glasses. Top with whipped cream and chocolate drizzle, if desired.