The Best Frozen Margarita
A frozen treat that's wonderful for summer entertaining. Blended frozen margaritas are perfectly balanced, combining simple, fresh ingredients. You'll fall in love with the simplicity and flavor of this cocktail.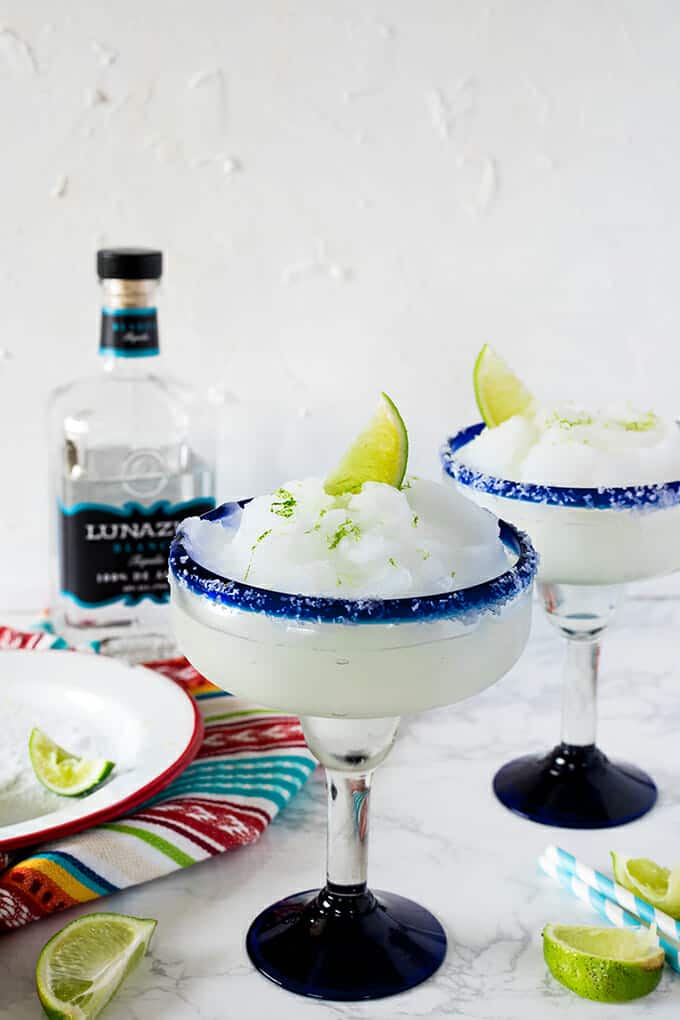 We've already shown you how to make The Best Classic Margarita, and we know you've been loving that recipe for over two years now. The next step is the best frozen margarita. Everyone needs a great frozen margarita recipe in their bartending repertoire for sure. This is it!
I fell in love with margaritas on a trip to Mexico and it still amazes me how a cocktail with such simple ingredients can taste so amazing.
If you're unfamiliar with margaritas, a traditional margarita recipe is a combination of tequila, Cointreau or triple sec, lime juice, Simple Syrup or agave and ice. Typically, margarita glasses have a salted rim and are served either over ice or blended into a frozen margarita.
Margaritas are one of the most refreshing cocktails out there, and are so versatile. They're great to whip up in a pitcher for a crowd, or perfect for single serves, making them a go-to choice for summer parties or gatherings.
I especially love blended frozen margaritas on a hot day. As they're frozen, they don't warm up for ages and last just a little longer than regular margaritas. They're also nice and thick; so thick that you can scoop them out with a spoon when you first make them.
Tips for Making the Best Frozen Margaritas
Use good quality tequila – this is essential in making a great margarita. Using good quality tequila really mellows the margarita out, making it more enjoyable. Here is a guide to choosing tequila for margaritas.
Cointreau or triple sec – this is a heavily debated topic, and personally I'm more inclined to go for triple sec. I found that Cointreau is very expensive and tastes similar to triple sec. In my local liquor store, a bottle of quality triple sec is less than $6 as opposed to a $30 bottle of Cointreau. As you're only using 1 ounce, the difference in flavor isn't overly noticeable.
Simple syrup or agave – once again, a personal preference. I like using simple syrup because it's easy to make with ingredients you have at home (water and sugar!) and blends well. I never use agave syrup in cooking or anything so I can't justify buying it for a cocktail when I have sugar and water on hand. To make simple syrup, follow this simple recipe. Using simple syrup is optional. If you prefer tart flavors, you can simply omit it. Honey works in a pinch!
Salting the rim – I love the saltiness combined with the tartness of the margarita, but once again, salting the rim of a glass is optional. If you decide to salt the rim of your frozen margarita glass, coarse sea salt is my favorite. See the taste test of different salts for rimming glasses that we did here.
Blending – I don't have a good quality blender (like this one), but I do have a Nutri-Ninja (like this) which worked well for this recipe. Depending on your type of blender, blending time can be anywhere from 3 to 5 minutes. I found with a Nutri-Ninja, I had to frequently stop to bang the sides of the shaker to get the ice back down to the blade. This took a little longer than a high-powered blender. Check out our tips for blending frozen drinks in a blender here.
Serving size – this recipe can either make two very large margarita-sized servings or 4 smaller servings (see here for the margarita glasses I love).
Print