Frozen Tequila Sunrise
You won't believe how easy it is to make a Frozen Tequila Sunrise, and all you need is a few ingredients. (And yes, that layered look is easy too!)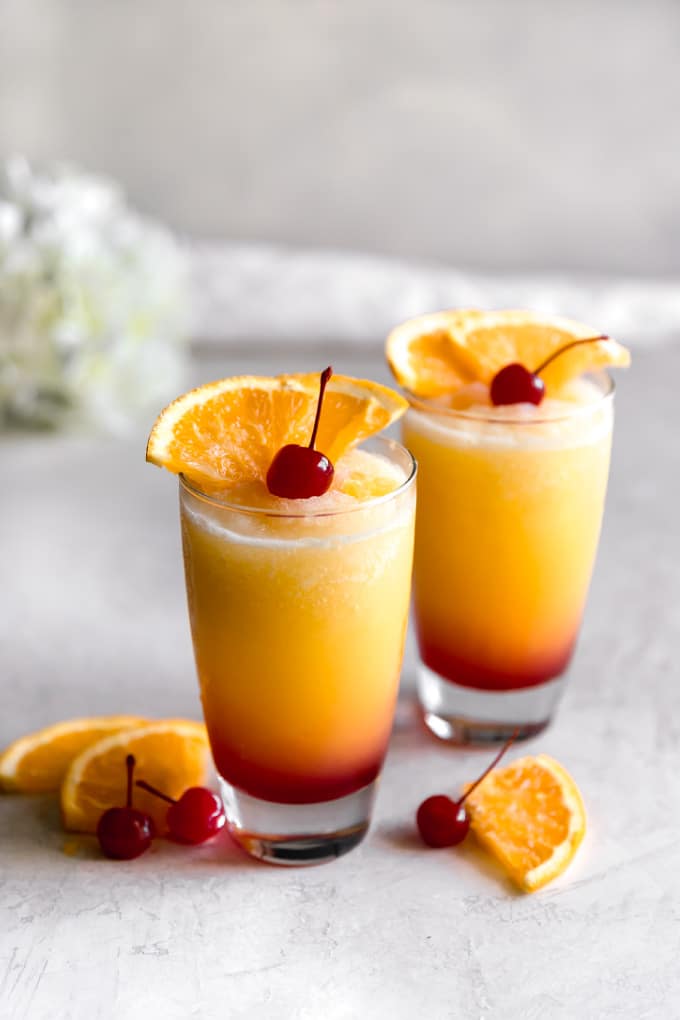 If you love tequila, you're going to LOVE this frozen Tequila Sunrise. A Tequila Sunrise is a cocktail made of orange juice and tequila. It gets its name from the grenadine dropping to the bottom of the glass which resembles the sunrise in a glass.
Whether you add the grenadine before or after the orange juice mixture is already poured into the glass, the grenadine always tends to sink to the bottom, which is exactly where you want it to be for that layered effect.
Today, we're giving this classic Tequila Sunrise a frozen twist by turning it into a slushie. Frozen Tequila Sunrises are made the same way except you need a little more ice and a high powered blender (like this one). Once the slushy mixture is poured into a tall glass, you can easily give the drink its iconic sunrise effect by slowly pouring grenadine down the side of glass.
Careful not to mix it or you'll lose the visual effect! This citrusy "sweet tart" drink is perfect for a hot summer day or brunch with friends. Can't wait for you guys to try it!
Print
Frozen Tequila Sunrise
You won't believe how easy it is to make a Frozen Tequila Sunrise, and all you need is a few ingredients. (And yes, that layered look is easy too!)
Author:
Prep Time: 10 minutes
Total Time: 10 minutes
Yield: 2 servings
Ingredients
3 cups ice
1 cup orange juice
2 oz. tequila
2 Tbsp. grenadine syrup
Orange slices for garnish
Maraschino cherries for garnish
Instructions
To a high speed blender, add ice, orange juice and tequila.
Pulse a bit and then blend until smooth.
Pour mixture into two tall glasses.
Carefully pour 1 tablespoon of grenadine down the inside of the glass and it will sink to the bottom. Do not stir.
Garnish with orange slices and a maraschino cherry.