Frozen Hot Chocolate
Frozen hot chocolate is a great way to enjoy the decadent flavor of winter even if you live in a hot hot place.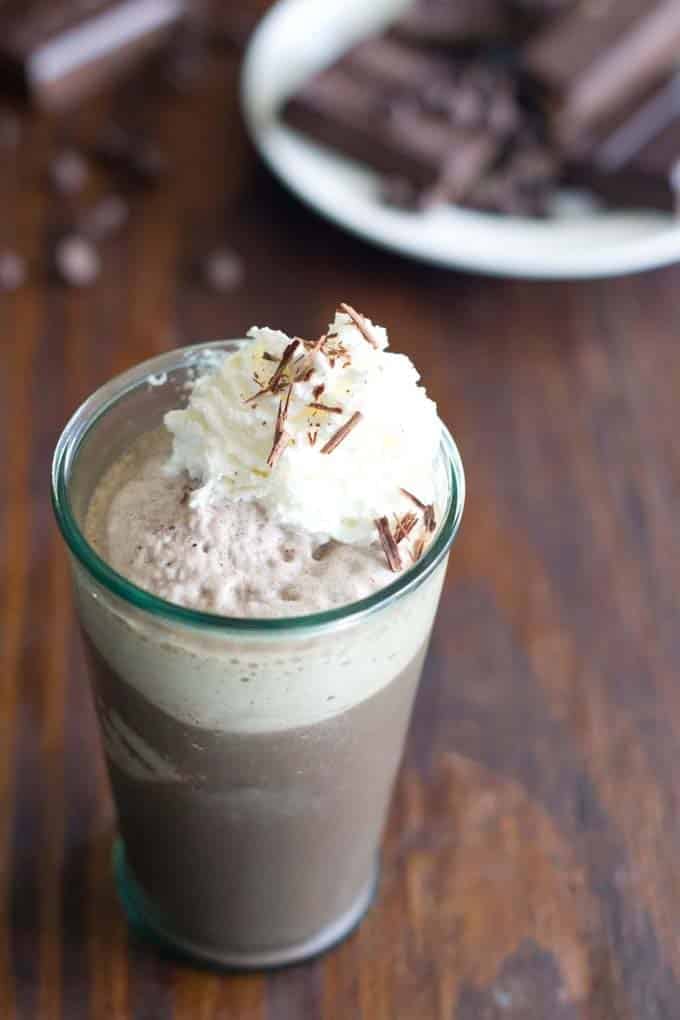 If you want a frozen hot chocolate with a rich deep chocolate flavor, you're going to use cocoa. We learned that cocoa is best when doing our taste test comparison between hot cocoa and hot chocolate made with real chocolate. Cocoa needs to be dissolved in a warm liquid though. That's not the easiest thing for making a cold drink. You need to heat it. And then you need to cool it down. You need it really cool before you add the ice for making it a slushie though, because otherwise that ice melts too and you just get watery chocolate milk. Ewwww.
So what do you do to get rich chocolatey flavor in your frozen hot chocolate without having to heat it all up and then cool your base? We figured it out!
You mix the cocoa with sugar and then with a small amount of milk, 2 tablespoons to start and then another half cup. You microwave that until good and hot and stir it. Add chocolate chips to it and stir. Those chips add extra flavor but they also bring the temperature of the cocoa down quite a bit.
Now you have a thick chocolate goop. Add that to a blender with another cup of cold cold milk. Now it's barely warm at all. Throw in your ice cubes and blend until all mixed up and slushie.
Top it off with some whipped cream (get the goods on making perfect whipped cream here) and chocolate shavings (we make ours using a basic potato peeler like this).
Slurp!
Print
This post originally appeared in December, 2015 and was revised and republished in December, 2019.