Onions come in many different colors. But what's the difference between a white, red, and yellow onion? Is there any?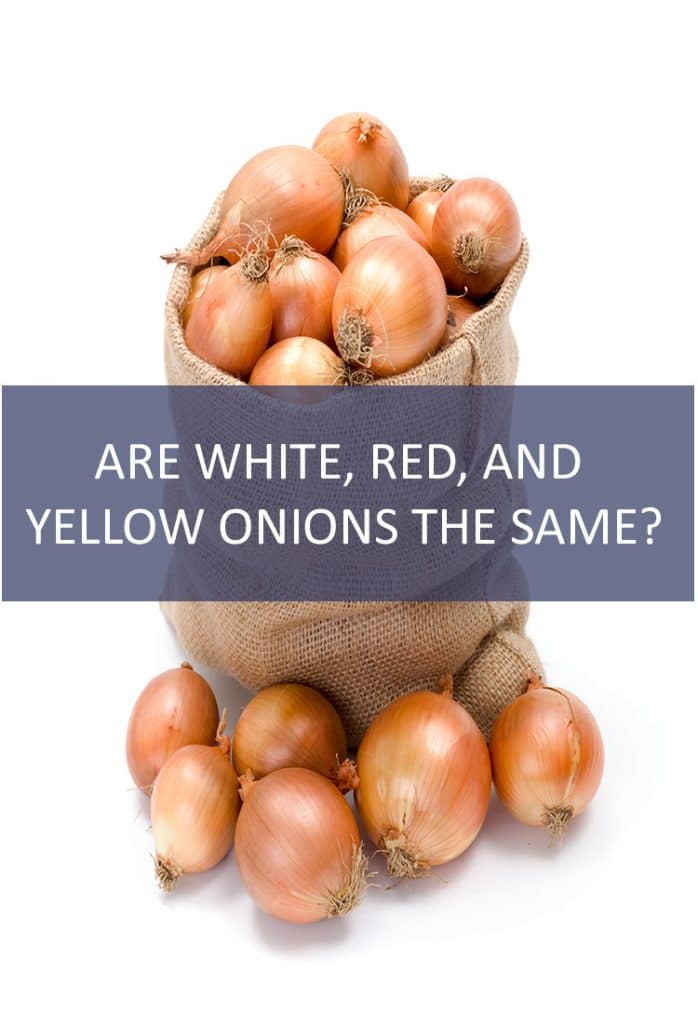 The Short Answer
White, red, and yellow onions are slightly different in terms of taste and use.
The Long Answer
Ah, onions. One of the most polarizing sandwich toppings out there. There are those who love them (like me) and those who absolutely hate them. Cooking with onions can be tricky. Chopping them makes you cry, cooking them can sometimes overpower your kitchen with a formidable smell, and if your recipe calls for white onions but you've grabbed the red variety, it can change the overall taste of your meal.
There are three varieties of "dry onions." They're yellow, white, and red. While these are all still essentially the same plant, there are some subtle differences in taste, smell, and overall use. Let's look at these onions one at a time.
Yellow Onions
Yellow onions are the strongest of the three, and the most commonly used in cooking. They have a powerful natural flavor that blends well with a lot of soups and meats.
Yellow onions are typically the ones that will make you cry when you cut them. That is due to their high sulfur content. That's also the leading contributor toward their powerful taste and smell. It's rare to find a yellow onion in a raw garden salad, as the sulfur makes it difficult to eat uncooked.
While the outside of a yellow onion is yellow and brown, the flesh inside is white.
White Onions
White onions are white both in the external skin and internal flesh. They almost look like a huge bulb of garlic. These are milder than traditional yellow onions. If you've got someone at your dinner party who hates the taste of onions, they likely hate yellow onions. Try cooking with the more subtle white variety and see if it makes a difference. They have all of the onion flavor, but on a smaller, less in-your-face scale.
Red Onions
Red onions are most often found in non-cooked dishes. They go on a lot of cold sandwiches and in many salads. That's because they're the mildest and sweetest of all the onion varieties.
While they're called red onions, their coloring is mostly purple. Cooking with red onions is kind of counter-productive. Its taste is nowhere near strong enough to truly enhance a meal.
So, while they're all technically onions, each variation has its own purpose and identifying features, both in appearance and taste.
What's your favorite way to cook onions? We can't decide! There's the classic French Onion Soup and this delicious Onion Bacon Jam. And of course, who doesn't like a Blooming Onion (we make it in the Air Fryer!) and Homemade French Onion Dip?