Sometimes the answer to dinner is boxed mac and cheese. But it doesn't have to be boring! We've got ten ways to jazz it up.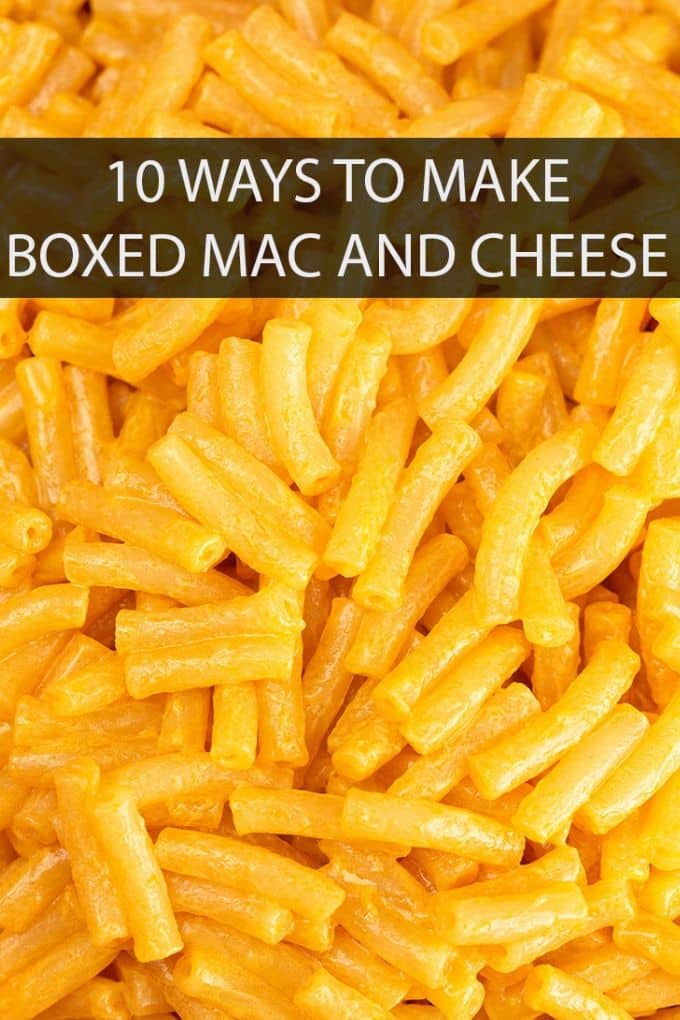 Macaroni and cheese is one of those go-to quick meals that moms around the country love to throw together when strapped for time.
But a box of mac and cheese doesn't have to be plain. There are several ways you can throw a little special extra something into the mix in order to turn a typical box of Kraft dinner into a truly memorable meal that the entire family can enjoy.
Here are 10 creative ways to make boxed mac and cheese work for you!
1. Just Add Bacon
This is one of my general tips in life. When adding bacon to something you can't go wrong. (Unless you keep Kosher, in which case don't do this or use turkey bacon.)
Fry up some bacon and chop it into one inch pieces while the water is boiling for your mac and cheese. When it's done, simply spoon the bacon into the macaroni and cheese and you've instantly got a mac and cheese that your kids will ask for all the time.
2. Add Eggs
Eggs can be a great addition to boxed mac and cheese.
Crack two eggs into a bowl and stir the cheese mixture that comes in the mac and cheese box into them along with a little bit of milk. Once it's completely combined pour it over the al dente pasta and it can be a little carbonara. Throw in some frozen peas if you so choose.
3. Broccoli
If it contains broccoli it has to be healthy, right? Keep telling yourself that.
But seriously, adding some broccoli into your mac and cheese can inject a little cruciferous veggie goodness into an otherwise nutritionless meal.
Steam or saute the broccoli, or just get one of those steamer microwave bags. Once the cheese is mixed in, pop the broccoli in and stir away.
4. Chicken
Chicken makes a great addition to mac and cheese. Grill and season some chicken with garlic powder, onion powder and maybe even some cayenne if you want to give it a little kick.
Stir the cooked chicken into the completed mac and cheese and you've successfully injected a little protein into your diet. Combine this with the broccoli from the last suggestion for a more complete meal.
5. Hot Dogs
Everyone is putting mac and cheese on hot dogs lately. Why not put some hot dogs in your mac and cheese?
Either grill or boil your hot dogs until they're heated all the way through then cut them up into pieces. Drop them into the mac and cheese and mix it all up. You can even top it off with some ketchup or relish if you feel so inclined.
Don't give me that look! I've been doing this since I was a kid!
6. Hamburger
You can create your own version of Hamburger Helper by frying up some ground meat and seasoning it with onion powder and garlic powder.
Once it's all browned, drain the grease out and add it to your completed mac and cheese. Throw in some lettuce tomato, onion, and pickle. Top with your favorite condiments and you've got a little cheeseburger noodle dish!
7. Pesto and Sun-Dried Tomatoes
Pinkies up, we're getting classy here.
Mix a few tablespoons of pesto in with your mac and cheese and then add in some chopped sun dried tomatoes. Add a little bit of grated parmesan cheese and parsley on top for some added flavor.
8. Salad
You read that right. Salad. Namely, Caprese salad.
Add some cherry tomatoes, fresh mozzarella and basil. Half the cherry tomatoes first and chop the fresh basil. The mozzarella will get all melty in the pasta as well, creating a nice cheesy blend.
9. Buffalo Chicken
Get some microwavable buffalo chicken strips, or just add buffalo sauce to your grilled or breaded chicken breast and mix it in with the macaroni and cheese.
If you really want to get the authentic buffalo experience, add some blue cheese crumbles in there for added flavor.
10. Poutine Mac and Cheese
Ah, the old Canadian favorite mixed in with some Kraft dinner.
Add French fries (made in an air fryer if you've got one) some cheese curds and brown gravy to your macaroni and cheese to create an unforgettable North of the Border Delight.
In Conclusion
There you have it! Ten perfect ways to take boxed macaroni and cheese and add a little extra something into it.
What's your favorite on this list? How would you add to it? Sound off in the comment section below and let us know!