Make perfect hard boiled eggs every single time. Use the classic stovetop method or give our Instant Pot or Air Fryer recipe a try.
Hard boiled eggs are one of my favorite things. I like them by themselves with a little bit of salt and pepper, or I turn them into egg salad or, the best, deviled eggs.
But how do you make hard boiled eggs that are perfectly cooked in the center without being over-cooked? Follow along below for not only the classic method, but some alternate options as well.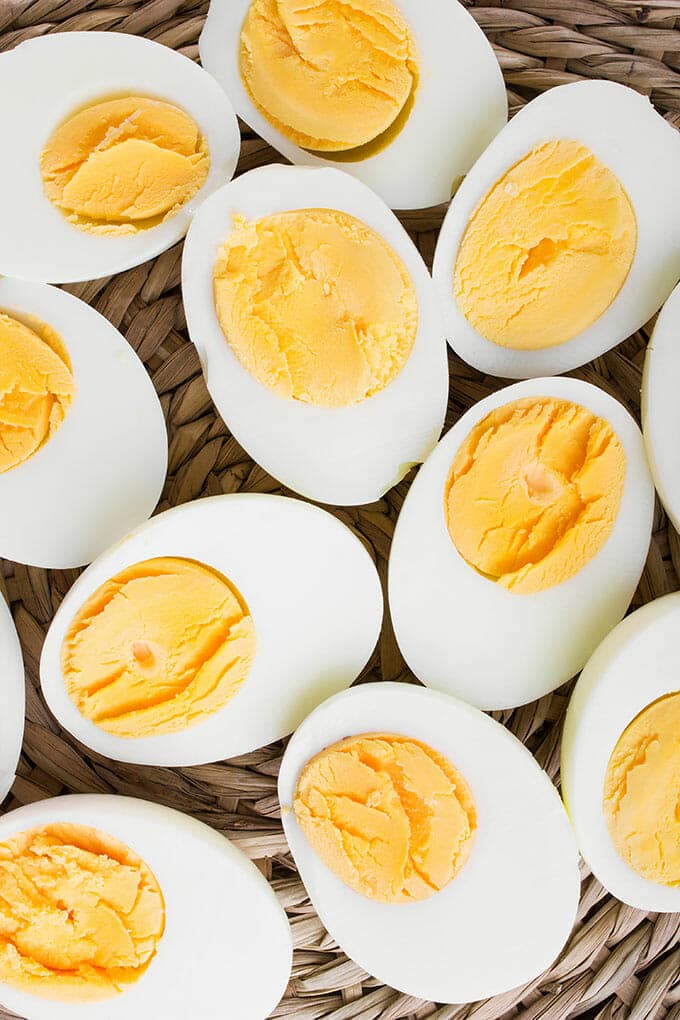 How to Make Hard Boiled Eggs, The Classic Way
This is the classic stovetop method for hard boiling eggs. You have a lot of flexibility in the amount of eggs you make with this method and there's no need for a special gadget.
First, put the eggs into a saucepan in a single layer.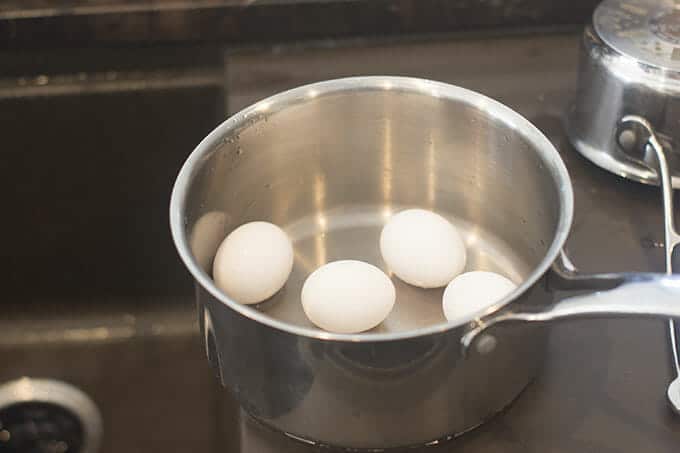 Cover by 1 inch of water. Put saucepan, uncovered, over high heat. Bring to a boil.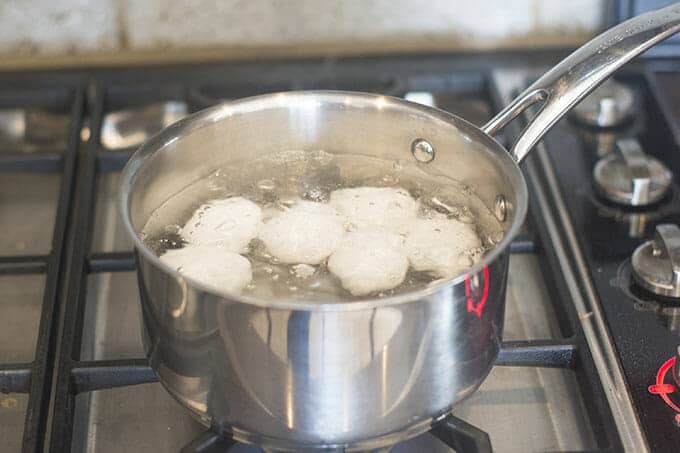 Once the water is boiling, remove the pan from the heat. Cover it and let it sit for 12 minutes.
Drain off the water. Fill the saucepan with cold tap water.
Add ice cubes and let sit until cooled all the way through, about 10 minutes.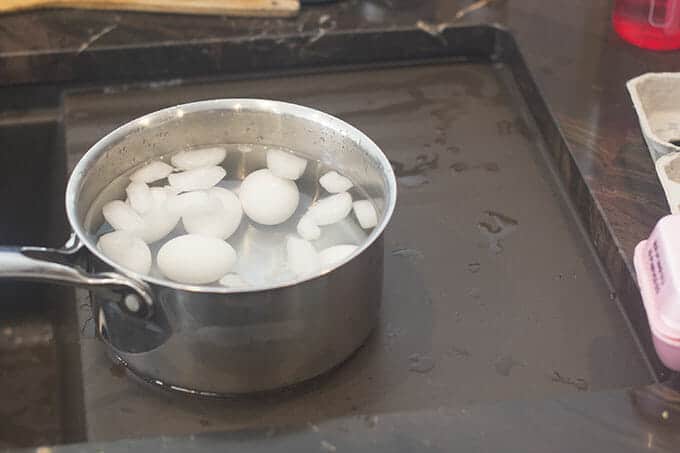 Refrigerate the unpeeled eggs or peel and refrigerate.
Instant Pot Hard Boiled Eggs
This method is so easy and there's no need to watch the stove when you use the Instant Pot. Plus, they are super easy to peel with this method!
First you need to remember to use a trivet in the Instant Pot so the eggs aren't sitting in the water in the bottom of the insert. A trivet is the metal grate (usually with handles) that comes with the Instant Pot when you buy it.
After you put the trivet in the Instant Pot, stack ten eggs (or however many you want to cook) on it and add water to the insert – 1 cup for a 6-quart Instant Pot or 1 and 1/2 cups for an 8-quart.
After that, close the Instant Pot lid, set the valve to seal, then select manual and set to high pressure. Set the cook time for 5 minutes. When the eggs are done cooking, let the pot do a natural release for 5 minutes, then do a quick release.
Remove the lid and run your eggs under cold water or place into a bowl with ice water until they are cooled off, usually 3-5 minutes. The eggs will be very hot if you remove them from the insert before cooling so make sure you use a spoon or tongs (these tongs are our favorite) to lift them from the pot. It's easier to move the insert to the sink with the eggs still in it and run cold water into it until the water stays cold.
Timing For The Instant Pot
We follow the 5-5-5 method for perfect results every time. Follow the recipe exactly by sealing the Instant Pot, turning the valve to seal, and setting it to high pressure and manual cook time for 5 minutes.
After the cook time is done, do a natural release for 5 minutes, then a quick release. Cool the eggs in ice water for 5 minutes to quickly cool them.
If you would like your egg yolks somewhat runny you can set the cook time to 3 minutes, then skip the natural release and just do a quick release.
Air Fryer Hard Boiled Eggs
You won't believe how convenient and easy it is to make hard boiled eggs in an air fryer. The best thing is that you don't have to wait for water to boil, watch a timer, OR use a trivet.
You simply place the eggs in the air fryer basket and set the temperature to 250°F. You can also preheat your air fryer before adding the eggs, but it's not necessary. Set the time and hit start, walk away, and come back when they are done.
Depending on the size of your air fryer and how many eggs you want to cook, you may need to cook them in batches. However, four eggs will easily fit in most air fryers. I don't recommend stacking them as the eggs cook more evenly when they are in one layer.
Timing For The Air Fryer
It takes approximately 14-17 minutes to cook eggs in air fryer. If your eggs are extra-large, add an additional 2 minutes to make sure they cook fully.
If you like your hard boiled eggs with a little soft yolk, you can also reduce the time to 12-14 minutes. Once the eggs are cooked, run them under cold water to stop the cooking process faster so the eggs don't end up overcooked.
I've found eggs made this way peel pretty easily even after being refrigerated.
Soft Boiled Eggs
Of course, in addition to hard boiled, there are also soft boiled eggs. The whites are set and firm with no jiggles, and the yoke is liquid gold.
Fill a sauce pan 3/4 full with water. Cover it and bring it to a boil over high heat and then lower in your eggs. Be sure not to crowd the eggs. It's crucial for your water to still be at a rapid boil once all your eggs are added.
Using the boil-first method, the water comes up to temperature and then the eggs go into that boiling water for exactly 4 minutes. Then, you remove the saucepan from the heat and let it sit for 20 more seconds. Finally, drain off the hot water and add cold tap water, as much as you can. Let them sit for 30 seconds. Now you're ready to dive in.
Eating Soft Boiled Eggs
Transfer the eggs to egg cups. Tap the top of an egg lightly with a spoon to crack the shell. Use your fingers to peel away the cracked parts of the shell.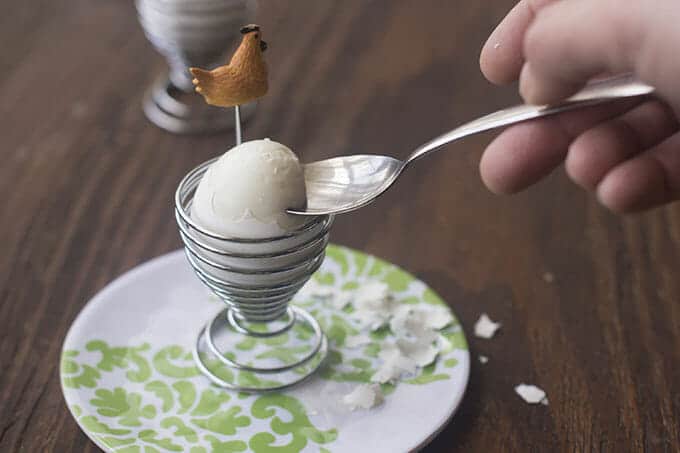 Use a small spoon to cut into the egg whites just where it meets the shell. Cut through the egg and lift off the top bit of egg white. Then, time to enjoy!
Print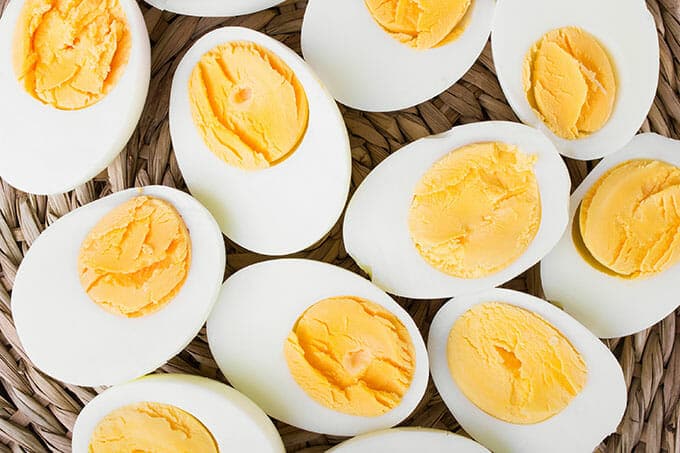 Classic Hard Boiled Eggs Recipe
Contributor: Christine Pittman
Make perfect hard boiled eggs every single time with this foolproof method.
Author:

Prep Time:

10 minutes

Cook Time:

12 minutes

Total Time:

22 minutes

Yield:

6

eggs

1

x

Category:

Side Dish

Method:

Stovetop

Cuisine:

American
Put eggs in a single layer in a medium saucepan.
Add enough cold tap water so that the water is above the eggs by 1 inch.
Set it over high heat and bring to a boil uncovered.
When it boils, remove from heat and cover.
Let sit for 12 minutes.
Drain water. Fill saucepan with cold water. Add 4 handfuls of ice.
Let sit until eggs are cooled through.
Refrigerate unpeeled or peel and refrigerate.
Love this recipe? I'd appreciate it if you could scroll down and add a *5 star rating* to help others know they'll love it as well!
This post originally appeared in May 2018 and was revised and republished in August 2023.