Melon, Feta and Basil Salad
You knew that watermelon and feta went together, but what about the other melons. And what happens if you add basil to the mix? Yummers!!!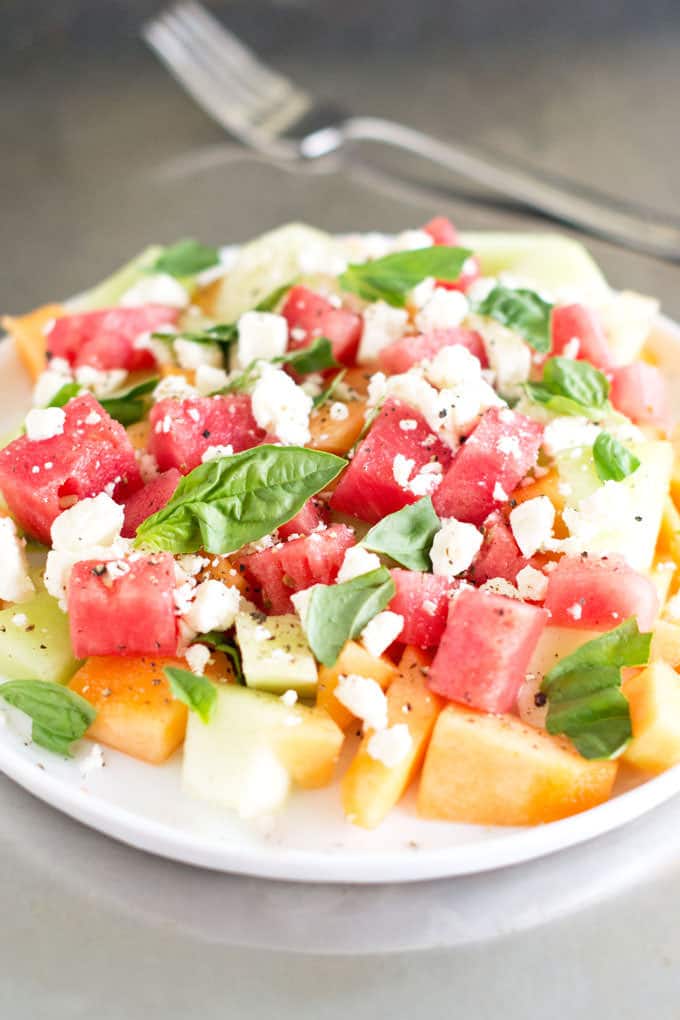 I think by now we all know that feta and watermelon are insane together. It's actually true that all the melons taste good with feta though, which is why this salad also has cantaloupe and honey dew melon. It's so colorful and you get slightly different flavors with each mouthful.
Topping off this salad is some nice fresh basil. Basil and sweet fruit like melon are great together. And basil and feta? I mean, come on!
A quick basil tip: The basil is not chopped in this recipe but is instead torn using your fingers. Why? Unless you knife is super-sharp (as it should be but, if you're like me, rarely is) chopping the basil will bruise it. Bruised basil gets brown at the edges and does not look nice on a salad. When you instead tear basil, it rips cleanly and does not get the bruised appearance. You also get nice bit pieces, which is great in a salad like this.
Melon Salad
Yield: 4 servings
Total Time: 10 minutes
Ingredients:
1 cup chopped cantaloupe
1 cup chopped honeydew
1 cup chopped watermelon
2 tsp. lemon juice
4 large leaves basil, torn
2 tsp. feta, crumbled
1/2 tsp. salt
1/4 tsp. black pepper
Directions:
In bowl, place melon. Toss in lemon juice. Sprinkle with basil and feta. Sprinkle with salt and pepper.