This homemade Montreal Steak Seasoning is our favorite steak seasoning ever. It's amazing on steaks, but also in burgers and on potatoes too!
Note: Below you'll find a recipe for a full 1/2 cup (4oz.) batch of copycat Montreal steak seasoning. In addition, in case you're trying to make a recipe that calls for Montreal steak seasoning and you just want to make a little bit, we've also given a recipe below that makes a small batch of just 2 tablespoons. We hope you find this helpful!
What Is Montreal Steak Seasoning?
My favorite steak seasoning is based on the famous Montreal steak seasoning, also known as Montreal steak spice. This spice mix came into being and got its name because it was traditionally used as a dry rub for preparing Montreal smoked meat.
The main flavors come from salt, garlic, and lots of black pepper, with onion and red pepper flakes too. The red pepper is optional, as is the amount of black pepper, if you're sensitive to spicy foods.
Some other recipes for steak seasoning also include smoked paprika, dried parsley, and brown sugar. I've chosen to leave these out to be closer to the original Montreal seasoning and be as multi-purpose as possible. Of course, the great thing about making your own seasoning blends is that you can customize as needed!
Making Homemade Montreal Steak Seasoning
To make this seasoning blend, whisk together the onion, garlic, black pepper, salt, and crushed red pepper flakes until well combined.
While this mixture is typically coarse, ground versions of the ingredients can be used in the same amounts. So, if you don't mind a finer spice mix, you can use garlic powder instead of dehydrated garlic. Same with the onion. If you use regular table salt instead of the kosher salt, I would reduce the amount so it doesn't get overly salty though.
Transfer the ingredients to an airtight container like these glass spice jars and store in a cool, dry, dark place for up to three months.
Making a Small Batch of Steak Seasoning
If you want a full batch of steak seasoning in your pantry that you can grab and use whenever, then scroll down to make the full recipe. However, if you just want a small batch to use right now in a recipe that calls for it, or, if you just want to know approximately how much of each ingredient to add directly to something that you're cooking, I have the info for you here.
Here is how to make 2 tablespoons of steak seasoning, which is a good amount to season 2 pounds of steaks or 2 pounds of ground meat for burgers. Note that if you want a finer grain of seasoning, you can use the same amounts of onion powder, garlic powder, and black pepper. You'd reduce the amount of fine salt by half though.
To Make 2 Tablespoons of Montreal Steak Seasoning, Combine:

• 2 and 1/4 tsp. dehydrated onion
• 2 and 1/4 tsp. dehydrated garlic
• 3/4 tsp. coarse ground black pepper
• 3/4 tsp. coarse kosher salt
• 1/4 tsp. crushed red pepper flakes

To Add Directly to the Food You're Cooking: Add equal amounts of dehydrated onion and dehydrated garlic. Then add one-third that amount of coarse black pepper and kosher salt. Leave out the red pepper flakes or just use a little bit.
Uses For Steak Seasoning
Of course this blend can be used to season steak, but that's not all it can do. Try using it to season chuck roasts, pork butt and pork chops, chicken, and fatty fish like salmon and sword fish. Use a tablespoon of seasoning per pound of meat.
You can also use this to season burgers or meatloaf. Or skip the meat all together and use it on potato wedges or grilled veggies.
Print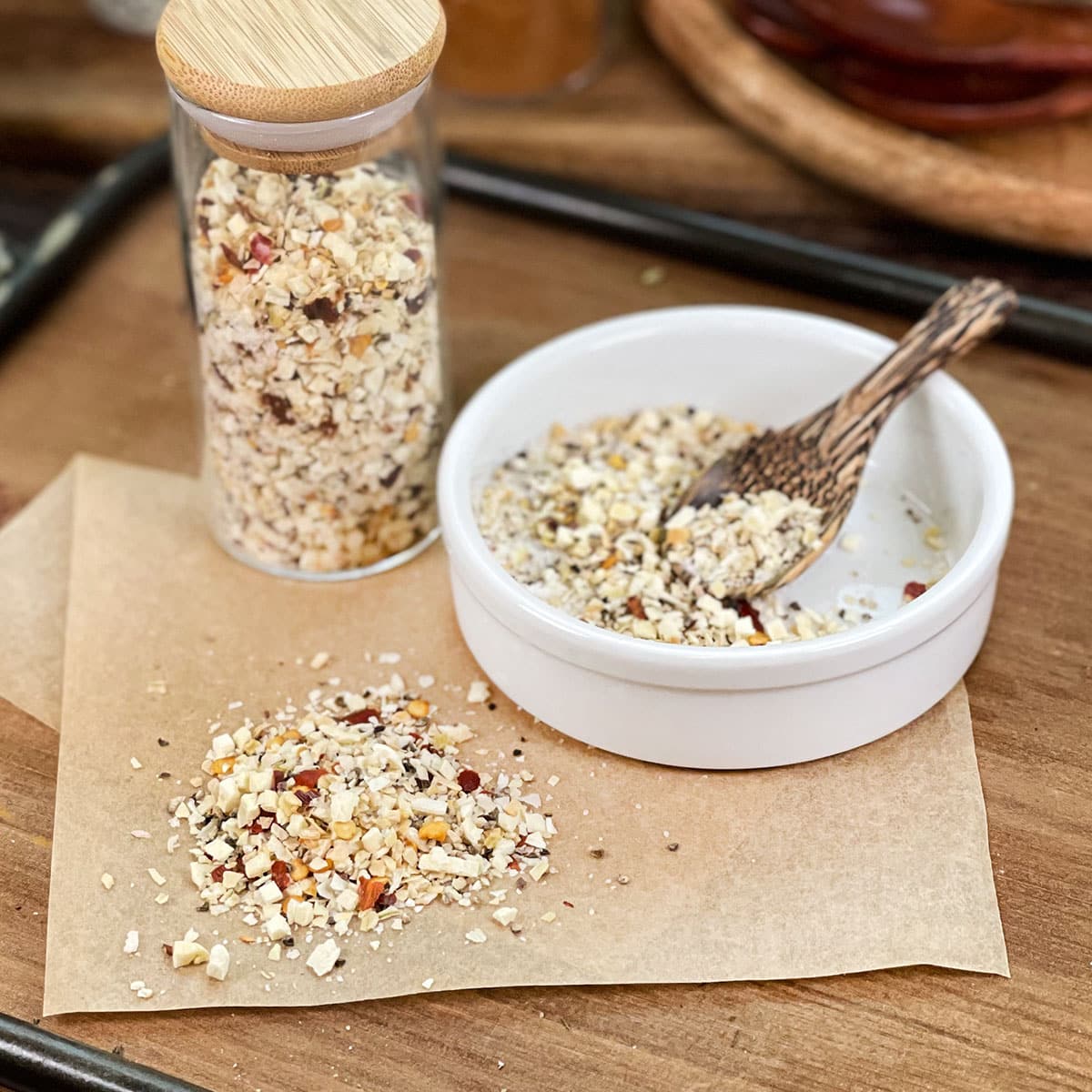 Montreal Steak Seasoning
Contributor: Christine Pittman
Use this blend to season steaks, chicken, or fish. Or try it on grilled veggies!
Fits into a standard (4-oz.) spice jar as written, can easily be doubled or tripled.
Author:

Prep Time:

10 minutes

Cook Time:

0 minutes

Total Time:

10 minutes

Yield:

About

4 oz

. (

1/2 cup

)

1

x

Category:

Spice Blend

Method:

Mix

Cuisine:

American
3 Tbsp

. dehydrated onion

2 Tbsp

. dehydrated garlic

1 Tbsp

. ground black pepper

1 Tbsp

. kosher salt

1 tsp

. crushed red pepper flakes
Instructions
In a medium bowl whisk together onion, garlic, black pepper, salt, and crushed red pepper flakes until well combined.

Transfer mixture to an air-tight container. Store up to 3 months in a cool, dry, dark, place.