Vodka is a staple cocktail liquor and we have some of the best vodka-based frozen drink recipes for summer right here. Have fun choosing one!
When thinking about the versatility of vodka, we thought it was high time to assemble a dream team of frozen vodka-based beverages for you to enjoy at your next cocktail party.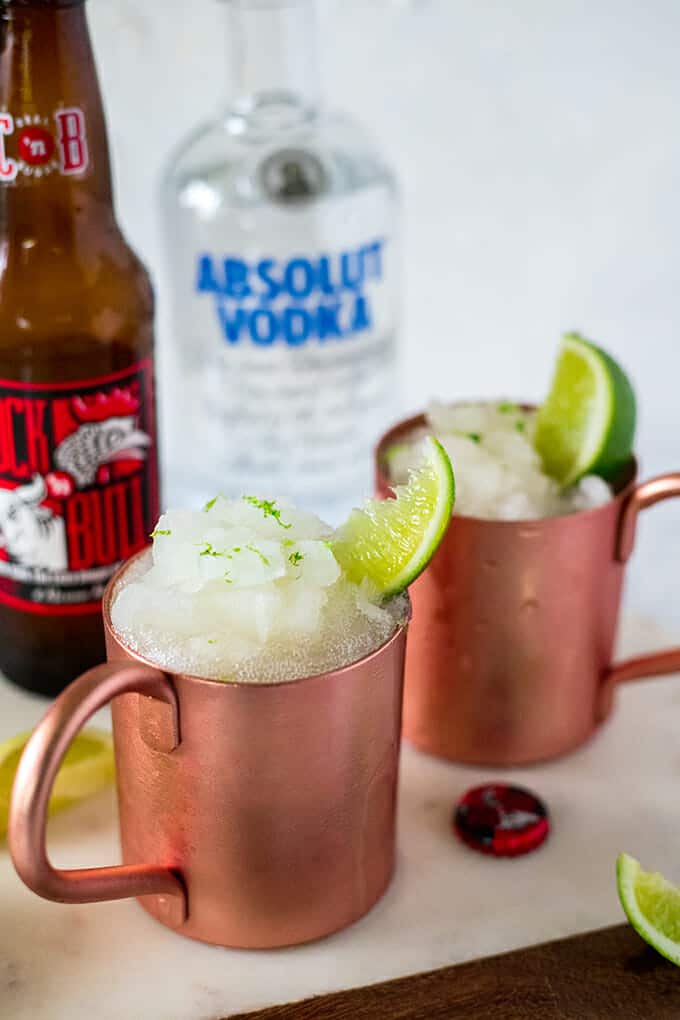 Why Vodka For Frozen Drinks?
Vodka is an incredibly versatile liquor. It's one of my all-time favorite alcoholic beverage bases because it can add that special little something to any mixed drink, frozen or not, without overpowering the beverage with its own flavor.
The reason it can do that, simply put, is because vodka doesn't have a discernible flavor. It's flavorless, odorless and colorless, making it an ideal way to infuse alcohol into a frozen beverage without overpowering the fruit or other liquors that are mixing together.
Plus, since vodka itself won't freeze because of the alcohol content, you can keep it in the freezer to get a very cold start to your drinks.
Try These Frozen Drink Recipes
With ingredients from fruits like fresh strawberries and pineapple juice to flavors like coffee and vanilla ice cream, there's so much wonderful variety in these vodka cocktails. Grab the blender to mix these frozen drinks up and you'll be sipping on something tasty in no time.
Frozen Rosé
Frozen Rosé (or frosé) is a fantastic strawberry flavored frozen cocktail that is perfect for a summer evening. Vodka infuses perfectly with Simple Syrup and strawberries to create a truly memorable experience when you blend it up with rosé.
Frozen Moscow Mule
No copper mug required (but you'll want one just because they're fun)! This traditional vodka, ginger beer, and lime juice concoction is brought to life marvelously in this amazing Moscow Mule recipe!
Boozy Frappuccino
It's just like a real Frappuccino, but with less unicorn and more vodka! This grown-up Frappuccino recipe is everything you've ever wanted to both pick you up and relax you at the same time!
Frozen Raspberry and Vodka Lemonade
Frozen lemonades can be the perfect compliment to any outdoor summer party. And when you throw in some adult beverages, it's even better! This delicious vodka slush concoction creates a perfect way to beat the summer heat while still working up a nice buzz.
Pineapple Mango Slush
So maybe you can't make it out to a tropical island this weekend, but with the wonderful exotic flavors of pineapple and mango mixed with the delights of vodka, this is one frozen vodka drink we're sure you're going to enjoy!
Watermelon Vodka Slushie
Vodka goes so well with so many different fruits. And my favorite summer fruit is watermelon. Combining vodka's unique punch with the soothing and refreshing taste of this versatile melon creates a perfect storm of summer fun in an adult slushie.
Frozen Mudslide
Now for something completely different! Combining vodka with Kahlua, cream liqueur, and ice cream makes for a fantastic dessert beverage. Mudslides have been an adult favorite for years, and they're not going away anytime soon.
---
So, there you have it, some amazing ideas to sweeten up your next event, or to simply unwind with at the end of the day. What's your favorite vodka-based frozen beverage? Sound off and let us know.