They're warm, liquid, and tomato based, but what is the difference between all three of these hot tomato dishes?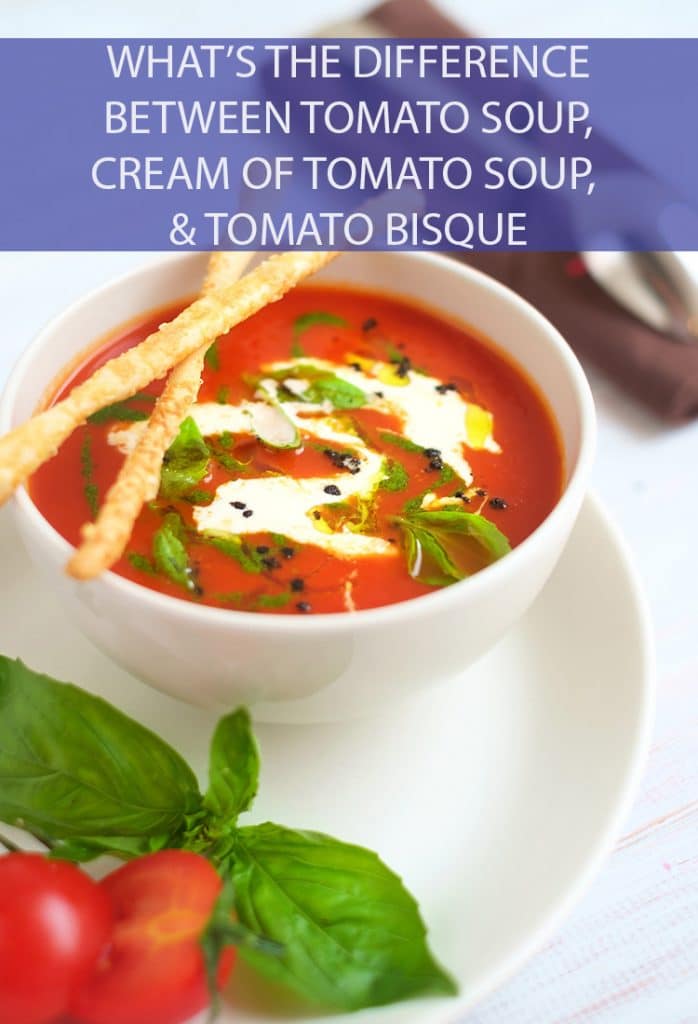 The Short Answer:
These three soups differ from one another based on several ingredients and preparation methods.
The Long Answer:
Tomato soup is often best enjoyed alongside a piping hot grilled cheese sandwich. It's something I think most people universally agree upon. But I've found that everyone's favorite melty cheese based sandwich can be equally enjoyed amongst tomato soup's first cousins, cream of tomato soup and tomato bisque. (Is it a vegetable soup? Find out here.)
Let's get into it and figure out where these three delightful comfort foods intersect and differ.
We will start with tomato soup. The old tried and true American favorite.
Most tomato soup that is prepared commercially comes either canned, condensed, or dehydrated.
Most canned tomato soup is composed of tomato puree, which is just tomato paste and water. A few other ingredients are also thrown in there such as wheat flour and (unfortunately) high fructose corn syrup.
Canned soup comes ready to heat and cook while condensed soup has had a lot of its water removed. It is prepared by heating it along with milk or water. Dehydrated soup has had all of the water removed and comes as a powder that you have to add hot water to.
So there you have it. Tomato soup is pretty easy and straightforward. But what about cream of tomato soup?
Any "cream of" soup, tomato included, is pureed like a normal soup but then goes through a "creaming" process, wherein cream is added to the mixture. Cream of tomato soup is actually cooked at a much lower temperature than normal tomato soup. That's because, at a high temperature, the cream would curdle or scale easily. When making cream of tomato soup, most chefs will heat the puree to about 185 degrees Fahrenheit before slowly stirring in the cream.
This creates a thicker "creamier" version of the tomato soup we just talked about.
When talking about tomato bisque, things get a little dicey. (Heh…dice….tomatoes…I'll stop…)
Bisque is of French origin and it commonly used to describe a highly seasoned and creamy French soup that is made from the strained broth of crustaceans such as crab, shrimp, crayfish, and lobster.
Because of this distinction, there are many who argue that tomato bisque is not a true bisque at all because it has no crustacean products mixed in. However, the term has evolved in modern day to include cream based soup such as squash, mushroom, and tomato.
So that begs the question, what's the difference between a tomato bisque and cream of tomato soup? After combing through countless recipes I can honestly say there doesn't seem to be much of a difference. They can be seasoned a little differently, but in essence these two soups are the same thing.
Of course, I have to recommend our own Tomato Soup recipe. This one gets taken to the next level with grilled cheese and bacon croutons! Delicious!
So what's your favorite out of these three? Do you think there's a difference between cream of tomato and tomato bisque? Sound off in the comment section below and let us know!