Which way of making wings is best, fried, baked or grilled? We give you the pros and cons of each.
I went to my first college football game at 9 months old. That means I tailgated as a baby. And if you're at any good tailgating event, you'll most certainly encounter chicken wings. I like to consider myself a wing connoisseur. Not to brag or anything, but I have 38 years of experience.
Over the past couple of weeks, we've given you three excellent ways to prepare your wings- baked, grilled and fried. I tested them all to figure out the pros and cons of each. My husband helped with taste testing (tough job, right?). Our 3-year-old son and aspiring cook said he wanted to help, but he ended up somehow wearing a chicken wing on his head. So he was disqualified.
Let's break it down.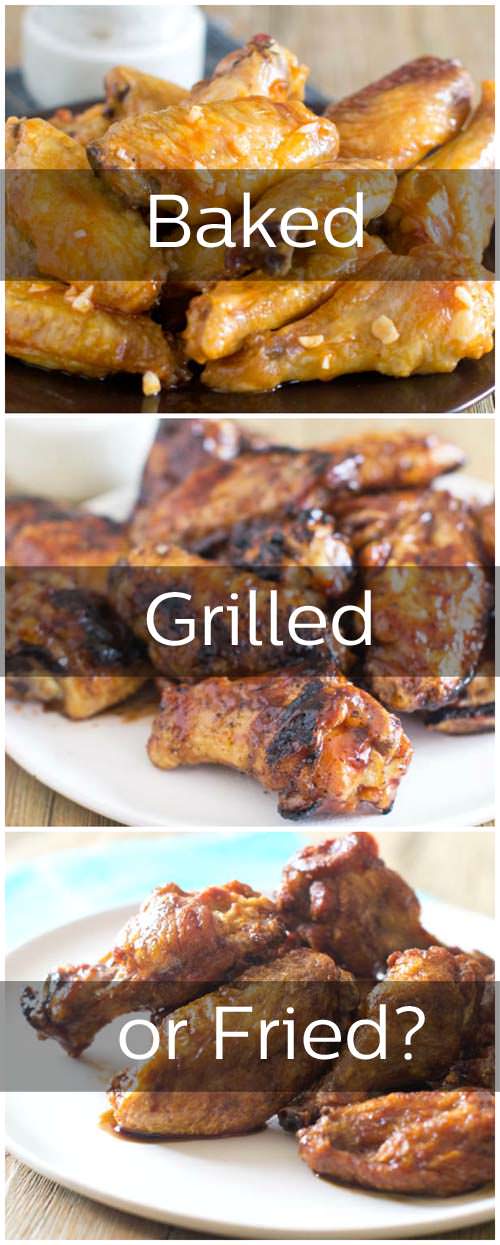 Baked Wings: Pros
You can't get any easier than this. Toss your wings with a bit of baking powder and salt. This helps dry out the skin. Put them on a rack over a cookie sheet and bake. (Tip: line the cookie sheet with foil so clean-up's a breeze).
You start at a low temperature and then increase it. It does take a good hour plus over all. But it's hands-free so no biggie. Plus it gives you time to make some homemade Buffalo sauce.
Learn how to bake crispy wings here.
I used the foil mentioned above so clean-up was super-easy. Crumble up the foil. Throw away. Wash the rack. Why can't every meal be like this?
I liked the flavor of these wings. The salt really gets into them and highlights the meatiness and they were surprisingly crisp. And while they were crisp, they were much lighter than their fried cousins. My husband, who has an affinity for anything fried, also liked the flavor. The chicken was juicy and the skin was nicely browned.
Baked chicken wings are easier to eat too. They don't leave an oily mess on your fingers. I used one napkin, which is saying a lot since I tend to use, oh maybe 10, on a fried wing.
And I can't overlook that baked wings are healthier. This could be a meal that you eat and not feel too guilty about.
Baked Wings: Cons
While my husband liked the flavor of the wings, he said it wasn't crispy enough. He likes a crunch that can be heard across the room. I'm not sure baking would ever achieve his desired level of crunchiness. I disagreed. I was amazed at how crunchy they were.
 Grilled Wings: Pros
If you like grilling, you'll like the taste of grilled chicken wings. It tastes like, well, grilled chicken. And really, that's just delicious.
You can pair these with a wide variety of spice rubs and dips. I used wing sauce and ranch dressing. But really, you could dip these babies in just about anything. I was eyeing a homemade pear vinaigrette I had in the refrigerator to make a glaze.
Charring the skin added nice flavor.
And finally, it's healthier than frying. Definitely lighter than frying.
Grilled Wings: Cons
Does a grilled chicken wing fall into the same finger food category as the baked and fried varieties? I enjoyed it grilled, but it's really not like a wing. The skin just doesn't get crispy. It's tasty. Really tasty. But it's not at all what I think of when I think of wings with celery and blue cheese dip. A totally different beast.
Finally, it was kind of annoying to cook them. I wanted them done, but not too done. Charred, but not too charred. To achieve that I had to stand there the whole time flipping and moving everything around. If you love grilling, then this is for you. If not, just stay away. It's not worth it.
Oh, if you're wondering about my husband, there was no crunch here so he only took a small bite and then said, "Nah."
Fried Wings: Pros
My husband stared at me in disbelief as I heated up the oil. We don't eat fried food at home, so this was a treat. This is how traditional wings are made, in vats of golden bubbling oil, so you'll earn points for authenticity.
The skin was extra crispy. Yes, I heard my husband bite into his wing. Nothing can top fried chicken skin.
The flavor was outstanding. I mean it tasted like fried chicken skin. You can't go wrong.
Fried Wings: Cons
It's kind of a pain to deep fry. Not just kind of. Totally. You need to use quite a bit of oil and you need to use a candy thermometer and really monitor that oil temperature (unless you own a deep fryer, which I do not).
You can only really fry about 8 wings at a time. If you're doing wings for a crowd, you're going to be there for ages standing over that hot oil.
Oh, and all that hot oil is going to make your house smell bad for days. Days and days. I thought it would never go away, and I'm pretty sure it hasn't completely I've just gotten used to it, which is also a bit gross.
I'll also say that I found the actual meat a bit drier than the baked version. Nowhere near as succulent.
And they're kind of greasy, because they were just cooked in a vat of oil.
My husband loved them, of course. But even he admitted these are an indulgence you have once in awhile. He claimed he could feel his blood turn into gravy after eating these.
Verdict On The Best Method For Wings
I'll still fry my wings when I'm tailgating outside. Nothing quite tops it. Plus, I'll walk off the calories on game day.
But I'll bake my wings at home. The crunch is good, clean-up is easy and I don't need to take an extra Lipitor. Baking wings makes what used to be a treat into something you could serve all year long. And that's totally worth it.
This post originally appeared in January, 2016 and was revised and republished in March, 2017.