Find out the difference between hot sauce and wing sauce AND get our delectable recipe for Buffalo Wing Sauce.
This is important. Soooooo important. Really, I can't overstate this. Wing sauce and hot sauce are not, I repeat, NOT, the same thing. You cannot use them interchangeably in recipes. It could be a disaster.
So what are these sauces, how are they different, and how can mixing them up cause disasters? No worries. It's easy to remember once you know.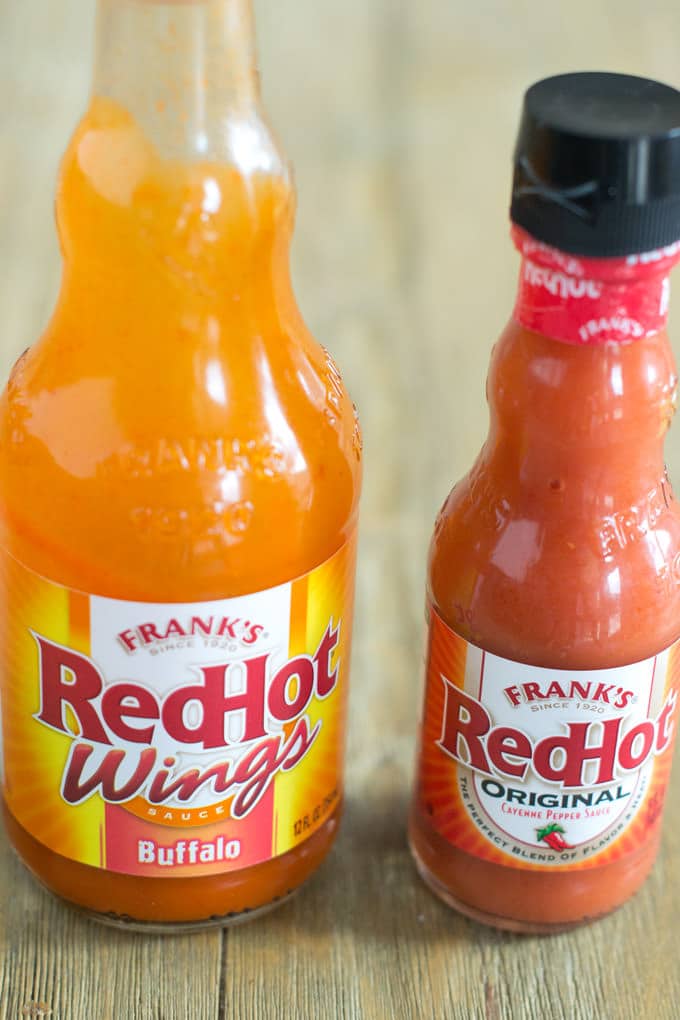 Are Hot Sauce And Wing Sauce The Same?
Hot sauce, like the stuff on the right in that picture (also Tabasco-type sauces) is made mainly of hot peppers and vinegar. There's usually some salt and maybe some other seasonings in there, but that's about it. It's hot stuff. You don't use much of it in most recipes. Just a bit is all you need. Add a dribble, taste, and then add more if needed.
Now what about wing sauce? It's the stuff you toss wings with right after cooking them. You can buy wing sauce or make your own. The most typical one is Buffalo sauce. It's essentially a combination of hot sauce (the stuff we already talked about) mixed with melted butter or butter flavorings. It's therefore a toned down version of hot sauce. It's still spicy, but not as intense.
You can already guess the disaster of mixing these things up. If you use wing sauce when hot sauce is called for, it probably won't be a big problem. Just not as spicy as the recipe creator intended. You can probably go ahead and add more wing sauce though. That'll work in most cases.
The real problem is if you use hot sauce when wing sauce or Buffalo sauce is called for. Imagine tossing wings in straight-up hot sauce. Yikes! Talk about burning your mouth off!
Now that you know the difference between these sauces, I doubt you'll make that mistake.
How To Make Homemade Buffalo Sauce
Do you have one final burning question? I bet you do. Is it "Can I make my own Buffalo sauce?" The answer is "Yes!" And it's super easy.
Just take hot sauce, mix it with butter, and heat it up 'til melted and bubbling. The ratio of hot sauce to butter is up to you really. Some people like to have more butter than hot sauce and some like less.
Start with more hot sauce than butter (3/4 cup hot sauce to 1/2 cup butter). Then add more butter if it's too spicy. Note that usually a bit of salt and some garlic goes in there too. There's a basic recipe for you below.
Also, we have a seriously delicious, fancier version of Buffalo sauce for you over here. So good.
Podcast Episode About Making Buffalo Sauce
Listen to me explain briefly about how to make this recipe, with some great tips along the way, by clicking the play button below:
Listen to more Recipe of the Day episodes here.
Print
Homemade Buffalo Sauce Recipe
Contributor: Christine Pittman
Author:

Prep Time:

2 minutes

Cook Time:

5 minutes

Total Time:

7 minutes

Yield:

1

and 1/4 cup

1

x

Category:

Sauce

Method:

Stovetop

Cuisine:

American
3/4

cup

hot sauce

1/2

cup

butter (plus more if needed)

1/4 tsp

. garlic powder

1/8 tsp

. salt
Combine all ingredients in a small saucepan. Heat, stirring occasionally, over medium high until bubbling. Remove from heat.
This post originally appeared in January 2016 and was revised and republished in November 2022.