Jazz up your wing sauce with olive oil, garlic and lemon juice. It's like Buffalo sauce made fancy.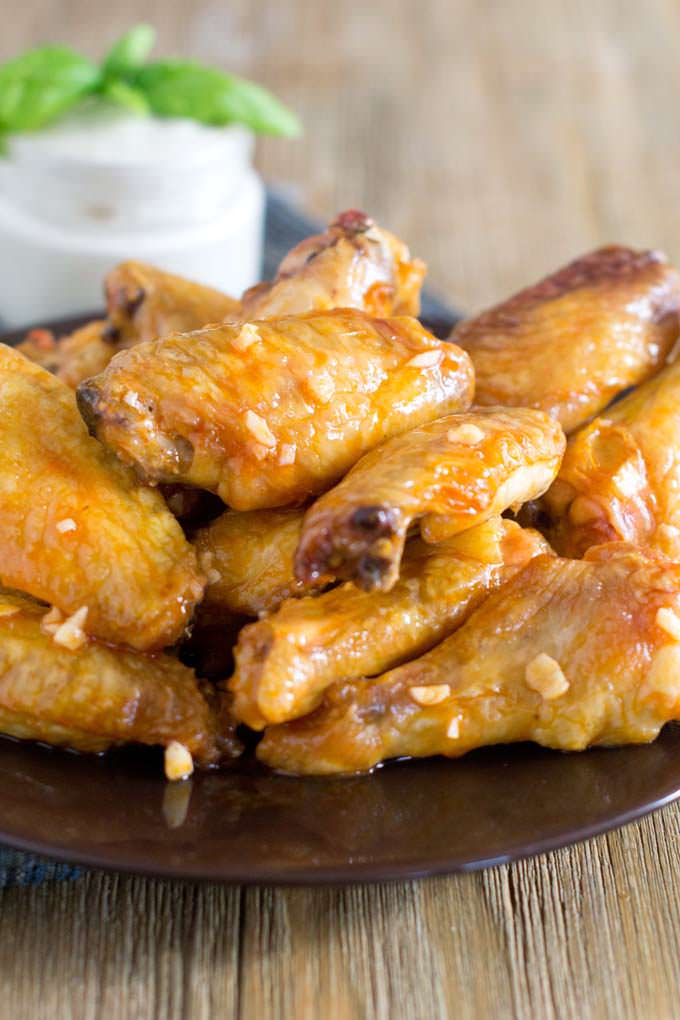 When we tackled the difference between hot sauce and wing sauce, we also told you how to make your own wing sauce at home. When we were taste-testing the wing sauce we thought about switching it up a bit to make it more interesting. We came up with a few different ideas that we tried. This was our favorite.
You go in with the usual hot sauce and minced garlic. Then instead of Buffalo sauce's standard melted butter, you use a combination of olive oil and lemon juice. Shazzam! Flavor sensation! The sauce tastes like Buffalo sauce but just a bit different. More refined. It's seriously good.
For a dip, we chopped up some fresh basil and added it to homemade ranch dressing. You can use store-bought ranch or go with the dip from our Indian-spiced wings, but use basil instead of cilantro.
Oh, and one little tip before I go. After you've tossed the wings in sauce and transferred them to a plate, dip into the remaining sauce with a spoon and get some of that minced garlic. Dot it over the wings so that you get as much garlic on there as possible. You just have to, right?
Print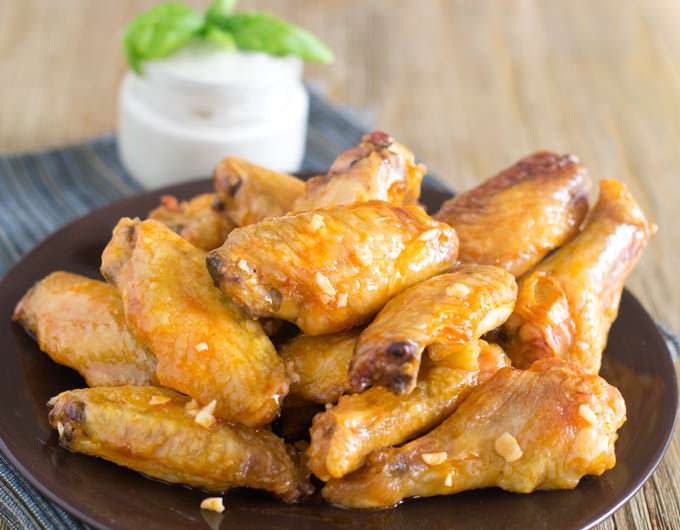 Fancier Buffalo Wings
Contributor: Christine Pittman
Jazz up your wing sauce with olive oil, garlic and lemon juice. It's like Buffalo sauce made fancy.
Author:

Prep Time:

10 minutes

Cook Time:

40 minutes

Total Time:

50 minutes

Yield:

25

wings

1

x
Instructions
Preheat oven to 425°F. Put a rack on a large cookie sheet. Arrange par-cooked wings on the rack in a single layer (if you only just par-cooked them, they'll already be on the rack. Leave them there). Bake them until very brown and crispy, 40-50 minutes.
Meanwhile, in large bowl, combine hot sauce, olive oil, lemon juice and garlic.
When wings are done, add them to the bowl of sauce and use tongs to toss them. Use tongs to transfer wings to a plate. Dot wings with any garlic remaining in the sauce.
This post originally appeared in  January, 2016 and was revised and republished in February, 2017.