Cooking chicken wings from frozen is an easy way to get dinner ready without the hassle and time of defrosting them.
These chicken wings can be ready in 50, unfussy minutes. Place them in the oven, set the timer, and that's it. It's a quick and convenient way to prepare protein for your meal. You can serve them with any vegetables, grains, and sauces you would like. The possibilities are endless.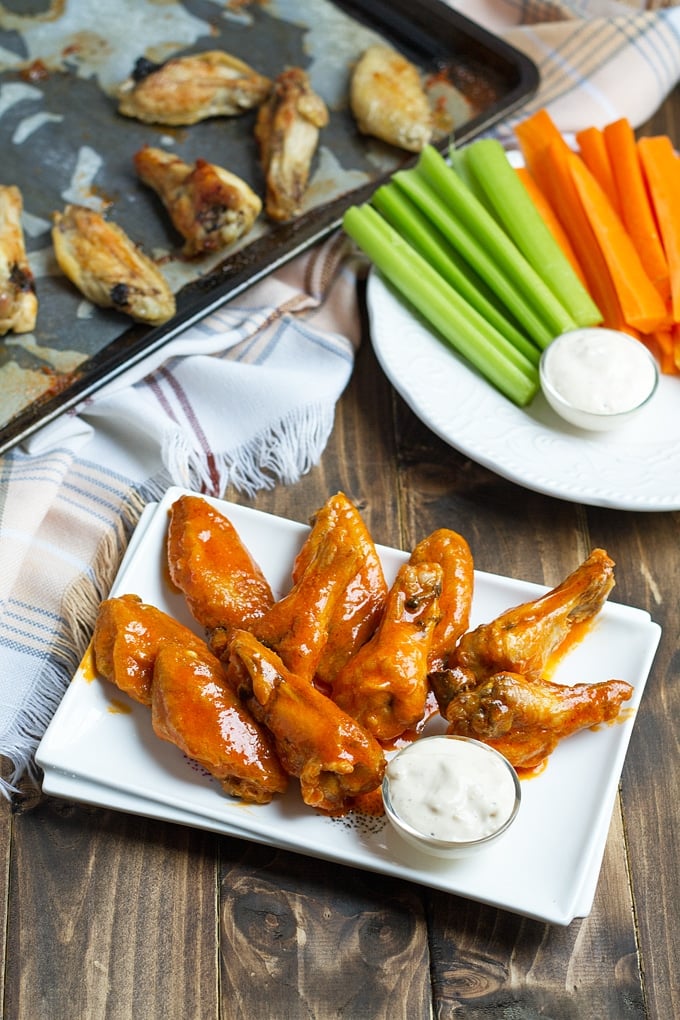 Can You Cook Chicken Wings From Frozen?
Whether you buy wings frozen and already cut from the freezer section of your grocery store or buy them fresh then cut and freeze them yourself, you can cook them from frozen.
Cooking them from frozen in the Instant Pot like we do here is a great option when you forget to pull out something for dinner. But sometimes you want a nice crispy chicken wing. That's when you need this recipe.
Either way you cook them is a great way to get dinner on the table anytime you forget to thaw protein ahead of time. In fact, you'll probably want to grab our resource for how to cook frozen chicken and fish from frozen while you're here.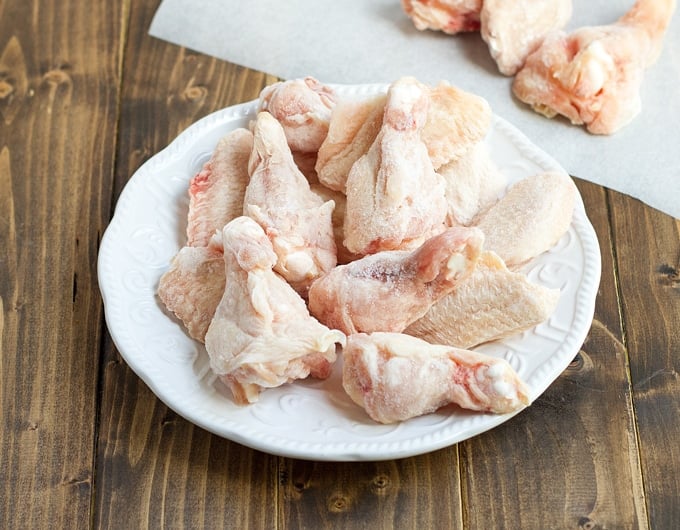 How Do You Cut Chicken Wings Before Freezing?
Chicken wings consist of three parts – the drumette, flat, and tip. The tip is usually used for stocks, soups, and sauces so when you cut this part off you can save it to make your own stock or discard it. We'll use the drumette and flat to make our chicken wings from frozen. For more detailed instructions with step by step photos on how to cut chicken wings check out this resource. 
How Do You Cook Them From Frozen?
First, set the oven temperature to 425°F. There's no need to wait for it to preheat. As the oven warms, it helps thaw the chicken. Lay frozen chicken wings side by side on a sheet pan lined with foil or parchment paper. The chicken wings get cooked without any sauces or breading. Once they're baked you can toss them in your favorite sauce before serving.
Before putting them in the oven, brush each chicken wing with a little bit of oil and sprinkle with salt. If the chicken skin is still rubbery after cooking, broil for few minutes just to crisp the skin.
The wings will be around 160°F after 50 minutes. Letting them stand for at least 5 minutes after removing from the oven is important, as the carryover cooking will bring them to the safe temperature of 165°F. Always check the wings with an instant read thermometer to be sure the meat is cooked through to 165°F. You can learn more on how to properly cook chicken per FDA guidelines. 
What Sauce Should You Use?
There are many sauces you can add to your chicken depending on what flavor you're in the mood for. You can either buy your favorite sauce or make one of mine. Both are sure to be tasty.
We did a whole series on barbecue sauces with flavors such as Jack Daniel's BBQ Sauce made with Jack Daniel's whiskey of course,  Carolina Mustard BBQ Sauce, which is sweet, spicy, and tangy with mustard, hot sauce, and sugar, or spicy Buffalo Sauce, which I used on my chicken wings.
If you're trying to stick to a Keto diet, be sure to use our Keto BBQ Sauce on your chicken wings. 
Print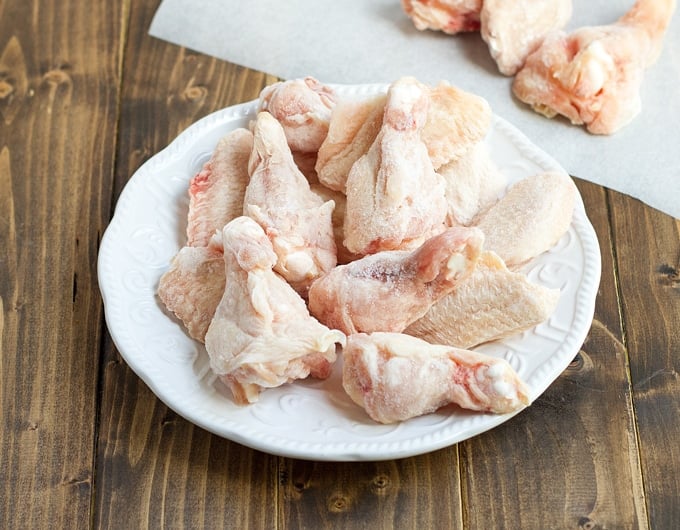 Chicken Wings from Frozen
Contributor: Ilona Orzechowska
Cooking chicken wings from frozen is a quick way to get dinner ready without the hassle and time of defrosting them.
Note: This recipe was retested and updated in December 2021 for more accurate timing and temperature.
Listen to learn how to make this recipe, along with some great tips from Christine:
Author:

Prep Time:

5 minutes

Cook Time:

50 minutes

Total Time:

55 minutes

Yield:

4

servings

1

x

Category:

Appetizer

Method:

Baked

Cuisine:

American
20

split chicken wings (drumettes and flat)

1 Tbsp

. olive oil (or use spray oil)

1 tsp

. salt
Instructions
 On a parchment-lined baking sheet, arrange wings in a single layer. Brush wings with oil; sprinkle with salt.

Set oven temperature to 425°F. Immediately place pan in oven, do not wait for oven to preheat.

Bake for 50 minutes or until an instant read thermometer registers 160°F. when inserted into the thickest part of the wing. 

Remove pan from oven; let stand 5 minutes.
Love this recipe? I'd appreciate it if you could scroll down and add a *5 star rating* to help others know they'll love it as well!
Notes
It's important to let the wings rest after removing the pan from the oven; carryover cooking will bring the wings to the proper temperature, without overcooking them.
If wings are stuck together in a package, microwave for 1-2 minutes, which will be just enough to pry them apart and place in a single layer on sheet pan.
If wings are not already cut into flats and drums, add 10 minutes to cook time.
Do not open the oven door until the 50 minutes are up. Use the oven light to check the wings.