The best dry rub for chicken wings is simple to make and includes a secret ingredient that makes those wings super crispy and delicious.
My favorite chicken wing recipe gets a serious upgrade, thanks to this smoky dry rub that adds tons of flavor to every bite.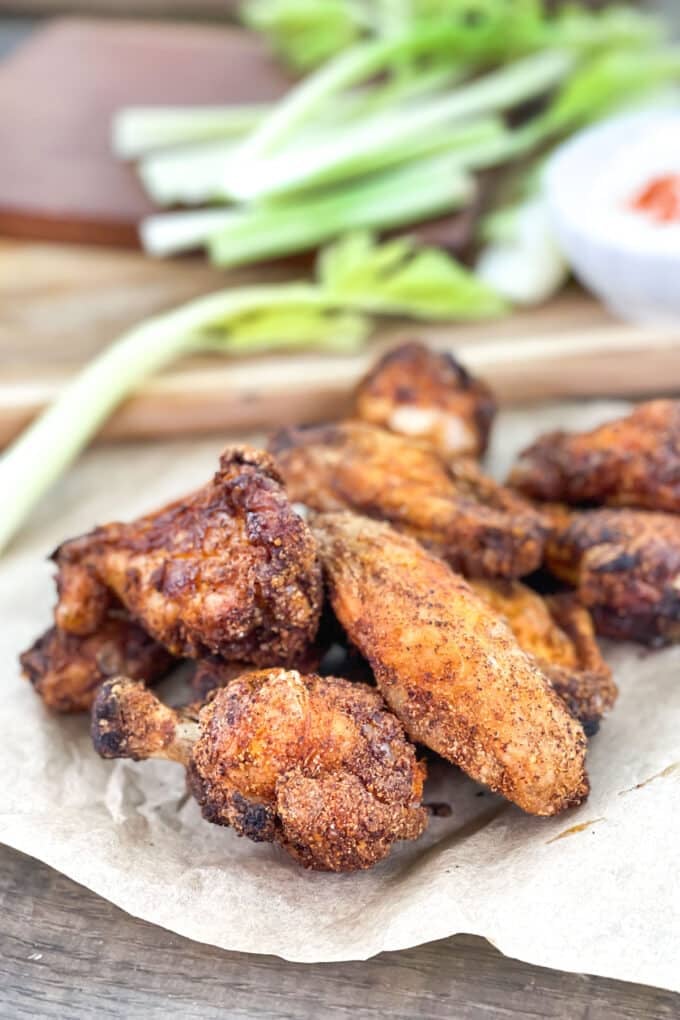 Using Baking Powder In Dry Rubs
One of my favorite tricks to making the crispiest baked chicken wings is to lightly dust them with baking powder before putting them in the oven.
Baking powder changes the pH level of the chicken skin, which helps it get SUPER crispy. Whenever I serve them, people are shocked to find out that they weren't deep fried!
A lot of people have asked if you can add anything else along with the baking powder. Yes, you can. Using baking powder in a dry rub for wings is an excellent way to make sure the skin comes out nice and crispy while also giving your wings tons of flavor. You can still add sauce if you want to, but it definitely isn't necessary with these dry rub chicken wings.
How To Make The Best Dry Rub For Chicken Wings
Dry rubs are all about FLAVOR. To make the best dry rub, you'll want a combination of baking powder, to keep the skin crispy, and robust spices. And a little heat never hurts anything either, if you ask me.
For this chicken wing rub, I use:
Baking powder to help them crisp
Smoked paprika to give the wings a sharp, smoky flavor that tastes like they've been grilled
Chili powder for a touch of heat
Garlic powder
Salt
This recipe makes enough rub to cover 10 wings that have been cut into drums and flats (to equal 20 pieces). If you won't be using the rub right away, this can be pre-mixed and stored in an air-tight glass or ceramic container in a cool, dry place for up to three months. It can also be doubled or tripled.
If you'll be mixing it to use immediately, mix the ingredients and then transfer the rub mixture to a gallon zipper bag. Add the raw chicken wings, seal the bag, and then shake vigorously to coat the chicken. Then, cook the wings according to the desired recipe, like my Chicken Wings That Are Sooo Crispy recipe.
The added spices will toast in the oven, so the outside of the wings will look a little darker than wings without the rub when they come out of the oven. The toasted spices add so much flavor to the crispy skin.
Print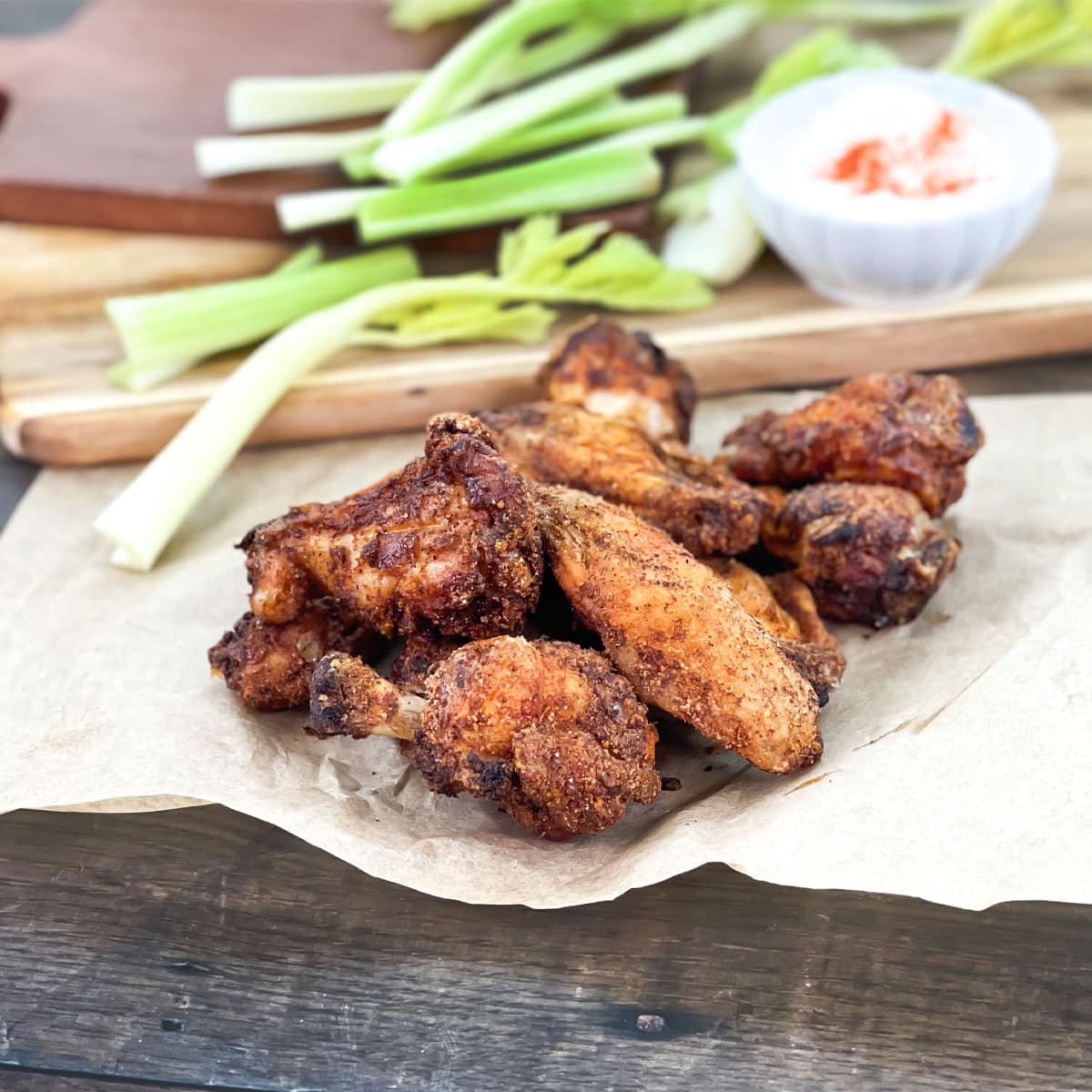 Dry Rub for Chicken Wings
Contributor: Christine Pittman
Note: We retested and updated this recipe in August 2022. 
This recipe makes enough for 10 chicken wings, cut into drums and flats (20 wing pieces). We like to use this method for cooking.
Author:

Prep Time:

10 minutes

Cook Time:

0 minutes

Total Time:

10 minutes

Yield:

2 Tbsp

.

1

x

Category:

Spice Blend

Method:

Mix

Cuisine:

American
1 Tbsp

. baking powder

1

and 1/4 tsp. salt

1

and 1/2 tsp. chili powder

3/4 tsp

. smoked paprika

3/4 tsp

. garlic powder
Instructions
In a small bowl stir together baking powder, salt, chili powder, smoked paprika, and garlic powder until well combined.

Transfer mixture to a non-porous container, like glass or ceramic. Cover and store in a cool, dry place until ready to use. 

If using immediately, transfer rub mixture to a gallon zipper bag. Add raw chicken wings. Seal bag and shake vigorously to coat chicken. Cook wings according to desired recipe.
This post originally appeared in December 2020 and was revised and republished in August 2022.