Add "Bag of kale" to your grocery list right now. We have 10 easy ways to use kale so that you get more of this healthy green in your meals.
Buy a bag of kale and start playing in the kitchen. You'll be surprised at how versatile this green can be. We have 10 ways to incorporate it into every meal.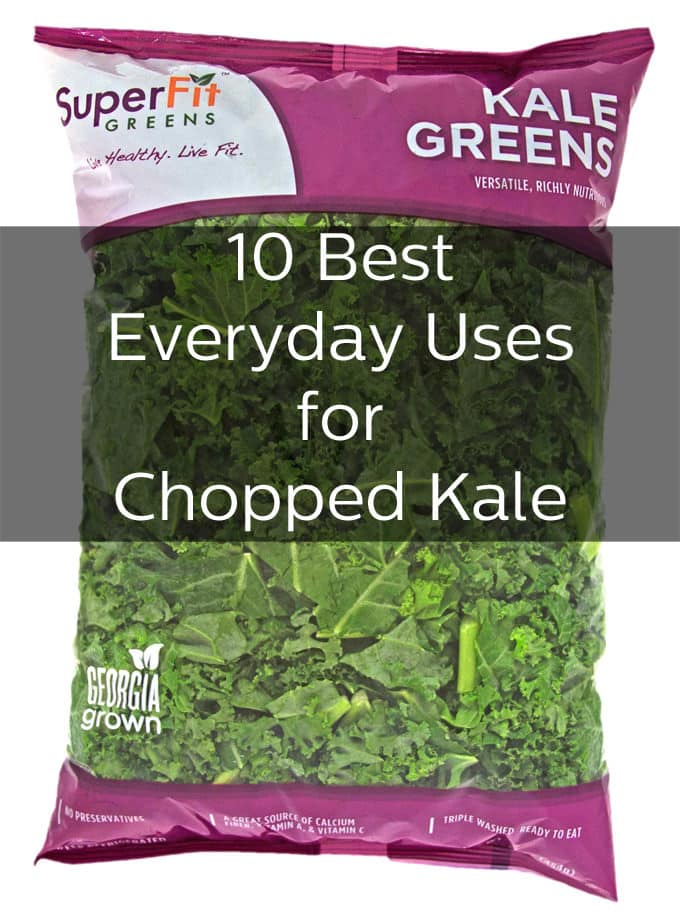 1. Use It In Salads At Work
You can let your kale sit in your dressing for up to a day without it getting soggy! So bring a kale lunch to work. Prep your kale in the morning or the night before (learn how to make fibrous kale tender by massaging it) and add your toppings.
Go to work and by lunchtime your salad will be tender and oh-so healthy. As inspiration, here's a taco salad with avocado chipotle dressing that uses kale.
2. Throw A Handful Into Your Favorite Soup
I use this trick to give my son an extra dose of vegetables. There's absolutely no way my preschooler will eat kale on its own. But if I add a little to chicken noodle soup, he'll eat it. It's magic.  
I throw it in for maybe 10-15 minutes before the soup's ready. Boom! I have a healthy (-ish) kid. Here's a quick and delicious soup that features kale so you can get the idea.
3. Blend Kale In Smoothies
I know, I know, everyone knows you can add greens to smoothies. But let this be a friendly little reminder not to forget about your bag of kale. I always do. I'm drinking my berry smoothie when I remember the kale that's sitting in my refrigerator. Note that we have a really amazing smoothie recipe that features berries, balsamic vinegar, and kale.
4. Kale + Noodles = Love
Use kale in pho (my favorite), lo mein, and pad Thai. The Asian flavors compliment the kale. Just make sure to slice it in small pieces so that it'll blend nicely into the rest of the dish.
Just throw it in next time you're making an Asian dish or stir-frying, like I do in this collard green stir-fry recipe. Two handfuls will wilt down quite a bit and will add such a punch of nutrients to your meal.
5. Make A Huge Batch Of Kale Pesto
Make up some pesto using kale. Then enjoy it in a pasta dish, on toast, or on crackers. It's also incredible on raw vegetables.
6. Use It To Complement Fish Or Chicken
Kale is pretty delicious when you sauté it with some olive oil, salt, and pepper. Top it with a beautiful piece of grilled salmon or chicken. Dinner is served.
7. Pair Kale With Bacon And Cheese
Everyone likes kale when you add crispy bacon and Parmesan cheese. Go with it on a salad or pasta dish. Stir sauteed kale, bacon, and cheese into rice. Really everything is more amazing with bacon and cheese!
8. Eat Tacos
As if you need an excuse to eat fantastic tacos. Replace the iceberg lettuce you might usually use with kale. Stuff with meat, tomato, and avocado and all your favorite taco ingredients.
9. Pair It With Quinoa
The super green meets the super grain. Kale and quinoa just work well together. Throw in some black beans and you have a great nutritious meal.
10. Bring Frittatas Up A Notch
Kale works in all kinds of egg dishes, whether you're doing omelets, frittatas, or even incredible breakfast stuffed peppers. Scramble your eggs, add finely chopped kale and your other planned-for ingredients, cook the eggs as planned. The kale will wilt a bit in the cooking time and be just right.
Make sure to let me know in the comments below your favorite way to use kale in your meals!
This post originally appeared in December 2016 and was revised and republished in January 2023.