Beef stroganoff is one of our staple recipes in the winter. There's nothing quite like it to warm you up on a cold day.
Sometimes we get creative and make stroganoff-inspired recipes like a Stroganoff Burger, Vegetarian Stroganoff, or even deconstructed stroganoff. But this recipe is the one that we consider to be classic. This is a traditional Beef Stroganoff made with sauteed beef strips, mushrooms, and onions in savory gravy seasoned with paprika, black pepper, and sour cream.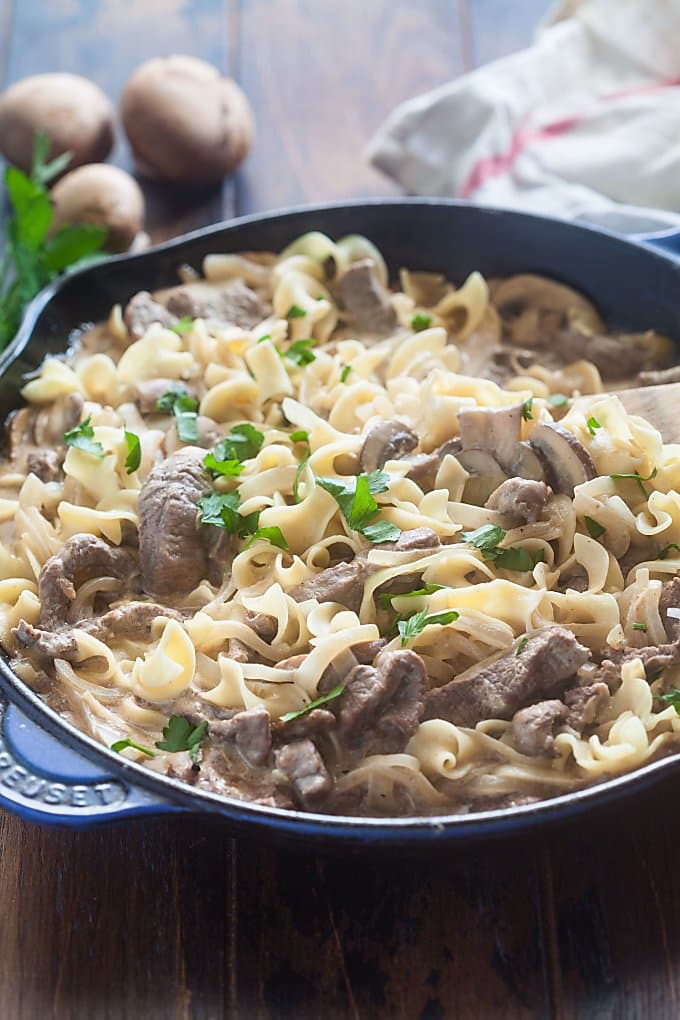 What Kind Of Beef Should I Use?
This recipe uses beef strips, which cook very quickly. I usually look for pre-sliced stir fry beef or steak labeled as being good for grilling, since these cuts don't need to cook for a long time before they become tender. If you prefer to cut your own beef, look for a quick-cooking cut like flank steak or sirloin and be sure to slice it across the grain. We talk about how to choose the right pre-cut beef strips or cut your own, as well as how to cook beef strips in this article.
Paprika For Beef Stroganoff
Stroganoff doesn't have many ingredients, which means each one plays an important role in how the final dish tastes. You might think paprika is just for color, but there are actually several kinds of paprika, each with their own distinctive flavors.
For this recipe, I like to use Hungarian half sharp paprika. It has a little bit of a bite to it, similar to the flavor of red bell peppers crossed with cayenne pepper, but it isn't super spicy. You can use standard paprika or sweet paprika in this recipe as well if that's what you have. What you don't want to use is smoked paprika – it will overpower the other flavors in the recipe.
Serving Stroganoff
Beef stroganoff is traditionally served over Buttered Egg Noodles. Learn how to make delicious buttered egg noodles here [link]. I personally like to use extra-wide or dumpling-sized noodles, but this is a case where size really doesn't matter.
If you want something less traditional, you can also serve stroganoff over mashed potatoes, stuff it into a baked potato, or keep things low carb by ditching the side dish and eating it like a hearty stew.
Can Beef Stroganoff Be Reheated?
Beef stroganoff is actually excellent reheated and is a great option if you like to meal-prep or make your dinners ahead of time. Noodles and other popular side-dishes don't fare as well though, so you'll want to be sure to make those fresh.
Reheat your stroganoff gently over medium-low heat until it just begins to simmer. Using high heat or cooking it too long can make the meat tough and the curdle the sauce. No one wants that.
Print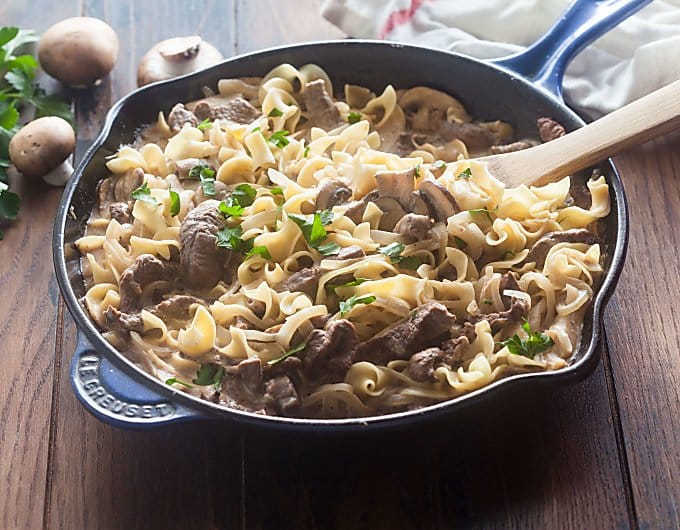 Beef Stroganoff Recipe
Contributor: Lauren Keating
Beef stroganoff is one of our staple recipes in the winter. There's nothing quite like it to warm you up on a cold day.
Author:

Prep Time:

10 Minutes

Cook Time:

20 Minutes

Total Time:

30 minutes

Yield:

4

Servings

1

x

Category:

Entrée

Method:

Stovetop

Cuisine:

American
2 Tbsp

. vegetable oil, divided

2

onions, sliced

8

oz

. sliced cremini mushrooms

2

garlic cloves, minced

1/4

cup

all-purpose flour plus 1 tablespoon flour, divided

2 tsp

. salt

1 tsp

. pepper

1

lb

. beef strips

1

cup

beef stock

1 Tbsp

. Dijon mustard

1 tsp

. Worcestershire sauce

1 tsp

. paprika

1 tsp

. whole peppercorns

1/2

cup

sour cream
Heat 1 tablespoon of the oil in a 10-inch skillet. Add the onions, mushrooms, and garlic. Cook over medium heat, stirring occasionally, until the onions are tender. Remove from the skillet.
Combine ¼ cup of the flour, salt, and pepper in a large bowl. Add the beef strips and toss to coat. Transfer the beef to a plate, shaking off any excess flour.
Return the skillet to the stove over medium-high and add the remaining oil.
When the oil is hot, add the beef to the pan in a single layer. Cook for 2 minutes, until golden brown. Flip the beef and sprinkle it with the remaining tablespoon of flour.
Add the beef stock, mustard, Worcestershire sauce, paprika, and peppercorns. Simmer 10 minutes, until the gravy is thickened.
Return the mushrooms and onions to the pan and remove from heat.
Add the sour cream to a small dish. Stir in a few tablespoons of the gravy to warm it up (this will prevent it from curdling.) Stir the warmed sour cream into the Stroganoff, stirring constantly.
Taste and adjust the seasoning as needed. If the flavors seem flat, a generous pinch of salt will help bring it together and perk everything up.
Love this recipe? I'd appreciate it if you could scroll down and add a *5 star rating* to help others know they'll love it as well!