Beef strips cook up nice and quick, making them perfect for busy weeknights. You can use them in stir fries, soups, fajitas, and even beef stroganoff.
We eat a lot of chicken but sometimes it's nice to change things up with other proteins like beef. A good beef roast is always delicious but more often than not we need quick options to just get dinner on the table in a hurry. Beef strips are a great way to do that. You can either buy them pre-cut or cut them yourself. But how do you know what kind of meat to buy so they don't turn out tough?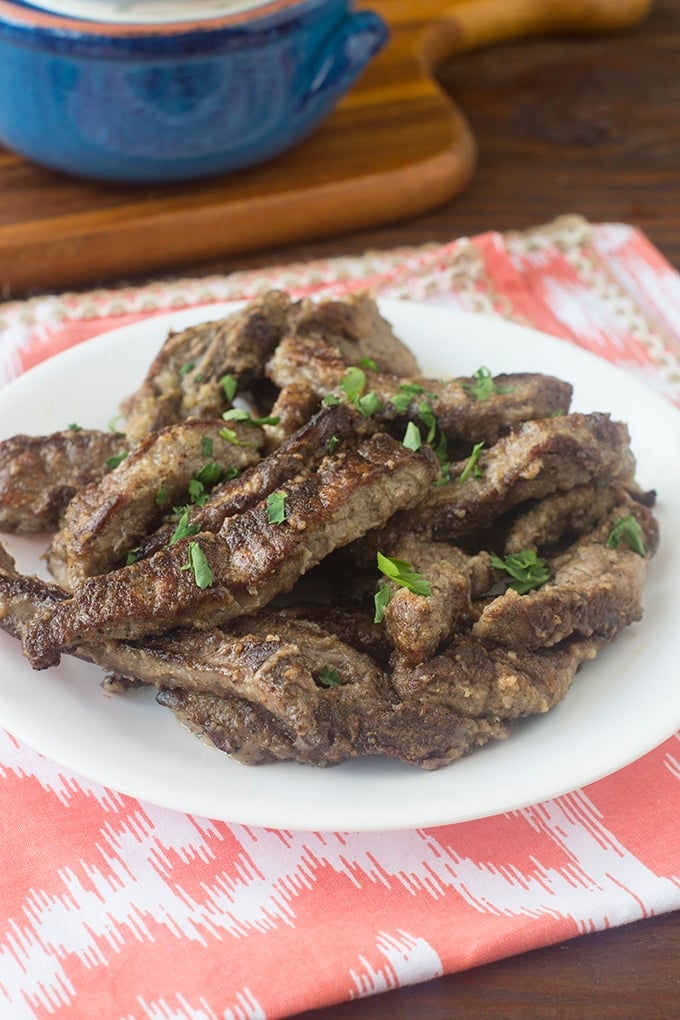 What are Beef Strips?
Beef strips are taken from a cut of beef that is tender when cooked quickly, like on the grill. They're sometimes called Fajita Strips or Stir Fry Beef. Why? Because they're used to make fajitas and stir fries. They're good for so much more than that though. Like beef stroganoff.
How to Buy Beef Strips
They are often sold already cut into strips at the grocery store. You can get them like that for convenience sake, or you can cut your own. Unfortunately, if you buy them already cut, there is often no information provided about the cut of beef that is used. But that's okay. Look at the packet and choose one where some of the strips have a bit of marbling but no gristle. That'll be your best bet.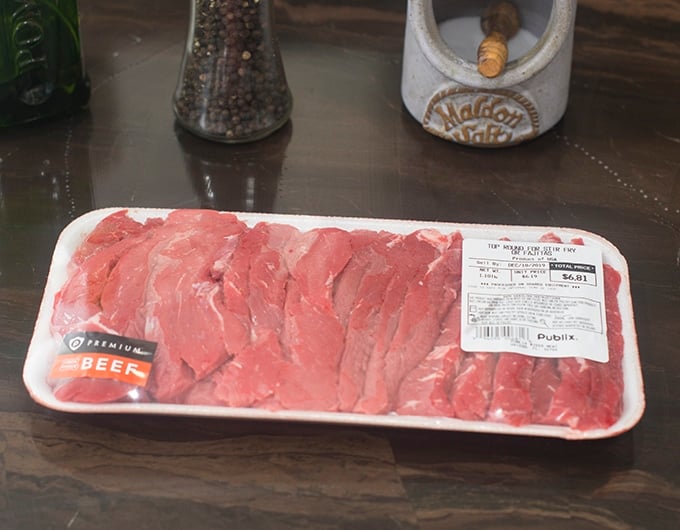 Which Cut of Beef to Use for Beef Strips
If you're going to cut your own beef strips, you'll want to buy a cut of beef that is good for grilling. That can be a rib eye or strip loin steak or even filet mignon, but all of those are a bit pricey for this. I typically go with flank or skirt steak. Other cuts that are good for cutting into strips and then cooking quickly are sirloin, tri-tip, tenderloin, shoulder center (Ranch Steak), shoulder top blade (Flat Iron), and shoulder petite tender. Also be on the lookout for chuck eye steaks. This is a slightly rarer cut of steak that I've been seeing more often at my own grocery store. It's very juicy and tender. Perfect for grilling, and perfect for cutting into beef strips. And it tends to be quite a bit cheaper than rib eyes and strip loins so it's a win-win for sure!
If you're thinking of cutting your own beef strips, just go in and see if any of the above-listed cuts of beef are on sale. That might help you choose one.
How to Cut Beef Strips
If the steak is thin, ½-inch or less, then simply use a sharp knife to cut it into ¼ to ½" strips.
If the steak is thicker, cut it into ¼ to ½" strips. It will now be the correct width but will be too thick, or too high. So cut each strip such that you end up with the width/height also being ¼ to ½".
How to Cook Beef Strips
Fajitas or stir fries
If using them in fajitas or stir fries, start by seasoning them with salt and pepper. Then add other seasonings, if desired. For fajitas, using some chili powder, cumin, and a touch of cayenne is a good bet. For stir fries, try a touch of Chinese five powder spice or the tiniest bit of ground ginger.
Then heat a large skillet over medium-high heat. You can use a wok if making a stir fry. Add a tablespoon or two of vegetable oil or other cooking oil with a high smoking point. Grape seed oil is also great for this. When the oil is really hot, add your beef strips in a single layer. Don't crowd the pan. Now don't touch those beef strips for at least 2-3 minutes. You want them to get a good sear on the first side.
Once that first side is seared well, flip the strips over. Now cook, stirring often, until they reach your desired done-ness. They really don't take long to cook so you might only need 1 or 2 more minutes after you start stirring them.
If the beef strips are for fajitas, you can serve them straight from the skillet. If you're making a stir fry, remove the beef strips from the skillet. Wipe out the skillet. Then proceed with cooking your vegetables. Return the beef to the skillet at the end to heat through and so that it gets covered in a bit of whatever stir fry sauce you have on the veggies.
Soups, stews, and stroganoff
If you're using the beef strips for a soup or stew or for something like beef stroganoff, the process isn't that different. The only thing that's different is that you can toss the beef in some flour before cooking it. This gives the beef a bit more of a crust and also that bit of flour can add a touch of thickness to whatever liquid you later add.
So what you'll do is, in a large bowl, mix together ¼ cup of all-purpose flour, 2 teaspoons of salt, and 1 teaspoon of black pepper. You can also add 1 teaspoon of garlic powder, if you'd like.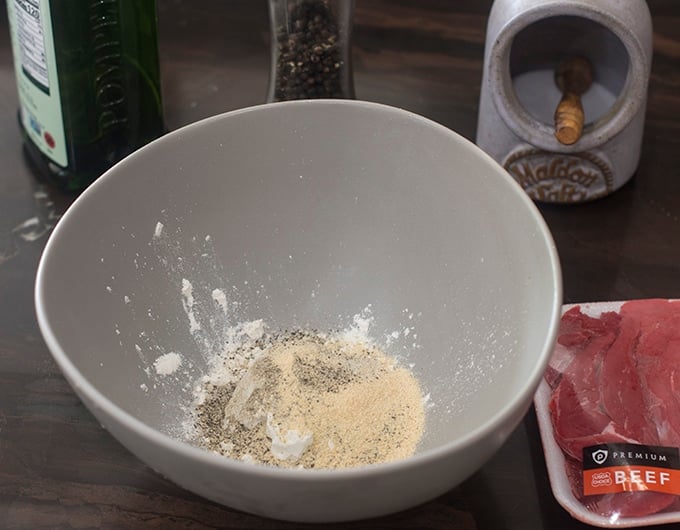 Add 1 pound of beef strips and toss to coat. Transfer beef to a plate, shaking off excess flour. Discard the excess flour.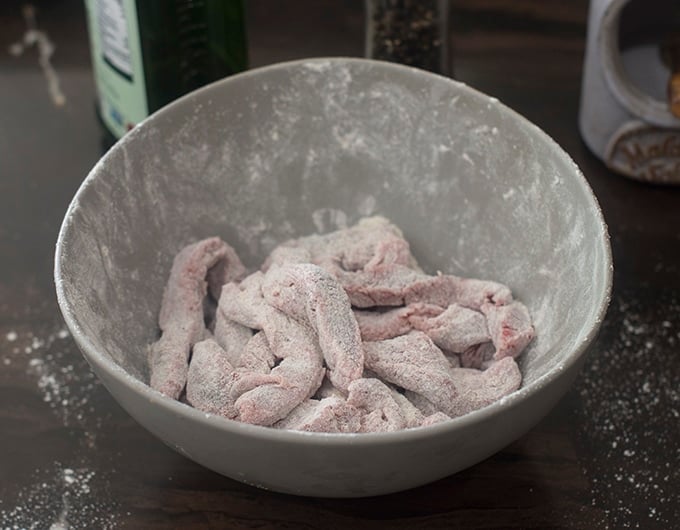 Then proceed by heating a large skillet, adding oil, and cooking the beef as instructed.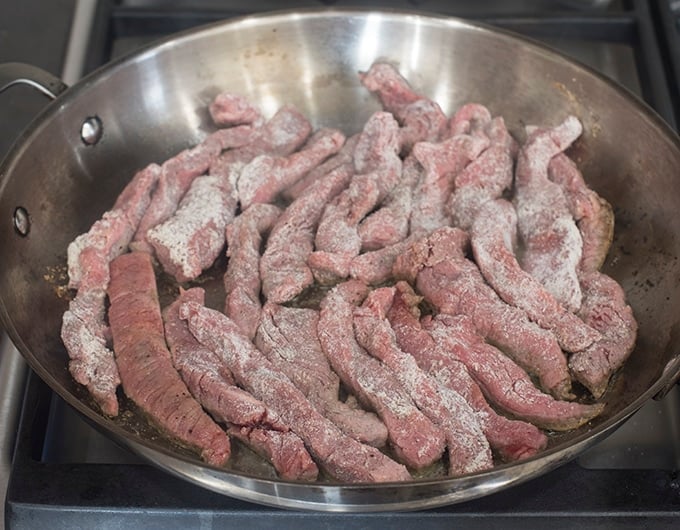 At this point you can also turn this into a quick beef and gravy dish by slowly adding 2 cups of beef broth while stirring constantly then simmering until slightly thickened.