Is mayonnaise better than butter on the outside of a grilled cheese sandwich? We put it to the test!
Have you heard of putting mayonnaise on the outside of your grilled cheese sandwich instead of butter? This idea first came to me via my cousin on Facebook where he swore that it was the best thing ever.
I tried it back then and agreed that it worked, but I'd never done a side-by-side butter-mayo comparison. Our Grilled Cheese Series here on TheCookful seemed like the right time to test it out properly.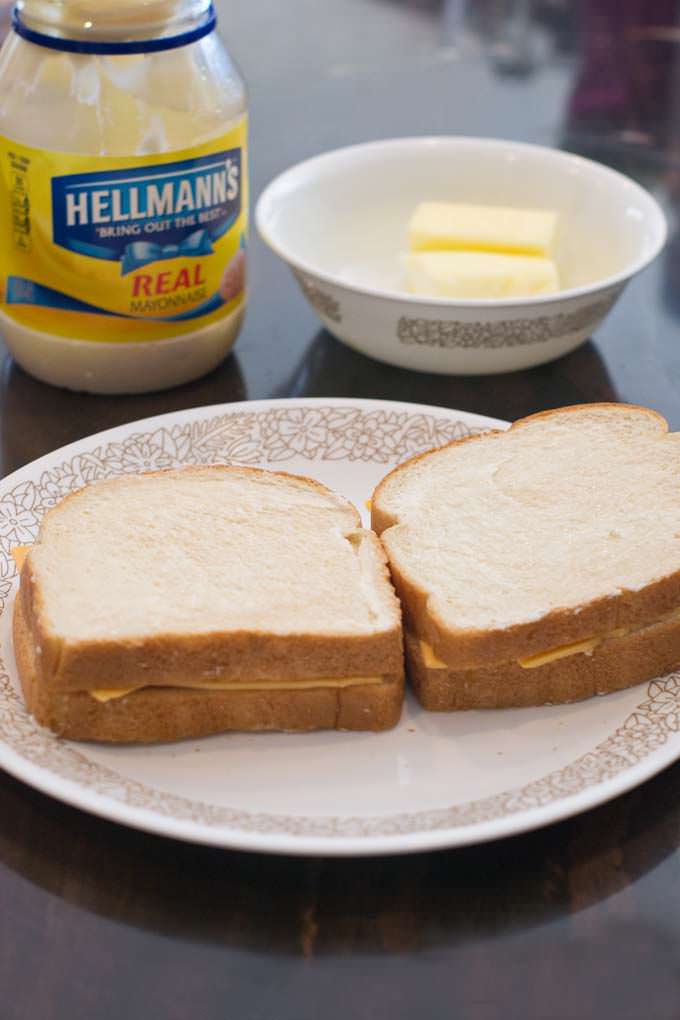 Mayonnaise vs. Butter Taste Test
We made two sandwiches using plain white bread and processed cheese slices, in classic American grilled cheese style. Then we spread softened butter on the outside of one and mayonnaise on the outside of the other. They both went into a skillet warmed over low heat and cooked until both sides were toasty brown. Here they are: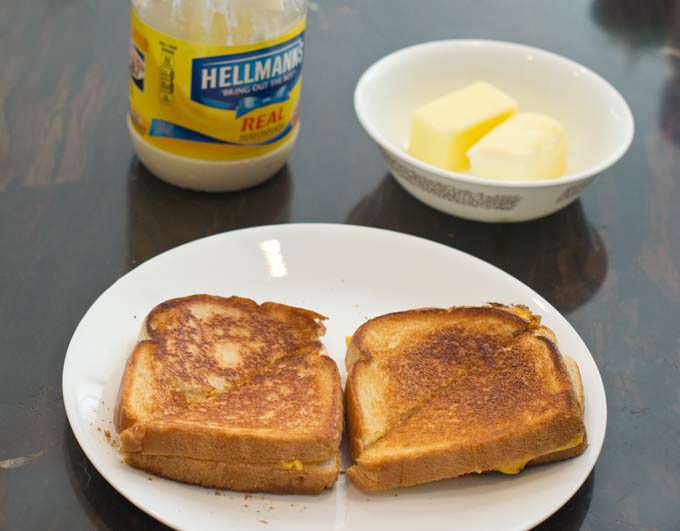 The results of our grilled cheese taste test!
Convenience:
First, we'll say that using mayo is more convenient than using butter because it's always soft and ready to spread. If you don't already have butter at room temperature, then you need to soften it before spreading. Margarine is an alternative here but none of us tend to have margarine in our fridges.
Taste:
As to the actual taste, there were two of us tasting the sandwiches that day. In the side-by-side test, neither of us preferred the slightly tangier mayonnaise version. We liked our sandwiches tasting like bread and cheese only, it seems.
Texture:
For the texture and appearance, the butter version had a more even browning but the mayonnaise sandwich looked very nice. The mayonnaise one was crisp where browned but the bread beneath the browning was fluffier, which was a nice soft thing to bite through. The bread on the butter sandwich was a bit drier throughout and on the overly crisp, maybe even crumbly, side.
Conclusion:
On the outside of a grilled cheese sandwich, mayonnaise is more convenient and yields a nicer texture. However, the taste is not ideal. We still prefer traditional butter, but, if there's no butter softened on your counter, do reach for the mayo. You'll be pretty happy with the results for sure.
Podcast Episode On Making Grilled Cheeses
Listen to learn how to make this recipe, along with some great tips from Christine:
Listen to more Recipe of the Day episodes here.
This post originally appeared in April 2017 and was revised and republished in February 2021.