Homemade salami is surprisingly easy to make at home, even without any special equipment. The best part about it is that you know exactly what goes into it, and you can customize it to your taste. Oh, and it's delicious too!
The great thing about making sausages at home is that you can control exactly what goes into them. This salami is a great example. We're giving you instructions below for making salami without a sausage stuffer, but there's also info for using a stuffer as well.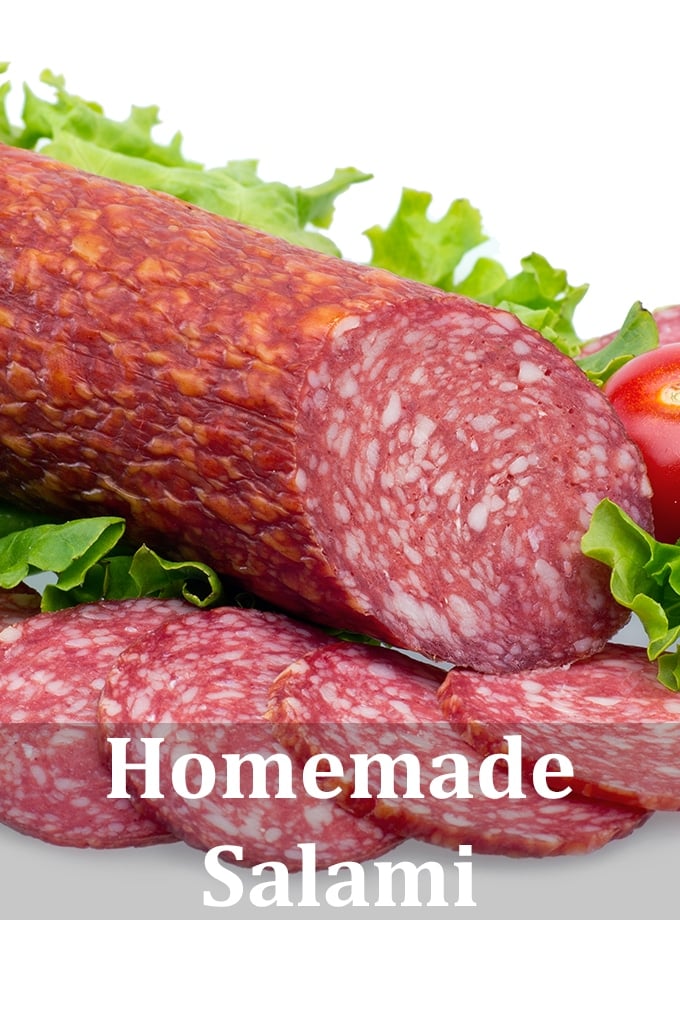 What Ingredients To Use In Salami
Our salami recipe calls for ground beef, so we're essentially making an all-beef salami here. If you want it to be a lean beef salami, you can use lean ground beef. If you want that juicier more flavorful salami taste, you can use a beef with more fat content, or even add some ground pork. If you want those chunks of white fat in your salami, you can get some pork back fat (or even bacon) and chop it up finely to add it to the mixture.
Another example of making this salami your own is the flavorings that you add. We've called for black pepper and the amount given is for ground black pepper, like from a shaker at the table. However, you could use crushed peppercorns if you want it speckled with those larger bits of pepper. Same goes for the mustard seed. You can leave them whole or you can grind them finely or coarsely. You can also add in some minced garlic too. The possibilities are endless.
We've put some liquid smoke into our salami. You don't want to use very much of this though. It's very powerful in flavor. Just a couple of drops is going to be enough. Be sure to mix the liquid smoke in with the water mixture before adding it to the meat so that it disperses evenly throughout.
Another critical ingredient in salami is the meat cure. I'll say more about that in a minute after I talk about the water and mixing of the meat.
So, there is water in the mixture. You use it to dissolve salt and cure, as well as to more easily disperse the liquid smoke. That water has another purpose though. It helps make the mixture sticky so that it will hold together well.
When you're mixing the meat mixture, you need it to be sticky enough that it will stick to your inverted hand, or at least that it will fall off very slowly. If you do that, you'll have nicely shaped salami with or without a sausage stuffing machine.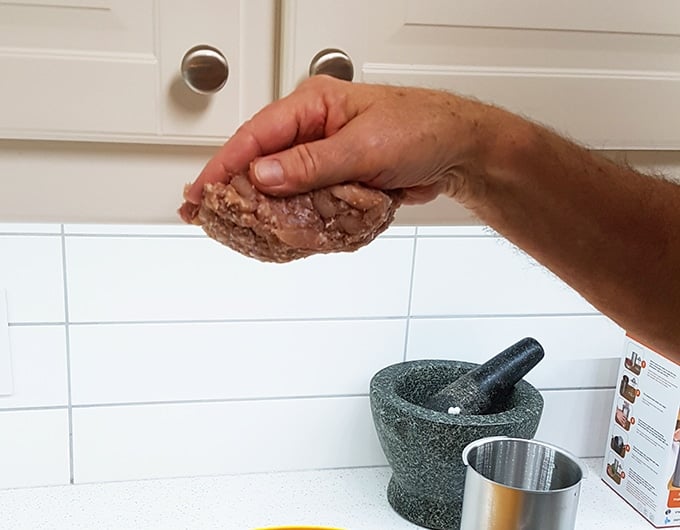 What Is Meat Cure In Sausage-Making
You know how some kinds of sausage are a pink or red color (like salami or pepperoni) while others are more light brown (like Italian sausages or breakfast sausages)? The first type, the pink/red type, has cure in it. It's the cure that keeps it that color as it cooks, rather than having it turn the browner color of cooked meat.
The cure is a powder that usually contains salt and sodium-nitrate. It aids in the preservation of the meat, adds the distinctive salty flavor, while also affecting the color, as mentioned.
You won't be using cure if you're making Italian sausage meat, Italian sausages, breakfast sausages, or breakfast sausage patties. If you think about it, you'll immediately realize that those kinds of sausages are cooked-meat-color and therefore don't contain cure.
But you definitely will want to use cure for making Kielbasa, ham sausage, pepperoni, and for this salami recipe.
You can get cure on Amazon, or at your local butcher supply store.
How To Make Salami Without Special Equipment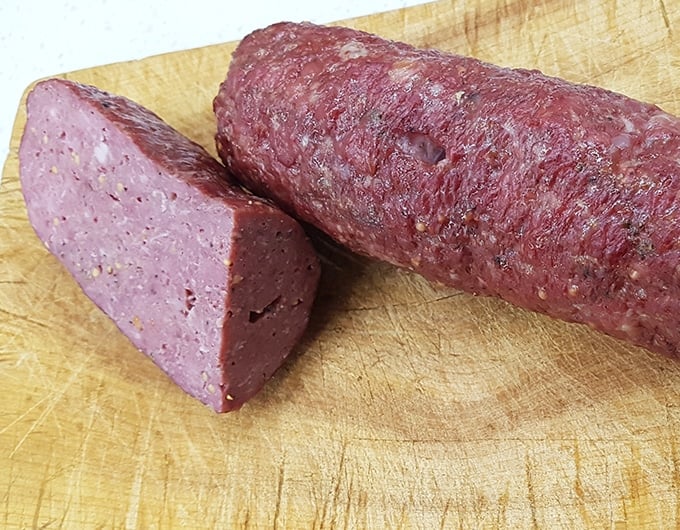 The above image shows what the finished salami made without special equipment will look like. You can see that it doesn't have a casing, but it does have the right color and shape. When sliced, it has a very artisinal charcuterie look to it that I think you're going to really like.
Note that even if you own a sausage stuffer, you might need to make salami without using it. This is because a lot of sausage stuffers don't make really thick sausages. If you want a nice thick salami, you'll want to use our method, which I'm about to explain. If you still want to use your sausage stuffer, simply use the recipe for the meat mixture given below, and then follow the instructions on your machine. I like to use collagen casings, like these for making salami in with a sausage stuffer.
Okay, so to make salami without a sausage stuffer, you're essentially going to use plastic wrap as a temporary casing to help set your meat. We have full very detailed instructions for how to make sausages without a sausage stuffer over here. However, I think you'll understand what to do from what I say here.
You're going to tear off two pieces of plastic wrap and overlap them in a way that they will be able to cover your ideal salami size fully all the way around in a double thickness. Next, lay some of meat mixture onto the plastic wrap and shape it into a cylinder the size that you'd like your salami to be. I do mine about 2 and 1/2 inches diameter and 6-8 inches long. Shape it and squish it into shape. Then, wrap it burrito-style in the plastic wrap. That is, bring the sides up and over the length of the salami, and then roll it up tightly.
Next, wrap the plastic-wrapped-salami in aluminum foil. Repeat the plastic and foil wrapping with the remaining meat until you have none left.
Arrange the wrapped salami packages on a tray in a single layer and put it in the fridge for 24 hours in a single layer. If you pile it, the top ones will squish the bottom ones.
It is important that the salami goes in the fridge for 24 hours, whether you put it into casings or not, because that allows the cure to really penetrate and gives it a more even distribution. If you don't let it sit in the fridge, you might end up with parts of your sausage that aren't pink/red because the cure didn't get to that part as well.
How To Cook Salami Without A Smoker
If you made your salami using a sausage stuffer, it doesn't need to set in the fridge but can be cooked immediately. If you used the plastic wrap technique, then you have to wait the 24 hours of refrigeration time.
Then, you'll pre-heat the oven to 325F.
Set an oven-safe rack over a sheet pan.
For salami in casings, simply arrange the salamis in a single layer on the sheet pan. For plastic-wrapped salami, carefully unwrap the foil and the plastic wrap. Then carefully transfer the cylinders of meat to the rack.
Finally, you bake the salami until the internal temperature on an instant-read thermometer is at 160F, about 50-60 minutes.
Allow the salami to cool on the counter and then chill it in the fridge before slicing and serving.
There you have it, delicious homemade beef salami without any special equipment required. I hope you've enjoyed learning this technique.
Have a great day!
Barry 🙂
Print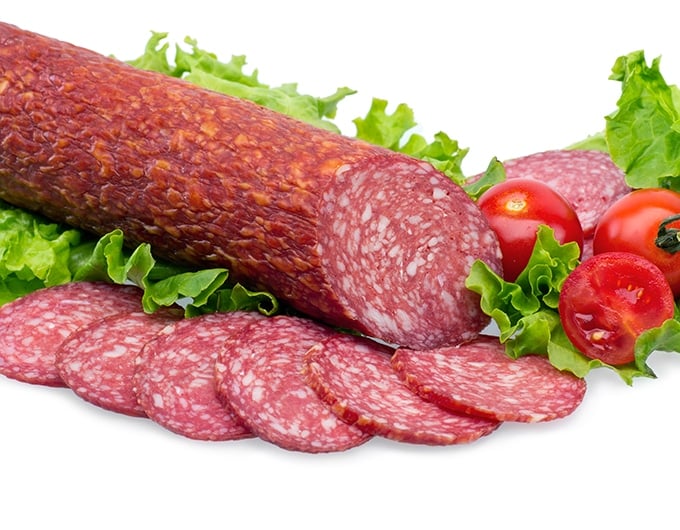 Homemade Salami
Contributor: Barry Pittman
Homemade salami is surprisingly easy to make at home, even without any special equipment. The best part about it is that you can know exactly what goes into it. Oh, and it tastes amazing too!
Author:

Prep Time:

30 minutes

Cook Time:

1 hour

Total Time:

1 hour 30 minutes

Yield:

12

servings

1

x

Category:

Entree

Method:

Stir

Cuisine:

American
4

lbs

. ground beef

2 Tbsp

. Morton's Tender Quick Meat Cure (buy here)

2 tsp

. salt

1 Tbsp

. black pepper

2 tsp

. mustard seed

2

–

3

drops of liquid smoke
Instructions
Place ground beef in a large mixing bowl.
Mix together the Morton Cure and the salt. Add 2 tablespoons of water to dissolve. Stir in the pepper, mustard seed, and liquid smoke.
Add to the ground beef and mix well.
Place some of the mixture in your hand and then turn your hand upside down.  If mixture sticks to your hand or falls slowly then it is mixed enough.
Cut two large pieces of plastic wrap and lay them on the counter, overlapping them quite a bit.
Take the meat mixture and form it into cylinders the size and shape that you'd like your salami to be. This will ideally be about 2 and 1/2 inches in diameter and about 6 to 8 inches long.
Place the cylinders of meat onto plastic wrap and roll tightly burrito-style, folding in the sides of plastic and then rolling it up tightly.
Then wrap the plastic-wrapped mixtures in foil. Store in refrigerator for 24 hours to allow the cure to properly penetrate and the shape to set.
Remove from refrigerator.
Preheat oven to 325F.
Carefully remove foil and plastic wrap from meat. And, carefully place the meat cylinders on an oven-safe baking rack placed over a sheet pan.
Place in the oven and bake until cooked through to 160F as read on an instant-read thermometer, about 50 to 60 minutes.